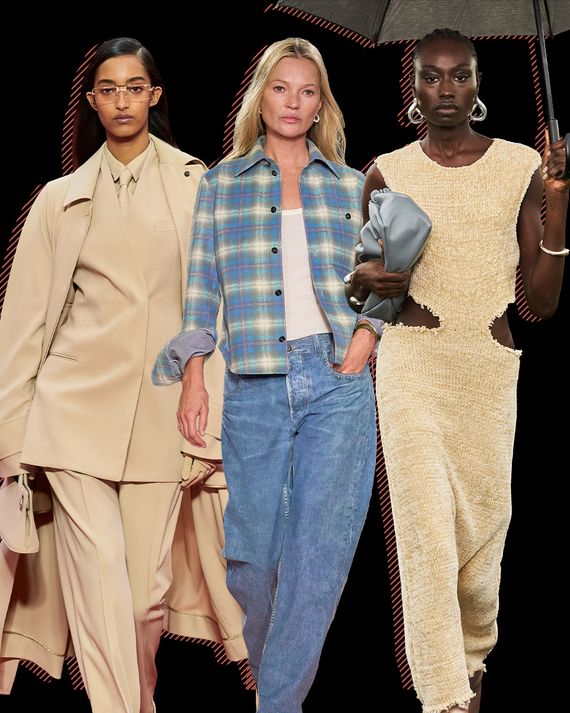 Photo-Illustration: The Cut; Photo: Courtesy of Salvatore Ferragamo, Bottega Veneta, Jil Sander
Many established luxury brands do very well without a star designer or even an especially talented one. Take Ferragamo. The Italian company has survived breakups with five different designers over the past 20-odd years, their names forgotten even by fashion insiders, and yet, still, it sells lots of shoes and bags along with clothing. The reason is simple: Brands have realized that despite the hype around designers, customers don't actually know or care who's doing the designing. What matters to them is how they're treated in the stores and the quality of the products.
There is, of course, marketing value in bringing in a new designer and whipping up enthusiasm among writers and stylists. In Milan, a debut means celebrities, police barricades, and screaming young spectators. Also, companies are increasingly attuned to larger cultural and social shifts that can potentially mean a wider audience. Maximilian Davis, the latest creative director of Ferragamo, is of Trinidadian descent, born in Manchester, England, in 1995. He started his own line barely three years ago, in London, and quickly was noticed by Rihanna and Dua Lipa, not to mention the British fashion press. Davis had his Milan debut on Saturday, as did Rhuigi Villaseñor at Bally. Born in the Philippines and raised in Los Angeles, where he founded the influential sportswear brand Rhude, Villaseñor is 30.
Two other houses on Saturday had sophomore showings from young creative directors: Trussardi, from Serhat Isik and Benjamin Huseby, and Bottega Veneta's Matthieu Blazy. It would be wishful thinking to say that these designers represent a changing of the guard in Milan given the relative inexperience of some of them and, as well, the historic unwillingness of certain brands to change and take on riskier ideas. Bally has hardly been a factor in the high-fashion arena, though it makes high-quality goods. Which raises a bigger question: Did any of these shows offer real design direction? That's the excitement people are looking for.
For Davis's debut, Ferragamo took over a former monastery (soon to be a luxury hotel, reportedly) and filled the central courtyard with red sand and covered the porticoes with the same color. The place looked more Valentino than Ferragamo. But red, black, and white are the colors of the Trinidad and Tobago flag, and Davis adopted them for his label — and now Ferragamo. There were beaded cigarette pants in red, with a sheer, sparkling top, as well as a striking mini–coat dress and a long siren dress in suede. A lot of the collection was monochromatic, like the relaxed pantsuit in creamy taupe with a matching lightweight coat that opened the show, and set a mood for youthful polish. In that vein were silk caftans and filmy styles in degrade sunset hues — a nod, Davis said afterward, to Hollywood. He thinks young consumers need to be reeducated about red-carpet glamour.
Maybe, but I would be more curious to see what Davis's experience as a Mancunian with Caribbean roots has taught him. I thought I glimpsed a difference in some of his menswear, in particular blazers with ultrashort shorts. The collection, while a decent start, needed more personality. Anyone can "do" Hollywood, but only Davis knows his story. Think of the unique perspective that Demna, a native of Georgia in the Soviet era and later a refugee, has brought to fashion. Demna also had years of experience at top houses before he took over Balenciaga and set it on fire. Davis doesn't have that advantage. And he's working at a family-owned company that is conservative. Maybe its new chief executive, Marco Gobbetti, formerly of Celine and Burberry, can help let some new truth in, but the results won't be clear for another few seasons.
The Trussardi designers made a better showing than last season; at least they had a broader range of clothes, including a cool minidress in khaki jersey suspended on a neck cord over a white polo shirt, croc-embossed leather jackets with meaty shoulders, and snug denim cargo shorts with matching tight jackets. Isik and Huseby are interesting because they have something of Azzedine Alaïa's touch. You can see it in their understanding of both proportion and the female body.
Bally recalled for many in the audience the glam of Tom Ford at Gucci. I would say Villaseñor's show was Gucci Lite since Ford always offered a full boat of day and night styles. Still, if Bally's aim is to stock its stores with novelty and party looks, like a smashing jacket in yellow-gold leather, stiletto boots to match, frisky knitwear, jersey gowns, and bags — and skip the rest — then Villaseñor's approach will likely succeed. But new and directional it is not.
Blazy's shows are arresting. He puts everything out there. On Saturday night, on a runway vibrating with color — thanks to 400 uniquely tinted chairs and a resin floor swirled with the same hues, by the architect and designer Gaetano Pesce — Blazy presented a storm of individual styles, each grabbing your attention in some fresh respect. There were the first six outfits — jeans and khakis, a polo shirt, your basic grunge plaid shirts (one on Kate Moss), and a pleasantly scruffy fake fox-fur coat (which was actually goat hair). All but that coat and white undershirts were leather, dyed to resemble the most common of fabrics. It's an extravagant gesture, indeed the kind that fashion has long made with everyday or eccentric materials (I think of Martin Margiela's famous jacket based on the form and canvas of a dressmaker's dummy). Just as important, the pieces are an extension of the craft tradition, using 21st-century methods. They're also perfect for obsessives.
Many of Blazy's designs target that audience. The sleeves and trouser legs of otherwise elegant wool suits sprouted little finlike shapes of the same fabric, as if to suggest perpetual motion. There was a series of dresses and suits in complex, multihued patterns, with sections that turned into dense fringe, and, also, sheer white embroidered shifts with matching mesh boots. Among the simplest looks was a white cotton henley shirt and skirt (or possibly it was a dress) with a flounced, lingerie-style hem; it reminded me of a 19th-century frontier woman in her skivvies. It was wonderful. That was one of the few items in the collection that didn't look overworked, that retained a sense of proportion with reality, and so felt all the more human. It's admirable to want to design for individuals, as Blazy claimed in his show notes, but Bottega Veneta isn't a department store. If he depended less on elaborate techniques and embellishment, he would find out what he can do as a designer.
The most important and elusive quality to come out of the Milan shows was a sense of humanity. It was strongest at Prada, where the papery and torn fabrics evoked not merely sex but also psychological dramas. And it was certainly evident in Gucci's cast of 68 identical pairs of twins. At Jil Sander, Luke and Lucie Meier came close to the feeling with a show set in a wildflower garden, with their models walking under umbrellas in a drizzle. The straight-line, wide-leg pantsuits in pale blue, pistachio, and cream were effective, as were rough-looking knit dresses and tunics in black or pale yellow, cut out at the sides. But the Meiers got carried away with the metallic grass fringe and feathers.
When everything has to be cool and sophisticated, or tweaked to death, you tend to notice the opposite. Andrea Incontri's wallpaper prints of cherries and other fruits for Benetton — the label is getting a revamp — at first struck me as silly, but, in fact, they lift you up. It probably helps that there's a dearth of prints. Incontri used the fruity patterns for knits and cotton pajamas.
As the Milan shows ended on Sunday, Giorgio Armani stuck his rudder in the waves and sailed straight. It was the most unperturbed Armani collection I've seen in years, and at the same time it was on the mark. It had transparency, lightness, shine, and bare midriffs — in short, the things we've been talking about since the New York shows. But the difference is that Armani's clothes fell simply over the body, and without some of his usual weird details. There were lean jackets and mostly fluid pants, with sneakers or sandals, and in flattering sea shades of blue, gray-green, and silvery white with modest amounts of embellishment.
More From Milan Fashion Week
See All