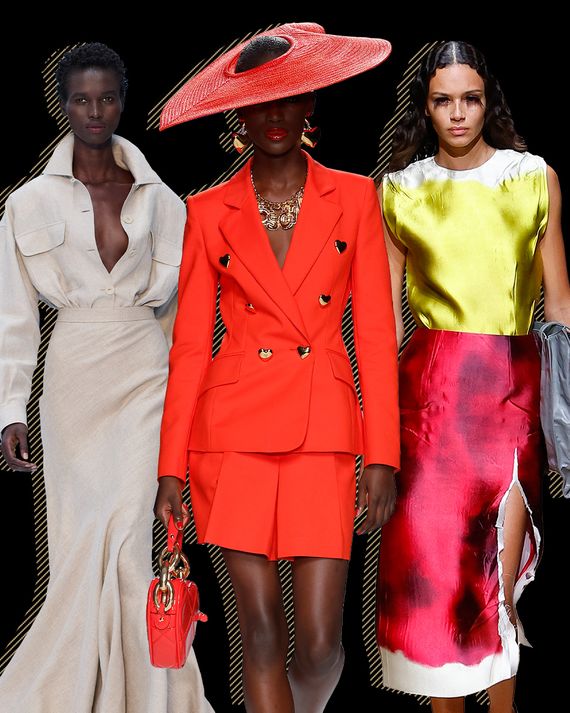 Photo-Illustration: The Cut; Photos: Pietro D'Aprano/Getty Images, Estrop/Getty Images, Prada
Miuccia Prada and Raf Simons are experts at showing us what reality is in high fashion. There is no "past" in their Prada collections, no obvious references to Zelda and Scott on the Riviera, and no apparent meaning in their forms beyond what you can see. At the same time, their designs completely fill the bill in that they move the needle forward.
Their latest collection, shown on Thursday at the Prada Foundation in Milan, was their most stripped back since they began working together more than two years ago. The atmosphere was that of a panopticon, a series of darkened rooms lined with black craft paper in which multiple cells had been punched through to frame small video screens. These, and the overall show concept, were the work of director Nicolas Winding Refn (Drive, Valhalla Rising). 
Apart from the set and mostly red glow from the screens, I couldn't quite see how Refn figured in things, but it didn't matter. From the first models, in close-fitting jumpsuits in prison shades of gray and beige and worn with plain raincoats and sturdy hausfrau pumps, I felt I was in a movie. No specific movie was playing in my head. Rather, I simply saw a girl — Isabelle Huppert, if you must — clutching the front of her coat as she walked alone down an empty European street at night.
The ability of Prada and Simons to raise an image without a constructed narrative goes beyond a movie scene. The all-absorbing theme since the spring 2023 collections began in New York has been frank expressions of sexuality. There was the sublime version by Francesco Risso of Marni under the Manhattan Bridge in Brooklyn, and the cheap, unthinking kind from Tom Ford, which served to objectify women. Simons and Prada didn't actually show much of anything. (No underwear parade — unless you count one or two bras and some full-cut black underpants.) Instead, the erotic was implied through the fabrics, colors, and what Simons called "gestures of error."
That meant, for example, slip dresses and shifts that appeared to be torn along the side slit. In most of the dresses, there was the double effect of a white underlayer — a slip, presumably. In any case, the thin white edging heightened the illusion of a tear. There were skirts and minidresses that appeared to be creased, like a well-worn bed, or with a slightly bunched hem, as if the person had dressed in haste after sex or hadn't bothered to undress at all.
It is striking that when the designers began discussing this collection, they started from a very different place.
"I remember very well," Simons said backstage after the show.
"He said, 'Miuccia, why don't we do decoration?'" Prada continued.
"Because we had been so much into reality," he said.
"It was to be more creative," she said.
But apart from some fabric corsages that adorn a group of slim, white, cotton jersey dresses, the clothes are cooly stripped back. That is the most significant thing about the collection. In the near-wake of the pandemic, many fashion companies have returned to former levels of production, and there's again the sense of too-muchness — from other industries as well. It may be an illusion, because Prada produces a lot, but these clothes go against that visual reality. They are stark, raw, and handsome — none more so than a trio of dresses in navy, faded green, and red-orange with simple floral motifs and rough slits. The dresses, by the way, are made of paper-based fabric (which felt like silk to me).
Crucially, Simons used the word intimacy, not sex or sensuality, to describe the driving thought of the collection. He said, "The world has changed so much, and the relationship that one has with the outer world is physical in a way." The isolation of the worst stages of the pandemic certainly made people more aware of their domestic environment. And in an odd, moving way, I think he and Prada conveyed that not only in the nightie dresses (both designers, in the past, have shown a fondness for nightgowns) but in novel fabrics — in particular a cloudy white, gazerlike fabric used for coats and layered separates and the poignantly austere black dresses with simple trains that closed the show.
For a straightforward, if somewhat lethargic, Max Mara show, creative director Ian Griffiths alluded to Renée Perle, a muse of the photographer Jacques-Henri Lartigue (who captured the glamorous and the sporty in France and England at the beginning of the last century), and modernist architect and designer Eileen Gray. The mostly linen clothes, with cropped knit tops, did have a classic feminine allure, but the winners were Griffiths's slightly faded sailor trousers and sundresses in washed cotton drill — the so-called bleu de travail of French workwear.
Jeremy Scott's Moschino was all hot air. Just kidding. The designer took the French-couture styles planted in our memories — the sharp Saint Laurent trouser suit with a jaunty straw hat, the Chanel cardigan suit — and adorned them with inflatable beach toys. Need a party stole made from an orange raft? A pair of sleeves that look like Flipper? Why not? Take away the pool paraphernalia, and the clothes are cute and foxy. But the collection is worth a single finale picture of a model seemingly connected with her candy-color inner tubes and toys. Fashion is folly. She might as well have a sign above her head that says "Swim at your own risk."