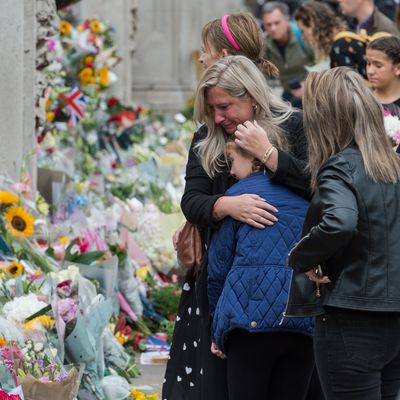 Photo: Wiktor Szymanowicz/Anadolu Agency via Getty Images
A small chorus of "God Save the Queen" rang out in the Green Park tube station Thursday as a crowd worked its way up the escalators toward Buckingham Palace. Two hours after the news broke that Queen Elizabeth II had died at her Balmoral estate in Scotland at the age of 96, mourners were gathering outside the palace in central London to honor a monarch whose reign lasted longer than her subjects have had color TVs.
"I hope you're all going to pay your respects to our wonderful queen," a middle-aged woman exclaimed in the tube station, a bouquet of flowers in one hand.
More flowers dotted the length of the black wrought-iron gates at Buckingham Palace alongside photos of the queen throughout her life, an all-black Union Jack, and an official notice confirming her passing. Despite the soaking rain, people wearing raincoats and toting umbrellas surrounded the Victoria Memorial outside the palace. Many of them toasted the queen with a pint or a canned gin and tonic, a drink almost as beloved as the monarch herself. The quiet, somber mood periodically lifted when a mourner who had climbed a low wall surrounding the monument started a round of applause or kicked off a ​​chant of "God save the king." There weren't many tears; the stoic expression made famous by the royal family in times of hardship dominated the crowd instead.
Tourists dragged their suitcases to the edge of the gathering to witness the historic moment and pay their respects. Couples took photos of each other in front of the memorials forming at the palace gates, some donning sheepish smiles. One man grinned enthusiastically for a photo before quickly rearranging his expression, presumably remembering what brought him there. It was a serious memorial for some and a once-in-a-lifetime photo op for others.
A woman in a black raincoat sat alone, sipping a cup of tea in a damask-patterned mug with a gold handle, which she brought from home to pay tribute to Elizabeth. Valentina, 37, said she had camped in the same area outside the palace just three months ago to celebrate the queen's Platinum Jubilee but didn't manage to see the monarch because mobility issues prevented her from participating in many public events. "It's very sad," Valentina said, using the cup of tea to warm her hands. "She was the pillar of the country … She will be remembered forever."
Elizabeth took the throne in 1952 at the age of 25, when Winston Churchill was prime minister. Fourteen other prime ministers served during her reign with Liz Truss being formally appointed two days before the queen's death. Between the political upheaval that led to a new prime minister, a worsening economic crisis, continued fallout from Brexit, and a war on the other side of Europe, it's an extremely turbulent time for Britain, and the death adds another layer of instability to the air. Talk among the crowd often came back to not knowing what this next, Elizabeth-less era will look like. "It's been 70 years of a lot of change, and she was a constant during that time for people," said Annie Phillips, an Australian living in London. "So I think this change brings a lot of uncertainty."
Even as the monarchy struggled to remain relevant in recent years amid scandals involving sex-abuse allegations against Prince Andrew, Elizabeth's second-eldest son, and accusations of racism toward Meghan Markle, the public held a lot of affection for the queen. People of all ages brought bouquets to lay outside the palace and tried unsuccessfully to keep candles lit in the rain. One woman wore a black funeral hat with a short black veil as if she were attending the official memorial service. Someone had attached to the gates a laminated photo of Elizabeth in a robin's-blue outfit and matching hat, a big smile across her face.
Many mourners offered caveats for their feelings about the queen's passing, saying they're not particularly royalists but were still saddened by the news. "I'm very interested to see the fallout of this now because I don't think the people love Charles as much as they love Liz," said Charlotte, 24. "I quite like the fact that, although they're not political, the government serves her, and she spans everything, rather than it being like we're going to have a new thing every five years. There is a level of continuity even though they're apolitical. It's a very odd system, but I like the idea of it."
The diverse crowd outside Buckingham Palace was a testament to how much Elizabeth meant to people from not just the U.K. but around the world. Mourners from the U.S., the Caribbean, Australia, Italy, and Russia made the trek from their homes and offices across London to pay their respects outside the queen's official residence. "I'm just so grateful. Because of her, I'm here in the U.K., and I'm a British citizen," said Joscia, who 20 years ago moved to the U.K. from Saint Lucia, a Commonwealth nation that gained full independence during Elizabeth's reign. Like many in the crowd, Joscia said she's "a bit worried" about the transition to the queen's eldest son, now King Charles III, as monarch.
"I'm just hoping he's as strong as his mother," she said, "and he remains humble like her."