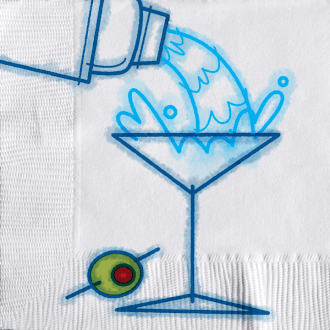 Last night at Lincoln Center, the New York City Ballet celebrated the tenth anniversary of its annual Fall Fashion Gala. Conceptualized by Sarah Jessica Parker, the gala has become one of the most exciting and exclusive fashion events on the calendar, bringing some of the biggest names in dance and design together for one evening. (Though Parker was the gala's organizer and honoree, she was unable to attend because of a sudden family emergency.)
In spite of her absence, the event was a success and kicked off with an outdoor cocktail hour around the Lincoln Center fountain, after which guests filed into the auditorium (a face-mask mandate took many by surprise; think of all the hours that went into makeup!).
Once guests were seated, the show opened with an excerpt of a classic ballet, Symphony in C, by George Balanchine, before moving into the main event: Play Time, an exuberant piece choreographed by Gianna Reisen and set to music by Solange Knowles, who was commissioned by NYCB for the occasion (the multihyphenate star is the second Black woman to compose a score for the New York City Ballet).
There to cheer Solange on was her sister Beyoncé accompanied by family matriarch Ms. Tina Knowles-Lawson. They slipped into the auditorium when the lights were down and slipped out right after, but when Solange took her bow, I'm pretty sure I saw their phones light up in a very cute "you're doing great, sweetie" moment.
The show then moved into a sobering solo number (aptly titled Solo), which was choreographed by Justin Peck during the height of the pandemic when the theater was empty. The "postapocalyptic" costume for the number was designed by Raf Simons, who was busy putting on his own fashion show in Europe.
The event closed with Love Letter (on Shuffle), a longer dance choreographed by Kyle Abraham set to a handful of songs by James Blake with costumes by Giles Deacon. It was moody in the way that James Blake tends to be but not entirely heartbreaking — there were more uplifting, even amusing sections, and I saw a number of audience members bobbing their heads to the beat. Everyone got to their feet for applause at the end.
For more details on the gala, read on below, where I've ranked everything from clothes to conversation on a scale of one to ten pirouettes.
Celebrity esteem
This was definitely an A-listy event; outside of the star power brought by the Knowles family, Sarah Jessica Parker wrangled a pretty good gaggle of gala chairs: Andy Cohen, Laverne Cox, and Claire Danes were among this year's.
The audience was also solid and included Billy Porter, Beth Ditto, Julia Fox, and Kristin Davis (a.k.a. Sex and the City's Charlotte. I wonder if Kim Cattrall got the invite?).
Also present was Queen Latifah, who posed with Solange for iPhone photos before the show. An easy: 9 pirouettes.
Clothes
The costumes for Solange's show were crafted by designer Alejandro Gómez Palomo of Palomo Spain, who worked with Beyoncé for the birth announcement of her twins in 2017. Dancers were dazzling in Swarovski crystal–covered geometric tutus and suits with broad shoulders in a rainbow of colors.
Solange herself wore a suit, accessorizing the look with a shimmering diamond necklace. And her sister Beyoncé matched in custom tailoring by Sergio Hudson.
The onstage costumes were the main event, but the crowd stepped it up, too: Choreographer Gilbert Bolden III wore a neon-green tutu and a suit that'd been chopped into a crop top. Meanwhile, Julia Fox ditched latex for a tinfoil silver gown by Zac Posen, which she says she accessorized herself with, oh, you know, the silver gloves she had lying around her office. I also spotted at least two men in kilts; unclear whether or not this was coordinated. 8 pirouettes.
Conversation
Has Julia Fox ever dabbled in ballet, you ask? "My grandma put me in a ballet class when I was around 7 or 8, and it became very apparent very fast ballet was just not going to be for me," she told me. "It was too much coordination. I think I just had ADHD, and there was no way that I was going to have that type of discipline that those other little girls had. I wanted to play on my GameCube all night; I didn't want to friggin' be getting yelled at by some mean failed ballerina."
But look at her now! "My grandma would be proud," she added. 7 pirouettes.
Music
More Solange compositions, please! 10 pirouettes.
Food and drink
Dinner was served to a select few guests after the show, which ended a little after 9 p.m.
But since 6 p.m. is the new 8 p.m. in New York, I made sure to eat beforehand and happily jumped on the 1 train home instead. For my own forethought, 11 pirouettes.
This post has been updated.