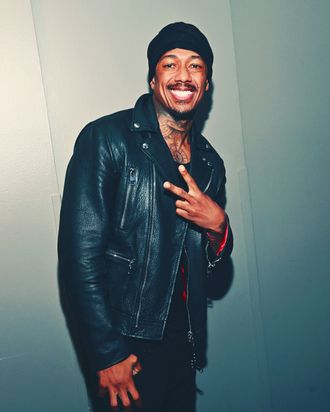 Photo: Prince Williams/Getty Images
It's another day that ends in y, so you know what that means: We have baby news from the Cannon family. Nick Cannon announced the birth of his newest child, his third with Brittany Bell and the second baby he has welcomed this month alone.
"WELCOME RISE MESSIAH CANNON," Cannon wrote on his Instagram Stories on Friday, indicating that Rise was born on September 23. He posted what appears to be a video of Bell's baby shower, writing, "As my journey on this planet becomes more and more remarkable and unfathomable, all I can do is thank God and continue to ask the Most High to order my steps." Sharing that Bell wanted a "BlessingWay" instead of a baby shower, he described the event as "a bunch of powerful prayer warriors interceding for our new child's entrance to Earth!"
Rise is not the only baby to join the extended Cannon universe this month; less than two weeks ago, Cannon and model LaNisha Cole (a new member of the Cannon mothers' club) welcomed a daughter, Onyx Ice Cole Cannon. Cannon already shares two children with Bell: 5-year-old Golden and 1-year-old Powerful Queen. Rise's other half-siblings include 11-year-old twins Monroe and Moroccan with Mariah Carey, twins Zillion Heir and Zion Mixolydian with Abby De La Rosa, and newborn Legendary with Bre Tiesi. Cannon recently mourned the loss of his 5-month-old son Zen, whom he shared with Alyssa Scott.
It seems this man is at least vaguely aware that not everyone appreciates his ambitious contribution to the human population. When Onyx was born, Cannon proclaimed on Instagram that he hopes to "mute any low vibrational frequencies and only rejoice with the Highest Class of Civilization who are truly aligned with our purpose here in this dimension." He also seemed to push back on the criticism that one man couldn't possibly have enough time to raise all these children effectively. "I am learning that it is not the limited amount of time we have on this planet, but it's the limited amount of love that is the issue. And I promise to love this little girl with all my heart, regardless what anyone says," he wrote. "I am not easily triggered and have quite tough skin and have always been an open book, but not everyone in my family has that same level of strength. So I pray and ask others to please project all criticism and cynicism towards ME and not the loving and precious Mothers of my children."
He certainly has multitasking down: He managed to work a promotion for his new song with Chris Brown, "I Do," into Onyx's birth announcement.
If we are foolish enough to assume we now know about all the children Cannon is expecting this year, he has capped it at three for 2022: Legendary, Onyx, and now Rise. But that number may go up. Rumor has it he is expecting another baby with De La Rosa, who is pregnant but has not confirmed the father's identity. She recently spoke about her relationship with Cannon during an appearance on the Lovers and Friends podcast, per E! News, calling it "polyamorous, if you absolutely need a label." She revealed that she considers Cannon her "primary partner" and that she had been "monogamous" throughout her pregnancy and is aware of Cannon's other romantic partners. "Technically speaking, we all know about each other," she said. "It's just how much do you want to know, how much are you choosing to know. And I trust the connection that I have with Nick."
This post has been updated.