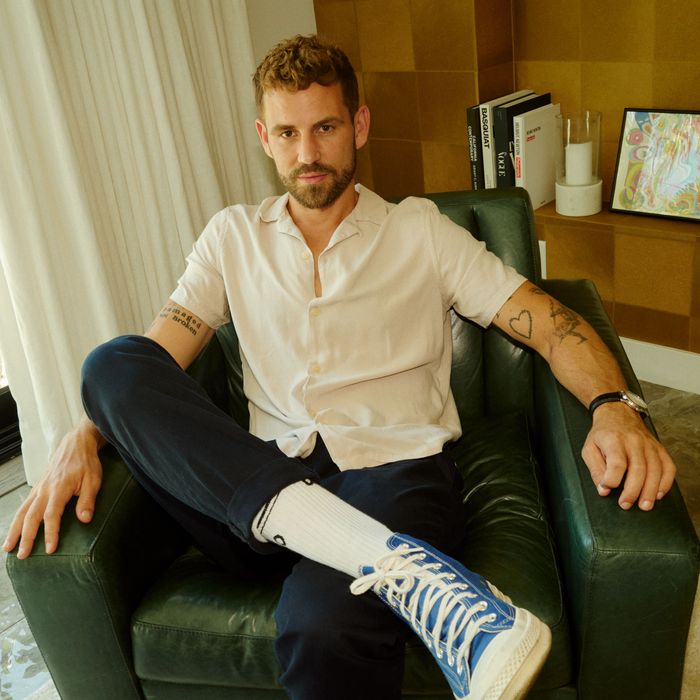 At the end of January, just a few days after ending (for good this time) a "situationship," I was scrolling through TikTok when the algorithm proved its freakish powers. In my feed appeared a handsome man with light brown curly hair and a beard. He sat on a green armchair in his living room wearing a black hoodie and looked like he just rolled out of bed. "I know the person you just stopped hanging out with sucks, and they hurt you, and I'm sorry," he said in a deep, pillow-talk-y mumble while looking directly at the camera. I peered over my shoulder, as though someone was watching me. How did he know?
"And I'm sure the internet and TikTok are giving you all these buzzwords and labels to identify their behaviors and explain how they can do what they did to you," he continued. Correct. I learned the term "situationship" while scrolling the day before.
"But if we're being honest, I'm certain there were several — many — moments where your gut told you something was off …" Okay, true. "… And instead of asking yourself or them more questions as a result of you listening to your gut, you chose the excitement of possibly one day being validated over the fear of being hurt." Harsh, but also true. "And while that doesn't excuse any crappy thing they might have done to you …" Thank you. "… You investing more energy trying to understand a behavior you already knew deep down wasn't what you deserved is you giving them more energy and more of your power, so STOP IT."
All right, all right!!! 
It was tough love delivered in three swift acts, and I fell for it hook, line, and sinker. First, this person validated my experience. Then he called me out ("If we're being honest …) without making me feel bad. And finally, he told me to give it a rest. After months of feeling confused and insane, this 47-second-long clip gave me an immediate and profound sense of relief. Then I peered at the bottom of my screen and read the deep, mumbling voice's username: @nickviall.
Wait… This guy? Suddenly, it became clear why I felt like I knew this person: I'd seen him on TV, specifically on The Bachelor. If you're a fan of the franchise, you know that Nick Viall (pronounced Vy-AHL) has been on it four times, which is an unusually high number. First, in 2014, as a suitor to Andi Dorfman, whom he was accused of "slut shaming." Then, again the following year on Kaitlyn Bristowe's season, in which he was still a bit of a villain. In 2016, he did a redeeming stint on Bachelor in Paradise. And finally, in 2017, he was the Bachelor himself. But in none of these instances did Viall successfully find a wife. As a result, he has developed a reputation over the years as someone very unlucky in love, whom fans kind of love to hate. (In the past, the Cut has called him "The Thirstiest Bachelor.") And this was the person I trusted for dating advice??
I'm not alone. On TikTok, Viall has more than half a million followers, but that's actually his smallest audience. In 2019, he started a podcast called The Viall Files, which, according to his reps, has 100 million downloads and is averaging 5 million listens per month (and doesn't actually rhyme with his name). On it, he fields caller questions related to dating — "Am I a f*ckgirl?" — and "goes deep" with a new guest each week, who is oftentimes also reality-TV famous, like Audrina Patridge from The Hills or Mary Fitzgerald from Selling Sunset. After a year, the show was so successful he added a third weekly episode dedicated to Bachelor recaps. Now, he's in talks to increase that number to four. In the fall, he'll publish his first book, Don't Text Your Ex Happy Birthday: And Other Advice on Love, Sex, and Dating.  
Although he was 0–4 on The Bachelor, Viall, 41, has been unusually successful in remaining relevant since. (And unusually open about talking about sex, which perhaps explains why.) After his final season, he went on Dancing With the Stars and pursued a career in acting for a bit, but found his calling in a series he started on Instagram called "Ask Nick," where he would respond to questions from his followers, of which he now has more than a million. He naturally received a lot of dating-related inquiries, and it was a hit, inspiring the podcast. Turns out, spending three years of your life focusing solely on catching feelings and interrogating them ad nauseam might actually qualify you to dole out advice on the subject.
This summer, I met Viall in his living room in Los Angeles, where he sat across from me on the same green armchair I'd first seen on TikTok, with his dog, Jeff, at his Comme des Garçons Converse–clad feet. On a mantel behind him was a framed print of Gustav Klimt's The Kiss, and propped up outside on an easel in his backyard was a painting he was working on himself of the Eiffel Tower. I knew from TikTok that he and his girlfriend of two years, Natalie Joy, 24, whom he met because she slid into his DMs, had recently returned from a trip to Paris. ("She was still the most beautiful thing I saw today" is what he captioned a video of her walking around the Louvre.) But I wanted to know more about this suspiciously helpful talking head on my phone. Could I really trust him for future advice? Or was Viall waving the same red flags he would encourage me to avoid?
Viall says that he's always been an advice person — even pre-Bachelor, when he was just a guy from Wisconsin with ten siblings. At parties, you could usually find him in a corner — Hey, can I steal you for a sec? — having a deep conversation with a friend about their love life. "Most people assume that my experience on The Bachelor is my dating history," he said, whistling his s'es in the way he does. "But that's not the case. I experienced lows in my 20s and had some really tough heartbreaks." He was engaged and cheated on by his fiancée, for example, which he describes as a formative experience. (A large tattoo on his right arm that reads "Damaged not broken" is perhaps lingering evidence.) "It made me realize I was really good at lying to myself," he said. "So when people would share their stories, I could pick up on all those little things they were telling themselves, and was good at asking the right questions to lead them down a path of seeing what I was seeing."
This is still his shtick: Being honest with you so that you can be honest with yourself. A "friendly wake-up call," as he describes it. But who is Viall to say he knows what the truth is? Much like his character on The Bachelor, he simultaneously possesses an indie sensitivity ("Forgetting Sarah Marshall changed my life," he tells me) and a bro-y confidence (he's been called a "reformed fuckboy"), and can sometimes come off as smug with his advice, even when it's just about banana bread. "I know it sounds like I'm yelling at you for your dating and relationship choices, but the truth is, I'm not," he says in a video pinned to his profile, in which he wears a hoodie inscribed with "sorry, i'm right." He's also annoyingly self-aware. His TikTok bio reads: "I don't mean to be annoying."
This attitude is complicated by the fact that most of his audience is made up of women, presumably heterosexual ones. Viall says he tries not to gender his advice, but he has in the past, and, if we're being honest, the more specific (i.e., targeted) the content, the better it seems to perform on TikTok, he says. When I first came across his profile on the platform, I watched a four-part series called "It Doesn't Freakin' Matter, He's Still Not Your Boyfriend," which received millions of views. He started off using "they/them" pronouns, but by part three, he fully gives in to the bit. For example, if a guy texts you first most of the time, Viall says, "That just means he's needy, but not needy enough to be your boyfriend." If he gives you his hoodie, Viall says, "More like he gave you a hoodie; he's got like 50 more." You get the idea. I remember thinking he was right, sure, but I also wanted to punch him through the screen. "Can we start calling men out on this behavior instead of making women feel crazy for getting attached to it," was a top-liked comment.
"When I make videos like that, I always run the risk of coming across as condescending, or as a guy who is speaking to women as if they don't know better," he said on the subject. "And that's certainly not the message I'm trying to get across. It was meant to be more satirical and make people laugh, and call them out for these things that we all do." He added that he would call men out on their behavior — "men do this too in situationships" — but unfortunately, they're not usually the ones calling in.
Even when he's not talking about men, specifically, Viall's "friendly wake-up call" flavor of advice brings to mind "he's just not that into you," the phrase first uttered on Sex and the City that spawned both a best-selling book and a blockbuster movie of the same name. In his own book, Viall says he's heard this before. Does that make him the Berger or the Justin Long of 2022? Like Miranda, and subsequently Ginnifer Goodwin's character in the spin-off, I've been liberated by his platitudes. But also, I kind of hate him for telling me? And that feeling is also maybe kind of hot?
"There have been dark, dark moments in my life where I've been attracted to him," admitted a friend over text.
In many ways, He's Just Not That Into You is outdated, so it's maybe not the most flattering comparison. But as a concept, it unfortunately remains true — and perhaps bears repeating. In the film, characters are constantly lamenting new technology: caller ID; texting; Drew Barrymore can't figure out MySpace. Dating used to be so simple! Today, there are even more ways to get our wires crossed. Who hasn't convinced themself that someone is obsessed with them based solely on how often they look at our Instagram Stories? Personally, I really needed to hear Viall say something to the same effect — that I was looking for answers instead of facing the facts, and that I needed to STOP IT.
"One I hear a lot is: I went out with this person, they ghosted me, but then we matched again on an app; what does that mean?" Viall offered as another example. His answer: "Nothing. They're bored? Curious? But they still ghosted you three months ago, right?" Whether they're into you or not, the point is: If you're questioning the relationship, it's probably not one you want to be in.
Everyone's dealing with the same old problems as they were two decades ago, we just have a new language for them now. (On TikTok, the new "he's just not that into you" is "if he wanted to, he would.") In his book, Viall offers a guide for how to identify a fuckboy, for example — clarifying that women can be fuckboys too — and how to know when you're in a situationship with them. That said, he knows he's not an expert or a therapist. (Although he started going to therapy during the pandemic.) He's not going to give you a diagnosis, or tell you your problems are because of your relationship with your mom, or whatever. He doesn't want to talk about attachment styles, and he is wary of serious terms like love-bombing and gaslighting. He also tries not to use words like always or never.
"I'm not trying to be clinical," he told me. "I'm just trying to be your friend, so to speak. I don't want to overstep my boundaries, and I don't want to speak on things I'm not well versed in." This makes him stand out in the world of advice-Tok. There are plenty of actual therapists on the platform, and I find their videos cringingly earnest and will swipe past them. The more egotistical Viall is, however, the more I trust him to recognize my own ego at work. That's definitely not a healthy dynamic, and the way Viall exploits this is arguably why he's part of the problem, not the solution. But sometimes a brazen stranger on the internet can bring you to your senses.
In his middle age, Viall is clearly trying to be less annoying, which, of course, only makes him more annoying. When I arrived at his home, I was greeted by a doormat that read "Be good, do good," and when I asked for his Wi-Fi password, it was "savetrees." (It's possible these were both his girlfriend's doing, but still.)
"I've always been that snarky person, so I want to make sure that I connect with my audience. I want them to trust me, and I want to show that I do empathize with them," he told me when I asked about his approach. "I don't know how they see me — maybe they think I'm just this guy who was on The Bachelor, or maybe they think guys don't have to deal with stuff like this," he continued. "But I've dealt with it. So I want to hit them with some tough love, but also remind them of that."
After getting through all my interview questions, Viall turned the spotlight on me. "Wait, tell me about your situationship," he said. We were out of time, I thought, but he said he had nothing else to do that afternoon, and, you know, this is kind of his thing. So we spent another 45 minutes talking about me. I told him that even after watching all his TikToks and reading his book, I was still having trouble getting over a guy. He told me he was sorry for what had happened, and that what I went through sounded frustrating. He pointed out all the ways I was still spending my energy on this person. And then he told me that instead of wasting said energy trying not to give a shit about them, I could simply just block them. "But isn't that dramatic?" I said. We argued for a bit, which was fun. But ultimately, I knew Viall was right. When I got back to my hotel, I opened Instagram and said sayonara.
"I'VE BEEN TELLING YOU THAT," said a friend when I texted her about blocking this guy. She probably did; I don't remember. But Nick Viall made me do it.