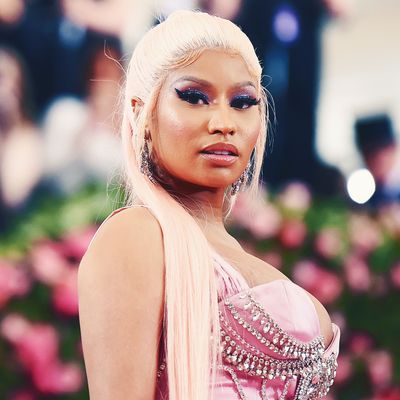 Photo: Jamie McCarthy/Getty Images
Nicki Minaj may (or may not) be feuding with Cardi B, but that's not going to stop her from following in the "WAP" rapper's footsteps. Earlier this year, Cardi B won a multimillion-dollar lawsuit against a blogger known as Tasha K who, in 2018, posted videos claiming the rapper was a prostitute and used cocaine, among other allegations. Now, Minaj seems to be hoping to mirror that success. Last Wednesday, she filed a lawsuit against Nosey Heaux, legal name Marley Green, accusing the vlogger of calling Minaj "a cokehead" in a live video. (The video appears to have been taken down, but TMZ reposted it.) Nosey Heaux has since claimed that the lawsuit is retaliation for her support of Jennifer Hough, the woman who accused Kenneth Petty, Minaj's husband, of rape in the '90s. Here's what you need to know.
Minaj sued Nosey Heaux for defamation after the vlogger allegedly called her a "cokehead."
According to the lawsuit, Green was broadcasting live on her social media when she alleged that Minaj is "shoving in all this cocaine up her nose. Allegedly. Thank you. Allegedly." Per legal documents, she continued, "But we all know it's true. Fucking listen, I can't even say allegedly with that 'cause I, we all know it's true. I'm not saying allegedly on that. Nicki Minaj is a cokehead." The video was reportedly retweeted over 250 times and had over 2,000 likes. In her lawsuit, Minaj also accused Green — who the filing calls a "nobody" — of making "vile" comments about her young son. The suit further alleged that Green was working with an unnamed performer, "mistakenly believing that she and [Minaj] are stars of equal stature."
The rapper is suing for defamation and requesting at least $75,000 in damages. But as Minaj's lawyer made clear, it's not just about the money. In fact, Minaj's team is hoping Green won't be able to pay a settlement. "When this case is over, she will no longer be permitted to use the name 'Nosey Heaux' because we will take her trademark from her when she does not have enough money to pay the judgment," Minaj's attorney Judd Burstein told TMZ. "Anyone else who spreads lies about Nicki will suffer a similar fate."
Minaj threatened to sue more bloggers and even fellow artists.
Minaj tweeted out a similar warning. "Let's hope the ppl you guys r doing all this dirty work for love you enough to hire top notch lawyers for you & to pay your bills once I own your blogs, your shows, those IG pages y'all tried to protect so bad," she wrote, adding that there were a "couple artists" she might go after. "I'll own your publishing. Duds." She teased that more lawsuits might be coming soon, tweeting that she might "dish them out daily, weekly, orrrrr maybe even monthly."
It's unclear how, exactly, Minaj became aware of Green's video, though it appears to have come from her fans. She tweeted that "Barbz sent folders & folders full of evidence to my lawyer" for an unspecified legal action. An hour later, she released a screenshot of a text she sent to her attorney, seemingly referencing the video. "I've never done cocaine in my life & that can be tested through my hair. My hair is long. I want to sue this woman right away," she wrote to her lawyer.
Minaj has since requested that her fans stop sending her and her attorneys links or any other information regarding the case. "Don't send any more emails to my team," she wrote. "It's being counterproductive @ this point." She did not, however, ask them to stop harassing her critics online.
Nosey Heaux, a.k.a. Marley Green, claimed that the lawsuit is retaliation for her support of Jennifer Hough.
Meanwhile, Green responded to the lawsuit with a video on YouTube. In her two-hour livestream, she suggested that the lawsuit wasn't really about defamation, as people "more famous" than her had said similar things about the rapper before, but was about her support of Jennifer Hough, the woman who accused Minaj's husband Kenneth Petty of rape in 1994. He plead guilty to attempted rape at the time and served over four years in prison. Green said she communicated with Hough before she went public and accused Minaj and Petty of harassment earlier this year, making her a target. "This is because I introduced Jennifer Hough. Because I encouraged Jennifer Hough publicly to sue Nicki Minaj for harassment. So that's how this started," she said in the live. She repeated this claim on Twitter.
Green's attorney issued a similar statement. "The lawsuit filed by Nicki Minaj against Marley Green is an act of retaliation. Marley is a Black woman, a lesbian, a rape survivor, and an outspoken activist for other rape survivors," Samini said in part in a statement provided to Rolling Stone. "Curiously, Ms. Minaj's lawsuit was filed shortly after Ms. Hough's interview with Marley. Since the interview, Marley has received threats of physical violence and constant harassment. There is no doubt that this will backfire for Ms. Minaj once the public learns about the intimidation and harassment that Marley has suffered, all as a direct result of her mission to give other sexual assault survivors a voice."
Almost a week after the lawsuit was filed, Green apologized for comments made about Minaj's son, tweeting, "I was under a lot of stress and pressure at the time. But I apologize for those comments. No excuses. I will continue to fight to clear my name with the help of my team and lawyer @bobbysamini."
The Cut has reached out to representatives of both Green and Minaj but has yet to receive a response.