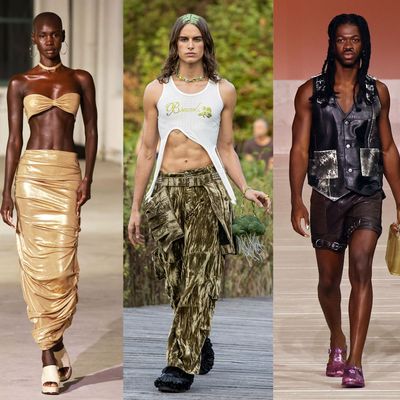 Photo: David Spector and Getty Images
So what happened this season at New York Fashion Week? Fendi and Marni showed for the first time, newcomers like Nguyen Inc. and Mirror Palais showed, and it seemed as if everyone was in the Loewe sunglasses. Here, 14 moments we thought were important:
Fendi Came to NYFW With a Budget and a Mission: Go Big, Big, Big
They Fendi-ized Hammerstein Ballroom, turning it soothingly beige, and threw everything LVMH had at the show: a Kim Jones–meets–Marc Jacobs–meets–Tiffany & Co. triple play. It was all to celebrate the baguette, at 25 the godmother of "It" bags. But my big takeaway came from going backstage after the show, where Jones's friend Kate Moss was glowing proudly, vape in hand, beside her daughter, Lila, who opened the show. Moss as stage mother — we the people demand her revival of gypsy! —Matthew Schneier
Lil Nas X at Coach in Jellies
Is the jelly shoe … timeless? The whimsical staple has been revived a number of times since the '80s but most recently and most prominently at the Coach runway show — on Lil Nas X's feet no less. As a fashion icon in his own right, this moment in the spotlight was pivotal for this nostalgic piece of footwear and its redemption arc; jelly shoes are officially back. Does it seem ironic to revive a plastic shoe at a time of dire climate crisis? Yes! Do we recommend buying jellies just because Lil Nas X wore them? No! But we can certainly appreciate them nonetheless. —Danya Issawi
Is That a … Broccoli Bag?
If there's one thing you can expect from a Collina Strada show, it's that it's going to be vegetable forward. I've seen everything from carrots to kale on the runway, but this season, broccoli got the black-tie treatment. One model carried the vegetable like a purse, and it was bedazzled with fringe, making everyone in the audience do a double take. Is that broccoli?? Yes, and it's designer. —Emilia Petrarca
Nguyen Inc.: A Family Affair
If you are lucky, you witness a moment during New York Fashion Week that reminds you of the magic of fashion. That moment came for me on an alley street in Chinatown as Kim Nguyen showed her first New York Fashion Week collection. She showed her signature crocheted miniskirts, knit tops, and tanks emblazoned with "Nguyen Inc.," her namesake brand. In what was a true showing of talent and community, most of downtown's fashion cool kids lined the runway, cheering on Paloma Elsesser, Richie Shazam, and Beatrice Domond. Friends showed up (myself included — full disclosure) in her signature Power shirts, a rare showing of genuine support at the end of a hectic week. —Joanna Nikas
Shiny Skin Is In
Oily-skin girlies can rejoice: Shiny, glossy skin is in. At Fe Noel, models had smudged eye makeup and a shimmer-free glow all over. At Mirror Palais, they paired effortless hair with a natural glow and sun-kissed blush. At Aliette, heavy blush and a statement lip was paired with glowing skin and a sheer highlight. At Eckhaus Latta, makeup artist Fara Hamidi put a seemingly sheer film on models faces to look really glossy. If there was ever a time to embrace your oily skin, it's now. —Chinea Rodriguez
Finally, a Show With Diversity
At Bad Binch Tongtong on Friday, a mermaid shimmied down the runway to open the show, followed by a choreography of dancers in plush octopus, butterfly, and buglike garments signature to the brand. The entire performance was joyful and had the most diverse casting I've seen all week. Let's not forget: Fashion should be fun! —Vivian Chuang
A Bag With a Cult Following Emerges
A few of my friends carry SC103 bags, so I've been admiring the brand's scrap-leather link bags for a while, but after going to Sophie Andes-Gascon and Claire McKinney's show last week, I feel like I've been seeing them everywhere. The designers returned to NYFW after a brief hiatus, showing their latest collection to a packed house at the Nolita gymnasium where Rachel Comey normally hosts her sample sales. Like the bags, the clothes are all one of a kind and constructed from deadstock, and the thought and technical skill that go into each one really came through. —E.P.
The Model of the Season
Every day, every show — there, it seemed, was Hari Nef. She may have gone Hollywood (look for her in Barbie and Sam Levinson and the Weeknd's The Idol soon), but she took to the runways at Collina Strada, Tommy, Eckhaus, Vogue World — more than that, at each one she looked like she was having the time of her life. A welcome relief from the usual grim parade. Maybe the death of Roxanne Lowit this week has put me in a nostalgic mood, but don't you miss the days when models smiled? —M.S.
There Were Performances, Too!
Yue Yin of YYDC opened the Ashlyn show with a moving performance, echoing the theme of the show: resilience — of motherhood, womanhood, and personhood. She was followed by a collection of looks that was thoughtful in tailoring and understatedly beautiful in form. I wanted every look! — V.C.
A Trend You Can Buy Right Now
At Sandy Liang's show, the models wore sweet little satin roses in their hair and on their wrists like prom corsages. I always have a hair tie on me, so I like the idea of sprucing it up a bit, and who doesn't want a second chance at their prom look? These scrunchies are not cheap ($65), but I can see myself wearing them every day. —E.P.
Loewe Sunglasses Were Seemingly Everywhere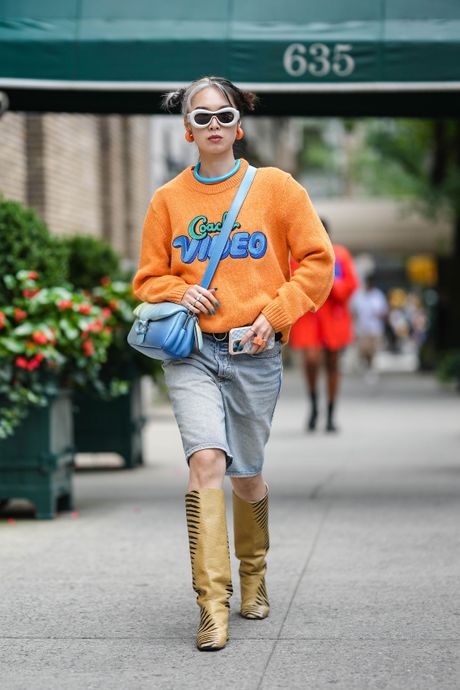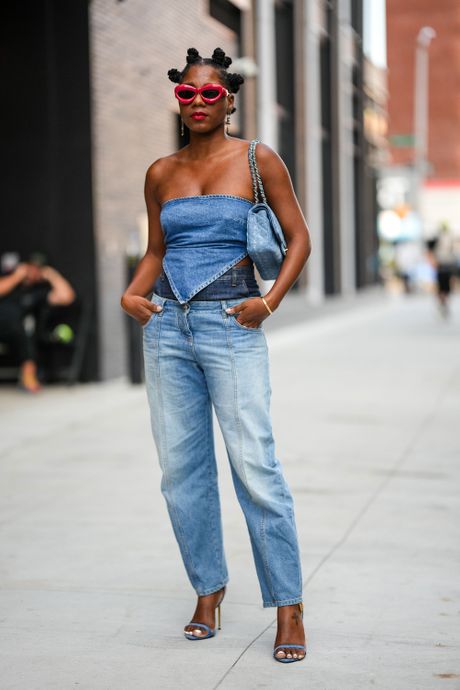 NYFW attendees got the "Wear your Loewe sunglasses" memo and stuck to it. Whether it was the Paula's Ibiza Geometric Sunglasses, the Inflated Cateye Sunglasses, or the Flower Cat's-eye Sunglasses, if your eyes did not look like the ones of a sleepy Furby or Wall-E, did you even parade the streets of the city? —Bianca Nieves
Can Women Wear Waves Now?
At Fe Noel's show, hairstylist Lacy Redway put her own twist on baby hair and had models walk the runway with slick hair waves on their forehead. It was almost like a baby-hair bang. Move over, men, because us women are about to start rocking waves next. —Asia Milia Ware
On the Streets, Lots of Skin
At first, I thought it was quite the juxtaposition that we saw lots of skin on the runway this season, from sheer dresses to intentional butt-crack peekaboo moments, and then a lot of maxi-skirt moments in street style. But the more I took a look at attendees and shows, I noticed that we're leaning into being more naked. Cutouts were seen all throughout the streets, from blazers to dresses, and on the runway — like Peter Do's side-slit cutout trousers. —A.M.W.
First-Timers Blew Us Away
Watching up-and-coming designers present their first show at Fashion Week feels a little bit like watching a baby bird leave the nest for the first time. All you can really do is hope for the best and pray they actually know how to fly. It's an especially special experience when the presentation of a first-timer blows you away, as both Marcelo Gaia of Mirror Palais and Jackson Wiederhoeft of Wiederhoeft did for me this season. Gaia's work was simple and ethereal. His show, which was held in a church and included a diverse array of models, including first-timers like himself, moved my deeply nonreligious soul. The shoes were also sourced vintage and secondhand by the Millennial Decorator, which I always appreciate. And while Gaia's work made me emotional, Wiederhoeft's struck the final blow. At his show, I found myself in tears. His show truly had it all: beautiful clothing; inclusive, community-minded casting (he has been working with the same group of models and dancers for years); a captivating story line; and transcending music. It was a full performance that worked in tandem delightfully with his rococo-esque designs. As the show closed out, I turned to our senior social-media manager, Sasha, and we both found ourselves crying. I felt sad to watch it come to an end but happy to have seen such a deserving designer flourish. Both of these talented creatives will be ones to watch. —D.I.