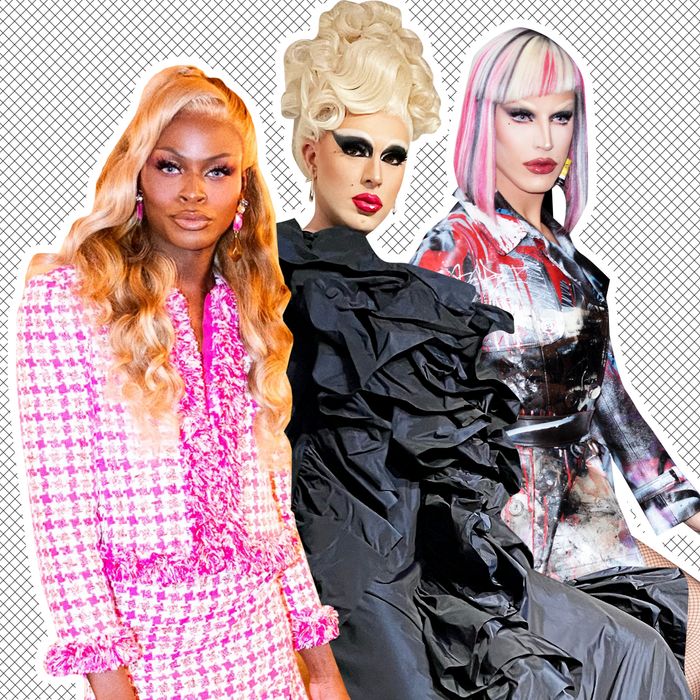 Photo-Illustration: by The Cut; Photos: Getty Images, CT Hedden, Leandro Justen
Symone — the crowned winner of RuPaul's Drag Race season 13 — showed up on time for her fitting at Carolina Herrera's offices. She was all smiles and polite air kisses in a pair of baggy jeans and a T-shirt accessorized with a studded Valentino bag. But Symone arrived a few minutes later, zipped up into a super-short, Barbie-pink floral Carolina Herrera dress. Her whole posture changed: Her hips were popping, her long legs grew even longer in a pair of high-heeled sandals, and a voluminous sleeve floated in the air as she gave a few experimental waves to the mirror. It's the kind of transformational moment any designer would dream of being responsible for, which is why the brand's creative director, Wes Gordon, invited Symone to sit front row at his spring 2023 fashion show.
"My vision for Herrera is that I can create an array of pieces on a rail that anyone can walk into the store and find that one item that makes you the superhero version of yourself," Gordon said. "We're a house of glamour and beauty and an unapologetic embrace of fabulousness. Anyone who's looking to fashion to broadcast their personality to their world is an icon in my books."
It would have been unexpected to see a drag queen sitting front row at Carolina Herrera even just a few years ago, but these days, no respectable fashion week VIP section is complete without at least one queen involved. The girls are girling for fashion brands worldwide, and not only in the front rows: There was Bimini Bon Boulash strutting the Richard Quinn catwalk, Tayce vamping it up in a Jean Paul Gaultier fragrance campaign, Shea Coulée wearing custom Christopher John Rogers on the latest season of RuPaul's Drag Race: All Stars (to say nothing of her history-making Valentino haute couture moment).
"What drag queens do is such an amazing form of art and, in a way, a designer's dream because they're a perfect muse to wear your clothes and really show them off," said Christian Siriano, who regularly invites drag queens to sit front row at his shows. "I think they're just as important as a great, cool, up-and-coming actress. Drag is not just a queer thing, it's a beautiful art."
Symone did not get much sleep this fashion week. There was the Herrera show, the premiere of Hillary Clinton's new show Gutsy, performing (for Grace Jones!) at a party for Boy Smells, a gig for Bergdorf Goodman, the Vogue World fashion show, a handful of after-parties, and walking her first-ever runway for Luar. She wore Herrera for most of them, a relationship she first forged when she shot a special issue of Interview magazine with the brand.
The winning outfit for sitting front row at the Plaza Hotel, though, was a mini tweed set that matched the uptown mood of the morning. With a blonde wig and a full face beat (managed on two hours of shut-eye; werk takes work), she fit right in with the rest of the VIPs without sacrificing her unique style. "I'm doing Symone," she said. "I don't ever want to look like I'm ever trying too hard — I want it to feel effortless. I want to try new things, of course, but it always has to feel authentic, like it's part of my story. I don't ever want to feel like I'm just putting something on; that never works, and everyone can always tell!"
Across town, at the Coach show, Drag Race season ten winner Aquaria took a different approach to getting dressed. She kicked her bitchy pumps high for the gaggle of photographers screaming her name, giving a glimpse of leg from underneath her graffitied leather Coach trench. Just earlier in the week, she'd been a demure darling in a lilac Christian Siriano dress, complete with a tea cup. Aquaria's reputation is one of a fashion queen ("Raja recently said this, and I completely feel like I'm on the same page as her: As much as I'm a fashion girlie, I'm more so a style girlie," she corrected), so it's no surprise she's become something of an industry favorite.
"I like the versatility that drag permits me; I think that getting to be a different version of Aquaria every day is so special," she said from her front-row perch at Coach. "I am jealous of the girls who can always be the same genre, but for me, the fun is getting to be a Coach girlie one moment, then being some other girlie the next moment. I like being a chameleon, adapting to different brands, styles, influences, and references."
Aquaria is in demand both in and out of drag, and her itinerary for the week was similarly stacked: the Coach show and afterparty, the Opening Ceremony party, plus runways for Maisie Willen, Christian Siriano, Wiederhoeft, and Area.
It's hard work, and the queens are, more often than not, their own glam teams. Queens who aren't New York City–based have to pack a variety of wigs, shoes, and makeup without knowing what they might wear. Symone likes to have at least two hours to get ready; Aquaria has even been known to tailor her own looks. "It's my duty as the queen to not only transform myself but to transform the garment and make the garment look spectacular on me," Aquaria explained.
"It's cramming what we do every day into one week, so this is basically just another day in life," said CT Hedden, sitting front row at Christian Siriano in a voluminous ruffled gown from the designer paired with a pile of blonde curls. It's definitely more glam than her usual gender-bending beat: "I'm used to being buck naked," she laughed.
CT had a busy schedule, too, packed with parties, the Fendi show, the Harper's Bazaar Icons red carpet, the opening of David LaChapelle's new exhibition at Fotografiska, the LaQuan Smith show, and a potential runway gig in Paris she's keeping under wraps, all on top of her day job as the general manager of downtown hot spot Indochine. (A private event the evening of the Siriano show ended up short-staffed at the last minute, so CT spent her car ride there in full drag finding a replacement. Drag queens really can do it all, and in vertiginous heels to boot.)
Whether it's drag brunch at the local straight bar or queens getting their own TV specials, the art of drag is now more mainstream than ever — and when it comes to the fashion industry, queens are no longer a little after-party-performances-only secret. "I think fashion is finally more accepting of us, and I think that, finally, people are realizing how many elements and inspirations are people copying us," Hedden said. "I mean, for example, the Met Gala: Like, what kind of full-on drag show is that?!"
It would be foolish to deny the Drag Race of it all. The sun never sets on the empire that RuPaul built, and its stars combine some of fashion's favorite things: reality TV, celebrity, fashion, and high camp. But the show's format also gives it all a little heart, too, in a way that appeals to fashion's more emotional side.
"I'm gonna toot the horn! I think people just really connected to our season and had fun, so they wanted to see that at fashion shows," Symone said. "People who are coming into fashion kind of grew up with the show, so they're wanting the girls to come through and be a part of it because they realize it's one and the same — especially when you know the work that goes into being on that show, the thought process, the love, the care, the art."
Coach creative director Stuart Vevers didn't exactly grow up with the show, but he counts himself as "a huge fan" of RuPaul's Drag Race. The brand collaborated with the series on a challenge in season 13, with Vevers himself guest judging — "A dream come true for me," he said — and in addition to Aquaria, they've worked with Drag Race alumni like Bob the Drag Queen and Utica Queen. "Drag is about celebrating the courage to express yourself, which is something I've always wanted to celebrate at Coach, especially at our runway show," Vevers said.
As with all other representation in the fashion industry, there's always the risk that a popular drag queen sitting front row can be perceived as a token of inclusion; as Aquaria said, "Sometimes there's instances where it feels like it's just an opportunity for a brand to be LGBT or whatever." More important to the queens is seeing how brands continue to forge those relationships throughout the rest of the year, whether it's making sure the girls get paid campaigns or loaning out clothes for big events. "As much as I love more opportunities, those more genuine ones feel like, Okay, you're down, you're honest. It's not performative," Aquaria explained.
"At the same time, this space is lucky to have people like me here because I am the show before the show," she added. "How the front rows look is part of the spectacle, and I like being a part of that show."