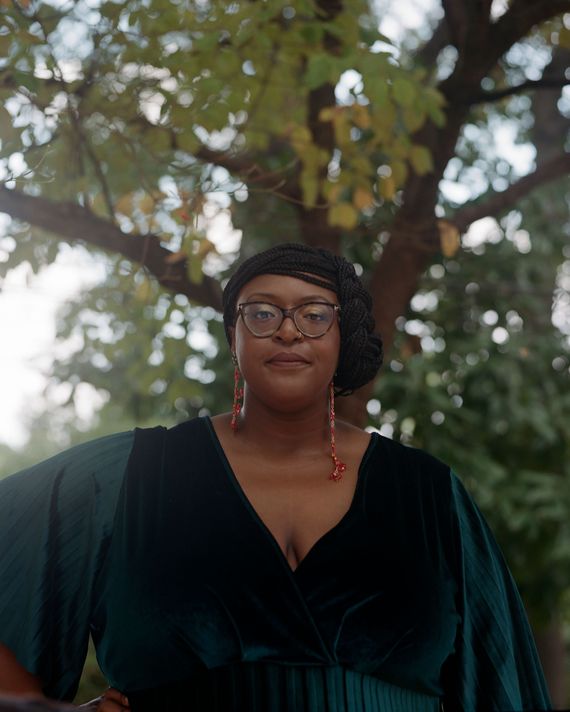 It's a wildly demoralizing time to run an abortion fund. For months I've been speaking with staff and volunteers all over the country who feel exhausted following the end of Roe v. Wade. The threat of legal trouble hangs in the air as emboldened conservative lawmakers promise to punish anyone who aids abortion-seekers. The boom in donations that these funds experienced over the summer is already drying up. With trigger bans in effect and new legislation outlawing abortion being signed into law, more and more people are reaching out for help, forcing funds to make impossible decisions about who to support. Whatever victories they score for individual abortion-seekers do not erase the fact that their work puts a Band-Aid on a gushing wound.
So when I speak with Oriaku Njoku, the newly appointed executive director of the National Network of Abortion Funds, their optimism is disarming (Njoku uses she/they pronouns). Their appointment to the organization, which supports over 90 abortion funds across the U.S., was announced nine days before Dobbs v. Jackson Women's Health Organization came down. Two days after Njoku officially started the job in July, their home state of Georgia abruptly implemented a six-week abortion ban. And yet, calling over Zoom from a hotel room in Atlanta on a recent sunny afternoon, Njoku tells me, "I actually believe that we're going to win. And I feel abortion funds are going to be that pebble that creates this tidal wave of transformation."
The 37-year-old is wearing an "Everyone Loves Someone Who Had an Abortion" T-shirt, gold hoops, and just a hint of makeup. From the get-go, Njoku radiates the warmth of someone you'd like to have by your side to calm you down in a crisis, which has been pretty much their entire job at NNAF and, previously, as the co-founder of the South's largest abortion fund, Access Reproductive Care-Southeast. "The post-Roe reality that folks are afraid of is actually our lived experience in the South," they say. "Shit pops off all the time, just like gang, gang, gang, all the time."
When ARC-Southeast first began serving patients in 2016, Louisiana alone passed seven new laws restricting abortion. Over the next six years, with Roe still in place, legislatures across the South attempted to ban abortion long before viability and restricted the use of dilation and evacuation, or D&E, the most commonly used procedure for second-trimester abortions. Laws targeting abortion providers — known as TRAP laws — forced dozens of clinics to shut down. States also made it harder for low-income women to afford abortions by banning coverage in health plans sold on the Affordable Care Act's exchange. Patients had to wait longer and travel farther in order to access care.
For decades, the mainstream reproductive-rights movement was led by white women and took a more limited pro-"choice" approach. That has started to shift in recent years, with people of color who are focused on reproductive justice finally being put in charge of some high-profile organizations. Njoku's predecessor, Yamani Hernandez, became the first Black executive director at the NNAF in 2015. Since then, Planned Parenthood and NARAL Pro-Choice America have appointed Black and other women of color to lead them. These leaders are now tasked with navigating the post-Roe world they'd been warning the rest of the country about for years. But if Njoku is unsettled by the herculean task ahead of them, they don't let it show. "Being able to navigate abortion access in a place that is politically hostile, where the legal climate is full of uncertainty, gave us some tough skin in a way where we're not afraid to fight the fight," they say.
Abortion funds are miracle workers that help bridge the gap for people who want an abortion but can't access one. The cost of the procedure, which is determined by how far along the pregnancy is and the type of termination a patient requires, ranges on average between $500 and $1,500. That's a hefty amount for most people, and many patients also need to cobble together money for travel, child care, and lodging, among other hidden costs. Abortion funds offer between $75 and $250 on average to patients; the pledge amount varies from fund to fund, and each has its own structure to determine how much it can cover. About 51 percent of abortion-seekers have an income that's below the federal poverty level, and around three-quarters report they do not have enough money to cover basic living expenses. One-third of the patients NNAF's Tiller Fund supported from 2010 to 2015 received some form of public assistance, such as SNAP or unemployment benefits.
Since funds first cropped up in the 1970s, these grassroots groups — often volunteer-led, sometimes with a lean full-time staff — have been severely underfunded and targeted by anti-choice foes with harassment and the threat of criminal penalties. Dobbs landed as a bomb, devastating many of them. While there was an initial wave of financial support and volunteering offers from people outraged at the Supreme Court, the chaotic aftermath has also left many organizers at their wit's end. NNAF steps in to help them navigate this rapidly changing landscape. "I see my role as, What can we do to make sure that our network and our members feel they have the things that they need?" Njoku says.
Njoku traces this sense of community back to their childhood living in graduate student housing in Michigan and Indiana, surrounded by people from different countries. Their parents, who survived the Biafran War in Nigeria, had moved to the U.S. so their father could pursue his master's degree and Ph.D. "We would have the best cookouts with food from all over the world. Being in that kind of environment, I never felt I was different," Njoku says. And then the family moved to Bowling Green, Kentucky. "I remember being in the second grade and that was the first time I was conscious of being Black in a way that didn't feel good," they say.
Njoku spent their teens and early 20s trying to find that sense of community again. They came out as queer to family while attending the University of Kentucky, and dipped their toes in activism by getting involved with LGBTQ+ advocacy, which at the time was laser-focused on marriage equality. Njoku struggled with how the movement didn't fully capture the experiences of people like them. "What about BIPOC, LGBTQ folks who cannot adopt their kids? What about folks who have multiple identities?" they would ask.
By 2011, Njoku moved to Atlanta, enamored with its Black community and its queer scene. They say they became involved with the abortion movement by chance — or maybe because the universe had something in store for them. In 2013, Njoku had recently lost their retail job when a friend invited them to a training session at a reproductive-justice conference. Njoku didn't know what the term meant, or what the session would entail, but the promise of free breakfast was enough to entice them. It was a transformative experience. "All the things that have always made me feel Other — whether that's being a first-generation Igbo Nigerian American, fat, queer, Southern femme — all of these things actually had a home," they say. "It was at that moment that I was like, 'I got to find a job or do something in this movement.'"
In the months that followed, Njoku found a job as "a lifestyle consultant" — a fancy term for front-desk receptionist — at a spa in the wealthy neighborhood of Buckhead. They were still itching to find a space within the movement, and the opportunity presented itself in an ad from the Atlanta Women's Center, which was seeking phone advocates to talk patients through their options. The abortion clinic was also located in Buckhead. "In my head I was like, I talk to rich white women every day," they say. "These are transferable skills that I could take to an abortion clinic and talk to them about their abortions." Njoku joined the clinic in January 2014. The only white person they interacted with on the first day was the clinic administrator.
Patients of the Women's Center were mostly Black and brown, hailing from all over the South. Within a couple of months, Njoku received a crash course on the senseless roadblocks abortion-seekers faced. Georgia became one of two dozen states that severely restricted the coverage of abortion in health plans sold under the Affordable Care Act's exchange, which greatly affected low-income patients. Alabama's waiting period, which required patients to visit a clinic twice in order to obtain an abortion, went up from 24 to 48 hours. Mississippi banned abortion at 18 weeks post-fertilization. Over the phone, patients who rescheduled or missed their appointments would tell Njoku about being unable to scrape together enough money to pay for the procedure, find child care, take time off of work, or get a ride to the clinic after their partner changed his mind.
The need seemed endless, but Njoku felt many of these issues were solvable. They often referred patients to NNAF, and by May 2014, decided to create their own fund with two other colleagues. Njoku reached out to the network later that year for help. "The conversation wasn't like, 'We want to start an abortion fund. What do you think?'" they recall. "It was, 'We are going to start an abortion fund. What sort of resources do you have to support our work?'"
Njoku says they had no idea what they were doing. They put down $50 to open a bank account. "I remember being, 'If we could just get $2,000 in our bank account, we'll be able to provide practical support, get hotel rooms for people,'" Njoku says. "And when I say, I didn't know anything: I'd never written a grant. I'd never started an organization. I was like, 'QuickBooks, what are you talking about?'" After receiving a grant, they wanted to immediately start funding abortions. But mentors at the Oakland-based fund Access Reproductive Justice, which had been serving Californians for 25 years at the time, told them to slow down. "Yes, there's a sense of urgency. There is this need," Njoku says. "But you also want to be very intentional about the way you show up and not replicate systems of harm."
Southern and midwestern communities have long felt abandoned by the mainstream reproductive-rights movement, which historically put a premium on the concept of "choice" (only in "safe, legal, and rare" circumstances) and neglected to advocate for the reproductive autonomy of Black and poor women. Njoku and their co-founders wanted to better understand the people they'd serve. They traveled across the South connecting with abortion providers, community organizers, and other funds. In its first year, ARC supported about 50 patients per month and Njoku was the only full-time staffer. By the time they transitioned out of the organization, ARC had a yearly budget of $2 million, a dozen staff, and more than three hundred clients per month.
Still, applying for the role of executive director at NNAF was daunting for Njoku, who says they were weighed down by a bad case of imposter syndrome. Friends and colleagues wanted Njoku to go for it. They had been deeply involved with NNAF over the years, coming through their leadership development pipeline and serving on its board. But Njoku felt they didn't come to the work in what could be seen as the traditional path. "I wasn't a women's studies major," they say with a chuckle. "I didn't walk around campus with Birkenstocks, eating granola."
Njoku is still working through the fact that they're now leading an organization that for years offered them support. "Getting this position is not only a testament to the work and love that NNAF invests in our members," Njoku says. They began tearing up. "Sorry. This is not expected. But having my leadership affirmed in that way … You don't see many Black executive directors. There's not a lot of us that are out there."
The question that guides Njoku is, What are the things that we can do to increase the capacity of abortion funds on the ground? Maybe they could use mentorship as they navigate the post-Dobbs challenges, or perhaps their volunteers need access to leadership development programs. Sometimes the need is as simple as technical support for their websites. If organizers need funding to scale up their infrastructure, NNAF can provide that, too. Between 2020 and 2021, funds across the network disbursed over $11 million — but that only covered around a third of the 80,000 clients who called. The rest had to cobble together the money themselves.
Post-Dobbs, the financial need patients face has increased. People from states that have banned abortion now have to travel longer distances, and often, their care has been delayed either because they need more time to obtain funds to pay for the procedure or the clinics closest to them are overwhelmed. Though we don't have data on how many people are forced to continue their pregnancies in the U.S., we do know the harms they experience as a result, including the steep economic cost. Women who are denied an abortion are almost four times more likely to have a household income that's below the federal poverty level, and are three times more likely to be unemployed.
Over the last several months, donations have rolled into NNAF from regular people, companies such as Cards Against Humanity, and a Hollywood coalition made up by showrunners and directors. In the first three weeks after the decision dropped, the network raised nearly $11 million. A third of the money came in just in the first 24 hours. About 4,500 of those first-day donors, or around 14 percent, signed on to be recurring donors — a pledge that can make a huge difference for the funds. Njoku and their team will have to figure out how to keep those donations coming in order to support their members' needs.
The challenges ahead are formidable, but Njoku is choosing hope. The strength to do so comes from years of seeing the odds stacked against the reproductive justice movement and deciding to keep doing the work anyway. "These laws and institutions and systems were never intended for us to thrive. And our communities have always done what we need to do to make sure that we have what we need to live our best lives," they say. "And with the South … We are inherently resilient," they add almost with a shrug, as if it was the most obvious thing in the world. It would be easy to admit defeat, but instead, Njoku says abortion funds are "reimagining this world." Against all my instincts, in that moment, I believe them.