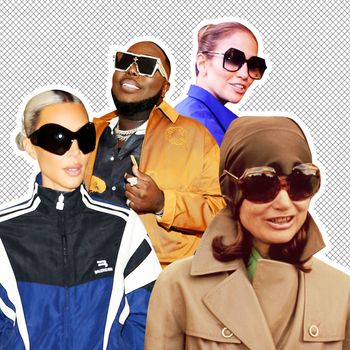 Photo-Illustration: by The Cut; Photos: Getty Images
All fashion should make you say, "Hmm, seems stupid. I love it." Sunglasses most of all.
The oversize eyewear of the late aughts and early 2010s got a bad rap. It was the Rachel Zoe–to–Paris Hilton continuum, huge sunglasses paired either with giant blazers and venti nonfat lattes or small dogs and Juicy tracksuits. Big sunglasses meant Über-thin celebrity, McMansion gauche, and birthday parties at Claire's — embodying an ideal that was both hyperunattainable and nauseatingly ubiquitous.
2017 ushered in a hard pivot to tiny sunglasses, sharp and sleek, like The Matrix meets the Kardashians. (Kris Jenner is — say it with me — Morpheus.) They were so small they just slipped onto the runway, like two tinted chiclets barely big enough to cover your pupils. Soon, no one was able to picture either Hadid sister without her signature itty-bitty fox-eye glasses. Tiny sunglasses are Instagram face as fashion, paired with pouty lips and cheekbones pointed (and painted) to the heavens. Like a faux-candid photo or the hashtag #nofilter, tiny sunglasses are trying very hard.
Now, with the Earth burning and democracy crumbling, who has time to deal with our under-eye bags? This is the season to put an entire car windshield over our eyes and soldier on. Balenciaga and Gucci know this, introducing sunglasses that read more like osha-approved goggles than leisure eyewear. Tom Ford represents: His latest ready-to-wear collection includes big, colorful glasses, a continued celebration of Y2K-core. You've seen oversize sunglasses honey-mooning in Paris with J.Lo, touching tongues on the red carpet with Kourtney and Travis, and shaking ass on vacation with Megan Thee Stallion, each cheek beckoning us to a bygone era.
Big sunglasses can do it all, from cry-laughing at happy hour to cry-crying on the subway.
There are, still, regular-size sunglasses. They too have their time and place, such as discount bins and branded goody bags. They are a fashion cop-out. Respectfully, go big or go home (so you can put on a humungo pair of sunglasses).
Some options if you'd like to cry on the subway without anyone seeing …
More From the 2022 fall fashion issue
See All