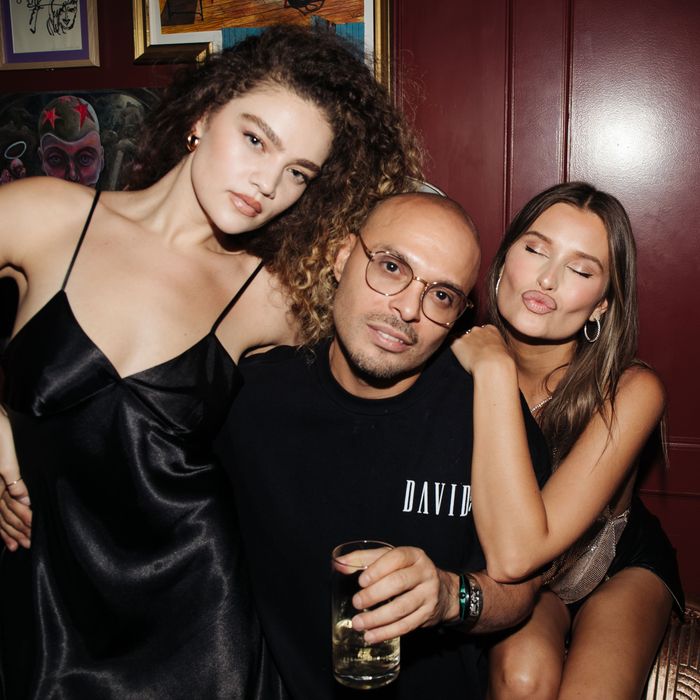 Richie Akiva at his 46th-birthday party.
Photo: Jocko Graves
"Kristen Stewart is coming," a leather-clad publicist whispers to Richie Akiva. It's almost 9 p.m. on a Saturday night at the Ned, a new private club and hotel in Nomad that Akiva, 46, a fixture of the bottle-serviced and model-infested end of Manhattan nightlife since the late 1990s, has been hired as the face of. Akiva knows lots of pretty and famous people, and he'd be sure to get them here. So sure enough, an hour later, there Stewart is in the candle-lit shadow of a cupola on the rooftop, smoking cigarettes and gossiping with Pretty Little Liars actress Ashley Benson about her old Twilight co-stars. "Anything you need, let me know," Akiva tells Stewart. "Thank you so much for everything, Richie," she replies.
Akiva has been a man-spreading professional star fluffer and clout-cowboy for decades now. This magazine put him and his enterprising friends on the cover in 1998 under the headline "Makes Moves, Blow Up, Get Paid" and wrote about them cavorting around the club with the likes of Leonardo DiCaprio, J.Lo, Mariah Carey, Mark Wahlberg, and Mark Ronson. Over the years, Akiva has thrown birthday parties for Rihanna and Naomi Campbell, lorded over the Met Gala's flashiest after-party, and hosted international shindigs for the jet-setting class everywhere from Southampton and Miami to Monaco and the Maldives. His club Up&Down closed during the pandemic, and, notably, so did his Meatpacking mainstay, 1Oak, which he hopes to eventually reopen. But for right now, "Little Richie" is trying to outgrow the VIP section of the nightclub, reemerging in this new era by capitalizing on what's trendy: members-only clubs. Sounds more grown-up for sure.
"We've worked so hard to get me out of the nightclub persona. For so many years, I was the king of nightclubs, nightclub impresario, nightclub emperor. Nightclub, nightclub, nightclub," he tells me, and then a little bit sarcastically: "I'm a hotelier now. I'm sophisticated." Never mind the fact that he's still recovering from getting "fucked up" at the Box last night. The Ned, in the former NoMad Hotel, is the first American outpost of a thing which started in members-club-happy London in 2017, owned by the same public company as Soho House (They have plans to open another Ned in Doha later this year and inside the New York Stock Exchange building in 2024). Akiva is the curator and creative director — the face.
"I don't want to name-drop," Akiva said earlier in the evening at dinner in the club's plush dining room, chatting with me in brief spurts between fielding phone calls and other seemingly urgent inquiries from severe-looking boys in suits. It's a brief moment of reserve. When a tight woman in a camel coat walks over to recommend a girlfriend, Akiva replies, "I hope she's of age. If you hook me up with a wife, I'll owe you forever." (It's rumored that he once dated Rihanna and Heidi Klum.)
Then, more phone calls and texts. The first from his "accountant," even though it's almost 11 p.m., and another either directly or indirectly — it's not clear based on what I could observe — from "Leo." As in DiCaprio — an Akiva buddy at least since our cover story. You could say they refused to grow up together. He's looking for a place to watch the UFC fight tonight, and Akiva is happy to oblige. But first, some prep. A room needs to be cleared. Someone needs to find a television. ("Take my car. Ask the people in the dining room if they might know whose black Porsche that is," he tells one of his suits.) Also, someone needs to figure out how to work Apple TV or get access to cable television, and someone else should probably invite Kristen and Ashley to the viewing party. Eventually, Akiva exits the roof without much of a good-bye. So does the publicist, leaving me with another, more junior publicist. According to a scoop from E! News, the party kept on until 4 a.m., with Drake and Kevin Durant joining Kristen and Ashley. I was not invited.
Akiva is bald now, but at one time, before he was "getting old," he says he was a long-haired skater boy who worshiped graffiti and hip-hop and spent his time in a much grimier Tribeca. He was what the journalist Nancy Jo Sales called, in a previous 1996 cover story for New York, a "prep school gangster," or "private school students living a wannabe gangster's life."
"I was hanging out with a lot of thugs. You know, street kids. NYC kids from all walks of life," he says. Akiva's mother died when he was 3, but his father made money importing sportswear. He attended Dwight on the Upper West Side, where he was friendly with celebrity offspring Liv Tyler and Raphael De Niro.
His boy gang styled themselves as SKE, "See Know Evil," even then known for their egos and parties at spots like Lot 61 in Chelsea. One SKE member was the wunderkind fashion photographer Davide Sorrenti whose brother, Mario, also became a photographer and introduced the boys to his model girlfriends, according to Akiva: "We'd be playing video games at Davide's house, and you'd see Kate and Linda and all them come in, like, Hi, Richie! Hi, Davide!" SKE also got into streetwear, selling shirts that read "Models Suck" under the label Danucht. Of course, they were kidding — they were actually obsessed with the models. Naomi wore the shirt in Spike Lee's Girl 6, and Akiva is eager to show me a picture of this on Instagram.
Davide Sorrenti, credited with helping usher in the era of "heroin chic," died of a blood condition complicated by drug use at 20 in 1997. Akiva went on to school at Northeastern University, and when he returned to the city, he became the "director of nightlife" at two clubs that were popular back then, Spa and Life. His two biggest accomplishments came while he was still in his 20s: first, opening the restaurant Butter in 2002 with the chef Alex Guarnaschelli, as featured in OG Gossip Girl, and in 2007, opening the nightclub 1Oak, which over the years hosted all of the real-life late-aughts icons (Lindsay Lohan and Justin Bieber are just two who've gotten into some trouble there). Later, there was also G-Spa & Lounge and The Darby.
Akiva seems to think those days of velvet ropes and tough door guys — "Like quarterbacks, calling all the plays" — are over. "You can't do that anymore because it's just not with the time. You'll get outed or something. You're prejudiced or racist or this or that," he tells me, peeved possibly with this era of "safer-space" policies and woke scrutiny. Indeed, in 2013, Allure published ten rules for getting inside 1Oak. Among them: "Reveal the body" and "Don't make eye contact." Akiva won't say anything negative or, for that matter, much of anything positive about his industry colleagues, but he will admit, "Nobody's making it fun." He strikes me as the rare club kid of yore who will just come out and admit it to the youngster: It was better back then.
So now it's time to double down on exclusivity; membership at the Ned costs $5,000 a year plus a $1,500 initiation fee — expensive, sure, but it's not clear how exclusive given that that's the rent on a studio apartment these days. Since it opened in June, they tell me it's attracted over 700 members, new parents A$AP Rocky and Rihanna for date night, and parties hosted by Vogue, Puma, Dior, Kid Cudi, and Kendall Jenner. Two nights after my dinner with Akiva, I received a last-minute invite to his own birthday. Though he told me he'd likely celebrate with an intimate dinner or maybe a party in Paris during Fashion Week, by the time I arrived at midnight on Monday, after a dinner on the rooftop, the party was filled with smoke, the sound of Jay-Z, and a number of dressed-down A-listers mingling, including Kevin Durant, Drake, Lil Nas X, G-Eazy, Scott Disick in sweats, and a rather puffy Leo. In the corner, a man fingered a Courtney Love look-alike only to then sniff his fingers, lick his fingers, and return them to the source.
This celebrity debauchery puts Akiva in competition with his former business partner at 1Oak, Scott Sartiano, who's been attracting just as much attention for his members-only club Zero Bond, which opened in 2020. (In 2014, Sartiano sold his share of the Butter Group to Akiva, but soon after, he sued him for $15 million, claiming Akiva had "underreported income and underpaid him in the deal," according to the New York Times.) Significantly, Zero Bond became a date-night spot for Kim Kardashian and Pete Davidson as well as the favorite schmooze and booze of our "nightlife mayor." Like the mayor, Akiva cashed in on crypto this year, also launching Societe, a concierge service that requires purchasing an exclusive $30,0000 NFT (how 2021!) for membership. It's how he says he'll share (with those who can afford it) the perks and pleasures — the restaurants, parties, and wine that tastes like Sassicaia for "half the price" (but shouldn't this crowd be happy to pay full price for the bragging rights to guzzle the real thing?) — of his "global lifestyle."
But global or not, at heart, he's a city kid. He sees the Ned as a gift to his hometown. "That's the only reason why I do these things: New York," he said. "I feel like New York needs me?"