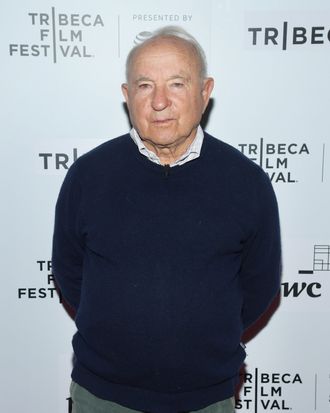 Photo: Ben Gabbe/Getty Images
In a rare moment of good billionaire behavior, Patagonia founder Yvon Chouinard has given his company away and relinquished his family fortune, dedicating all future outdoor-apparel profits to the fight against climate change, the New York Times reported on Wednesday.
Per the Times, Patagonia — which makes about $100 million in profit every year —will still operate as a private company, but the Chouinard family, who have controlled it since its founding in 1973, will no longer be at the helm. Last month, the family donated the company's voting stock, about 2 percent of its shares, to the Patagonia Purpose Trust, which they, along with advisers, will oversee to ensure the company gives away its profits; the Chouinards will pay almost $18 million in taxes on the gift. The family donated the rest of the company to the Holdfast Collective, a nonprofit that will now receive the company's profits and use the funds to combat climate change, including the protection of undeveloped lands. "Hopefully this will influence a new form of capitalism that doesn't end up with a few rich people and a bunch of poor people," Chouinard, 83, told the Times. "We are going to give away the maximum amount of money to people who are actively working on saving this planet."
In a sea of corporate greenwashing, Patagonia has long been an outlier. When Chouinard started the company almost 50 years ago, he and his wife were among the first to use organic cotton and provide on-site child care to employees. Per the Times, the company has used its sales to support environmental activists for decades and famously sued the Trump administration in 2018 to protect two national monuments in Utah. Chouinard's decision to give away Patagonia was partly motivated by his inclusion on the Forbes billionaires list, a moniker that, he told the Times, "really, really pissed me off," adding, "I don't have $1 billion in the bank … I don't drive Lexuses." (He still reportedly drives Subarus.) Chouinard thought about leaving the company to his children, but they apparently don't like the billionaire moniker either: "It was important to them that they were not seen as the financial beneficiaries," Ryan Gellert, Patagonia's chief executive, told the Times. "They really embody this notion that every billionaire is a policy failure." (Maybe someone call the Kardashians?)
"I didn't want to be a businessman," Chouinard explained. "Now I could die tomorrow and the company is going to continue doing the right thing for the next 50 years, and I don't have to be around." Personally, I'm feeling really good about my fall fleeces right now.