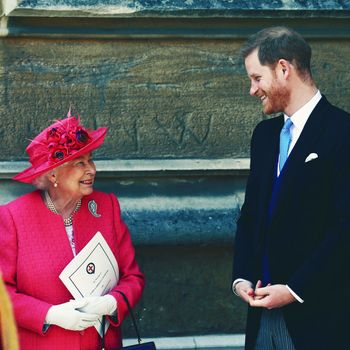 Photo: Steve Parsons - WPA Pool/Getty Images
Following Queen Elizabeth II's death last week, the royal family is busy mourning their matriarch, planning a complex funeral, and announcing a host of new titles. Amid these historic changes, many eyes are on Prince Harry and Meghan Markle, who stepped down from their royal duties last year and have had a strained relationship with the family ever since.
The tabloids have already managed to spin the queen's death into yet another source of drama concerning Meghan and Harry. Last week, Meghan was slammed for not joining the family at Balmoral, even though Kate Middleton didn't attend either, and there are rumors King Charles told Harry his wife wasn't welcome. But as with Prince Philip's death, the family seems to be putting at least some of their drama aside in the wake of tragedy: Meghan and Harry joined William and Kate to visit memorials and greet mourners on Saturday.
On Monday morning, Harry also joined the many celebrities, Brits, and brands honoring the queen's passing. In a statement, he called her a
"guiding compass" with "unwavering grace" and quoted something she said last year after her husband, Prince Philip, died: "Life, of course, consists of final partings as well as first meetings." He then addressed the queen directly, writing:
Granny, while this final parting brings us great sadness, I am forever grateful for all of our first meetings — from my earliest childhood memories with you, to meeting you for the first time as my commander in chief, to the first moment you met my darling wife and hugged your beloved great-grandchildren. I cherish these times shared with you, and the many other special moments in between. You are already sorely missed, not just by us, but by the world over.
Since stepping back from royal duties, Meghan and Harry have maintained that they respect the queen and have stayed in communication with her, recently paying her a visit on their way to the Netherlands. The day she died, reports said that Harry was rushing to Balmoral to see her along with the rest of his family, but wasn't able to make it before the Palace announced her death.
Harry also added a nod to his father, Charles, with whom he has a slightly rockier relationship: In the Harry and Meghan's explosive Oprah interview, he said that Charles had stopped taking his calls when he left the royal family, and the new king has loomed large in Harry's critiques of the royal family. (Some reports have also suggested Charles is the royal-family member who made a comment about the skin color of Harry and Meghan's child.) Still, in his first address as king last week, Charles expressed his "love for Harry and Meghan as they continue to build their lives overseas." Harry returned the sentiment, writing, "And as it comes to first meetings, we now honor my father in his new role as King Charles III." Granny would be proud.