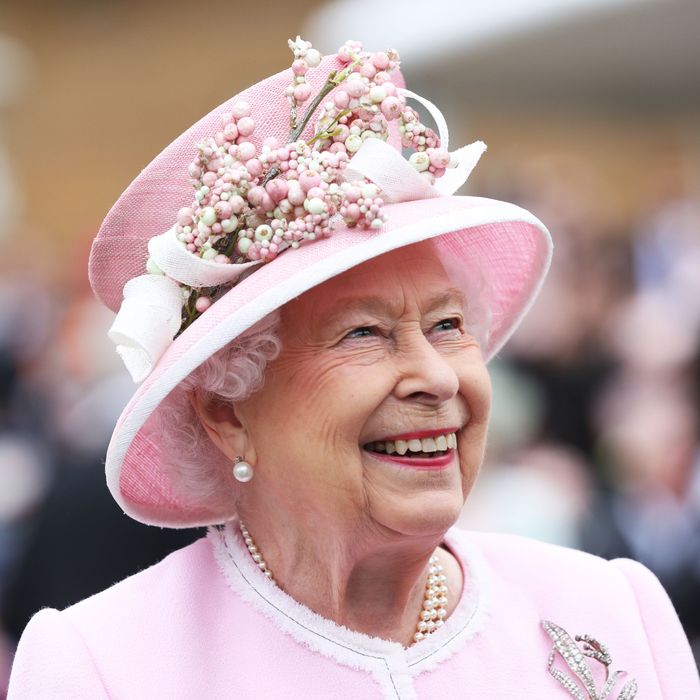 Photo: WPA Pool/Getty Images
The royal family has confirmed that Queen Elizabeth II died on Thursday at Balmoral Castle, her estate in the Scottish Highlands. She was 96. Early Thursday morning, the Palace announced that the queen was on medical supervision after spending the past few months scaling back her public engagements due to "mobility" issues. Various family members rushed to join her there including Charles, Camilla, Princess Anne, Prince William, Prince Andrew, Prince Edward, and Harry.
Elizabeth reigned longer than any British monarch, beginning in 1952, when she took the throne at age 25, and continuing for the next 70 years. In June, the U.K. celebrated the first ever Platinum Jubilee to mark her historic seven-decade reign. She worked alongside 16 prime ministers including Winston Churchill, Margaret Thatcher, and the newly elected Liz Truss, whom she appointed earlier this week. She led the U.K. through a historic miners' strike and days-long blackout, a total reassembling of the British Empire, and, most recently, a global pandemic.
Elizabeth II became queen after her father, George VI, died in his sleep in Sandringham. Her formal coronation — the first to be televised — was framed as the dawn of a hopeful "new Elizabethan era" for the U.K., which was still recovering from World War II. During the first two decades of her reign, she oversaw the British Empire's transition into a commonwealth, withdrawing colonial forces from more than 20 countries. Throughout her reign, she was praised for her calm stoicism in the face of both countrywide turmoil and personal crises — an attitude designed to keep her constituents similarly resilient.
More than her predecessors, she allowed the public small glimpses into her family's life inside the palace, though many details of her personal life remained opaque. In 1947, she married Prince Philip of Greece and Denmark, who died last year at age 99. Together they had four children: Charles, Prince of Wales; Anne, Princess Royal; Prince Andrew, Duke of York; and Prince Edward, Earl of Wessex. One of the most prominent facets of her public persona was a lifelong devotion to corgi dogs: She owned more than 30 corgis throughout her reign and was often pictured with them. Although she started delegating various royal duties to other family members in her final years, she stayed active throughout her 90s, cutting a stooped but ever-present figure at royal events and even cracking a rare smile.
Queen Elizabeth II's reign was not without controversy, particularly given the monarchy's long history of colonialism. In 2021, Barbados voted to officially remove the queen as the head of state, and royal visits have recently been met with protests and demands for reparations for slavery in other Commonwealth countries.
The queen faced criticism for her reported treatment of Princess Diana, who was famously tormented by the royal family throughout her marriage to Elizabeth's son and heir apparent, Prince Charles. Elizabeth's silence in the days following Diana's death in 1997, not long after Diana had officially divorced Charles, was taken as an even bigger snub. When Elizabeth finally addressed the nation in a live broadcast, she said of Diana, "I admired and respected her for her energy and commitment to others, especially for her devotion to her two boys."
The queen again faced scrutiny following Prince Harry and Meghan Markle's decision to step back from royal duties in 2020. Like Diana, Meghan has spoken publicly about her miserable experience in the royal family, though both she and Harry have alleged that, in her case, racism was a factor. Elizabeth remained largely silent amid the controversy, though she released a statement calling Meghan and Harry's allegations of racism "concerning," saying they would "be addressed by the family privately."
Prince Charles, who is 73, will inherit the throne as Elizabeth's heir apparent, and his wife, Camilla Parker Bowles, will be the queen consort. In a statement from Buckingham Palace, Charles, whose title is now His Majesty the King, wrote:
We mourn profoundly the passing of a cherished Sovereign and a much-loved Mother. I know her loss will be deeply felt throughout the country, the Realms and the Commonwealth, and by countless people around the world.




During this period of mourning and change, my family and I will be comforted and sustained by our knowledge of the respect and deep affection in which The Queen was so widely held.
Per the royal family's Twitter announcement, Charles and Camilla will return to London on Friday.