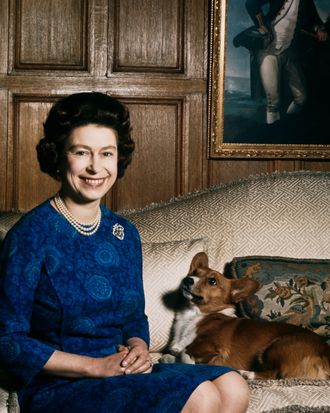 The queen and one of the many corgis she owned in her lifetime.
Photo: Fox Photos/Hulton Archive/Getty Images
After the queen died last week, probably the single largest question on the public mind immediately became Okay, but what happens to the royal corgis now?? Since she received a corgi named Susan on her 18th birthday, Queen Elizabeth II kept large swarms of little bread dogs always tripping up staff and treating the palace like their toilet. Princess Diana once compared their presence to a "moving carpet" surrounding her mother-in-law, which is very charming, and so naturally, we worried what would happen to the two corgis, one dorgi (a corgi-dachshund mix), and a possible cocker spaniel she left behind. Would the new queen, King Charles III, inherit his late mother's pets along with her throne? Was there any truth to that one joke about the royal guards taking the dogs 'round back?
Ultimately, no and no. According to the BBC, the corgis will go to Mummy's favourite boy, Prince Andrew, and his ex–wife–slash–current roommate, Sarah Ferguson. This according to a source close to Andrew who revealed over the weekend that "the corgis will return to live at Royal Lodge," the Windsor estate where the Duke and Duchess of York reside. Apparently, Fergie and Queenie "bonded" via dog-walking on the grounds, and it was Andrew who got his mom the current corgis to begin with. He purchased "Muick" and a dorgi puppy in spring 2021, but then the dorgi died, so he and his daughter added a replacement corgi — Sandy — to the mix. Per the Daily Mail, Her Maj was hesitant to take on young dogs as a nonagenarian, "but it is understood she accepted the puppies on the basis that Andrew or Beatrice would eventually have them back."
So even though a number of you are thinking, Prince Andrew, ew, not him, the rumored arrangement actually makes sense. Plus, post-firing for his entanglement with sex offender Jeffrey Epstein and the related rape allegations, the duke is down a roster of official duties and unlikely to reclaim them under his brother's reign. He presumably has lots of time to take care of the dogs, though exactly how many he's adopting isn't clear. In addition to Muick and Sandy, there's still another dorgi (Candy, "now quite elderly," per The Guardian) and that alleged cocker spaniel to consider. According to the Daily Mail, Candy is "likely to join Muick and Sandy as the dogs are used to each other's company," and failing that, "will probably be given to a member of staff." As for the fourth member of the pack, whether or not it exists depends on whom you ask: The New York Times and the Today show nod to the spaniel without speculating on its fate, while the aforementioned U.K. outlets don't mention it at all. Suspicious.
We are working on bringing you a definitive dog count, but personally, I think any leftover spaniels should be passed down with the crown. King Charles? Cocker spaniel? Something about this seems right to me.