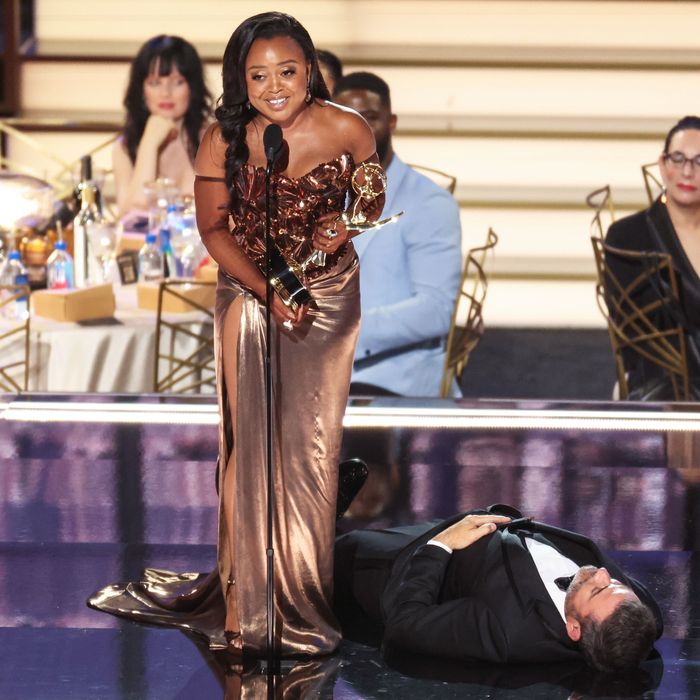 Photo: Myung J. Chun/Los Angeles Times via Getty Images
Quinta Brunson earned her first Emmy on Monday night for writing the hit show Abbott Elementary. Not only was it her first win, it marked her entry into a very small club as she became the third Black writer to win for Outstanding Writing for a Comedy Series. It was a moment — one she was unfortunately forced to share with a sedentary Jimmy Kimmel.
Just moments earlier, a "passed out" Kimmel had been dragged out by Will Arnett in a bit that lasted longer than the time allotted for Brunson's acceptance speech. Kimmel committed to the bit so thoroughly that he did not budge, even as Brunson stepped over him to collect her trophy and Arnett attempted to move him out of the way. "Jimmy, wake up. I won!" Brunson said, forced to acknowledge him when she could have been soaking in the love from the audience. Brunson was a good sport, giving him her phone to hold when he refused to move.
For some watching, it was a fun, stupid bit, but keeping it going after Brunson's name was announced was rude and downright offensive. Many called Kimmel out for stealing what should have been Brunson's moment — another instance of a white man inserting himself into a Black woman's accomplishment — and compared it to his handling of Moonlight's Best Picture win at the 2017 Oscars. Brunson's Abbott co-star and fellow Emmy winner, Sheryl Lee Ralph, told reporters she addressed the disrespect with Kimmel directly: "I told him … to his face," she said. "He understood."
If you were watching at home, Kimmel was easier to ignore, as the camera focused on Brunson and her speech, but once the official photos started circulating online, anger grew. There are no full-body photos of Brunson's win without Kimmel, who had nothing to do with the writing of the show or her win. Some fans attempted to right this wrong, Photoshopping him out of images to give Brunson her moment, but as Alex Washington pointed out, "It's not a moment she can get back."
Speaking about the incident to the press backstage after her win, Brunson brushed it off, saying, "I felt like the bit didn't bother me that much. I don't know what the internet thinks!" She continued, "Honestly, Jimmy gave me my first, like, big late-night spot and was one of the first people to see Abbott. He Instagram-messaged me that he saw this comedy and thought it was one of the greatest comedies of all time and he was so excited it was going to be on ABC. So I think in that moment, I was just really happy that it was Jimmy up there!" Still, the comedian didn't rule out getting some payback, adding, "I'm gonna be on his show on Wednesday, so I might punch him in the face."
She made good on that promise, pointedly arriving early to her Jimmy Kimmel Live! segment and reclaiming her lost Emmys time. "You know how when you win an Emmy you only have 45 seconds to do an acceptance speech … and then someone does, like — you get less time because someone does a dumb comedy bit that goes on a bit too long?" she asked Kimmel, before taking the floor to deliver some belated awards thank-yous, including one for "the internet for raising me."
During their interview, Kimmel apologized to Brunson and attempted to address the controversy. "They said I stole your moment," he told her, "and maybe I did, and I'm very sorry if I did do that. I'm sorry I did do that, actually." He added, "The last thing I would ever want to do is upset you because I think so much of you, and I think you know that. I hope you know that." Brunson thanked him for his apology, explaining that she had such a good time at the Emmys that she was ultimately unbothered by his antics. "I won my first Emmy," Brunson said. "I was wrapped up in the moment having a good time. I didn't see any of that … I honestly had a good night." As she should.