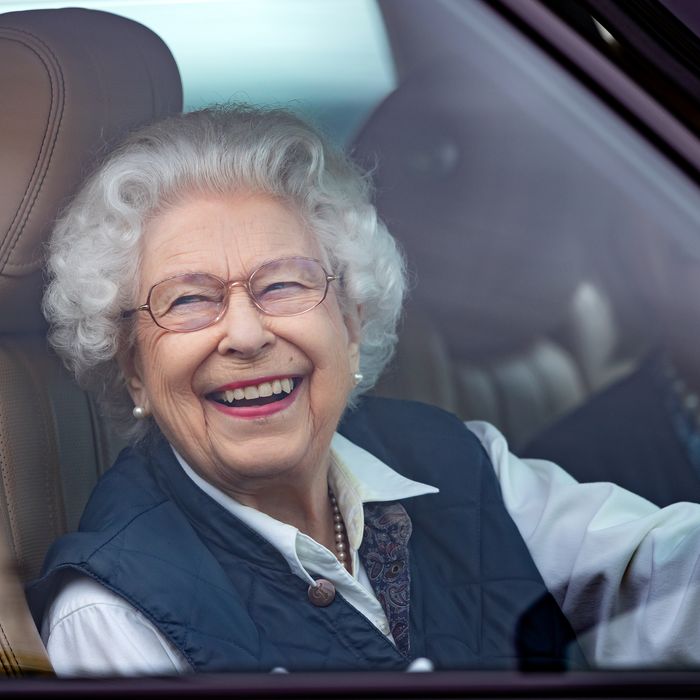 Photo: Max Mumby/Indigo/Getty Images
Queen Elizabeth II was a woman of distinction, the matriarch of one of the world's most powerful families, and the longest-reigning British monarch ever, having held the throne for seven decades. She was also a 96-year-old lady who occasionally, like any other nonagenarian, could simply not be bothered.
Lilibet was not quiet about what she loved — her many corgis, animals in general, her disgraced son Prince Andrew. Equally so, she was not shy about the things that did not appease her, especially in her later years. Though the royal family is shrouded in formality, characterized by outdated and bizarre traditions, the late queen appeared to break the rules as she pleased. She was the literal Queen of England, after all.
There is an undeniable charm in an extremely unrelatable woman, someone whose life was imbued with the trappings of wealth, acting kind of regular — petty, even. To that end, here is an ode to a few of the times her royal highness acted like anything but.
Martini Queen-y
Queen Elizabeth loved a little cocktail; she was particularly partial to a Dubonnet and gin or a classic martini. According to Camilla Parker Bowles, wife to Elizabeth's son Charles III, the queen once had a few martinis too many and called Camilla a "wicked woman." Spiked water under the bridge, I'm sure, now that Camilla is now the official queen consort.
Give the Queen a Sword
Last summer, during an event for volunteers organizing her Platinum Jubilee, Queen Elizabeth was invited to cut the cake and chose to do so with a ceremonial sword. Hell yeah, Lilibet. When told that there was a knife she could use, the queen snarked, "I know there is," and continued to slice a sheet cake with the two-foot blade.
Manhandling the Crown Jewels
Much reverence goes into handling the crown jewels. Royal etiquette discourages untrained hands from touching the crown, with official handlers wearing white gloves to maintain their pristine condition. Unless, of course, you're Queen Elizabeth, as evidenced by this 2018 documentary clip that recently made the rounds on TikTok. Interviewer Alastair Bruce asks if the crown could be moved closer to where the queen is sitting, and we see two gloved hands gently adjust the crown. Then, Queen Elizabeth grabs the crown with her (ungloved) hands, pulling it even closer to her and spinning it around with little caution just so she could see a particular jewel she liked. "This is what I do when I wear it," she adds, visibly pleased with herself. I hope the queen also put the crown on her little dogs' heads every once in a while because she wanted to and felt like it.
Queen Elizabeth, Famously Young
Last year, the queen declined to accept the award for Oldie of the Year with the palace saying, "Her Majesty believes you are as old as you feel, as such the queen does not believe she meets the relevant criteria to be able to accept, and hopes you will find a more worthy recipient." There has never been a woman younger than Queen Elizabeth II.
Cows!!!
Throughout her reign, Queen Elizabeth laid claim to a menagerie of animals including several dogs, horses, hippos, cockatoos, wallabies, and every swan in England. So, it's little surprise that she reacted with such delight to seeing a few cows. Still, it's refreshing to know that someone who is a part of a $28 billion empire could be so excited by some cattle.
A Royal Shit-Talker
It is an honor and a privilege to be insulted by the queen. In the above video, she, a woman in her '90s, basically calls a member of the royal guard old to his face. She reportedly once described the Everly Brothers' music as "cats being strangled" — a distinction as notable as a Grammy. While awaiting the birth of Prince George, the queen joked that she hoped he would arrive soon, "because I'm going on holiday."