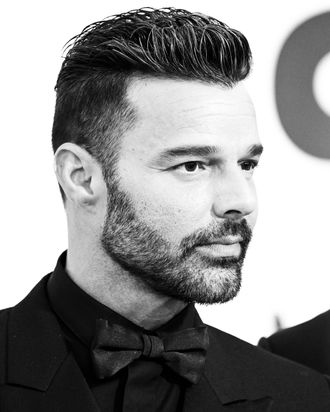 Photo: Gareth Cattermole/Getty Images for amfAR
Local authorities in Puerto Rico may have dropped their investigation into Ricky Martin, but the singer's legal battle is far from over.
Earlier this summer, Martin was served with a protective order based on allegations of domestic abuse; the case was later dismissed. The singer, who married Jwan Yosef in 2017 and reportedly owns homes in both Puerto Rico and Beverly Hills, was accused of harassing an ex after a seven-month relationship. Although originally unnamed, the ex in question has since been identified as the singer's 21-year-old nephew. Martin appeared virtually in court in Puerto Rico in late July, and, as reported by TMZ, the protective order was not extended and the case was dismissed. Now, a month later, Martin has filed a $20 million lawsuit against his nephew, claiming harassment. Here, everything you need to know:
Ricky Martin was hit with a protective order under Puerto Rico's Domestic Abuse Prevention and Intervention Act.
In early July, a restraining order against Martin was filed under Puerto Rico's Domestic Abuse Prevention and Intervention Act. Details of the allegations relating to the order were initially kept under wraps, though, at the time, the local Puerto Rican paper El Vocero said the order reportedly came from someone who claimed to have dated Martin for seven months, per Variety. According to the paper, they broke up two months ago, but the petitioner claimed Martin was seen "loitering near" their house at least three times since the breakup. The unnamed petitioner reportedly "fears for his safety," per El Vocero, but did not file a police report, instead going straight to a judge for a protective order. Martin was never criminally charged.
A representative for Martin denied any allegations that would result in a protective order. "The allegations against Ricky Martin that lead to a protection order are completely false and fabricated," the representative told telling People. "We are very confident that when the true facts come out in this matter our client Ricky Martin will be fully vindicated."
Martin also responded with a statement on Twitter, calling the allegations against him "completely false" and promising to respond in court. "I will respond through the judicial process with the facts and the dignity that characterize me," he wrote.
Martin's nephew was identified as the man seeking a protective order against the singer.
Two weeks after the protective order was issued, Martin's brother Eric Martin reportedly confirmed to the Spanish news website Marca that the man seeking the order was Martin's 21-year-old nephew. According to TMZ, the nephew alleges that he and Martin engaged in a seven-month-long relationship and that Martin did not accept the breakup.
Martin denied the allegations in a statement via his attorney, Martin Singer. "Unfortunately, the person who made this claim is struggling with deep mental health challenges. Ricky Martin has, of course, never been — and would never be — involved in any kind of sexual or romantic relationship with his nephew." The statement called the allegations "untrue" and "disgusting," adding, "We all hope that this man gets the help he so urgently needs. But, most of all, we look forward to this awful case being dismissed as soon as a judge gets to look at the facts." Martin is expected to deny the allegations in court Thursday in an effort to get the protective order dropped.
A judge dismissed the case against Martin.
On Thursday, July 21, Martin appeared virtually in court as a judge determined whether or not to extend the protective order. As reported by Variety, Martin's nephew withdrew his harassment and affair claims, and the case was dismissed.
"The accuser confirmed to the court that his decision to dismiss the matter was his alone, without any outside influence or pressure, and the accuser confirmed he was satisfied with his legal representation in the matter," Martin's attorneys — Joaquín Monserrate-Matienzo, Carmelo Dávila, and Harry Massanet — said in a statement. "This was never anything more than a troubled individual making false allegations with absolutely nothing to substantiate them. We are glad that our client saw justice done and can now move forward with his life and career." Martin shared the statement on social media with the caption "Truth prevails."
Martin sued his nephew for $20 million, claiming he was trying to "assassinate" his reputation.
On September 7, Martin filed a lawsuit in Puerto Rico against his nephew, Dennis Yadiel Sanchez. As reported by TMZ, the suit claims Sanchez has continued to stalk and harass him even after the case was dismissed. The filing says Sanchez has been sending Martin DMs on Instagram, allegedly threatening to "assassinate his reputation and integrity" unless he pays him an undisclosed amount. Per People, the new suit alleges Sanchez previously reached out to Martin after filing his protective order "with the purpose of attempting to negotiate an economic benefit, in exchange for withdrawing his request."
Martin is suing for extortion, malicious prosecution, abuse of rights, and damages. He is also reportedly asking a judge to order Sanchez to stop contacting him and his family.
Martin still faces other legal troubles.
Martin is also facing a lawsuit from a former manager. In late June, Rebecca Drucker sued Martin for more than $3 million, claiming she was owed unpaid commissions. Drucker reportedly worked for Martin between 2014 to 2018 and again from 2020 to 2022. The complaint, filed in Los Angeles, alleges that, as a manager, Drucker helped Martin with "recording contracts, touring and sponsorship deals, and other professional endeavors." The complaint also claims, "With Rebecca at his side, Martin made millions of dollars and therefore owes Rebecca substantial commissions."
The complaint includes a reference to a "potentially career-ending allegation" that Drucker helped Martin work through in 2020, stating, "For years, she protected Martin from the consequences of his reckless indiscretions." The complaint also accuses the singer of creating a "toxic work environment," which eventually caused Drucker to quit in 2022. The Cut reached out to a representative of Martin for comment and will update if we receive a response.
This post has been updated.