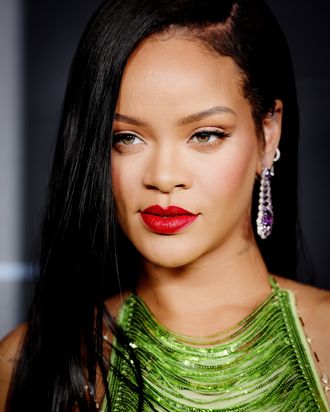 Photo: Rich Fury/Getty Images for Fenty Beauty & Fenty Skin
Forget Taylor Swift, the Super Bowl Halftime Show is all about Rihanna. Hours after TMZ reported that the NFL was in discussions with the singer/fashion designer/makeup mogul/new mom to perform at the Halftime Show, Rihanna confirmed the news on Instagram and Twitter with a photo of her hand holding an NFL football. The NFL's official account also posted the same picture, tagging Rihanna and Apple Music, the recently announced new sponsor of the Halftime Show, and using the hashtag SBLVII. Guess I'm watching the Super Bowl.
The Super Bowl is set to take place on February 12, and will mark Rihana's first major televised performance in years. The singer hasn't released a new album since 2016's Anti, and she's been mostly focusing on her brands — Savage x Fenty, Fenty Beauty, and Fenty Skin. Though she has featured on songs, like DJ Khaled's "Wild Thoughts," released in 2017, she's been so absent from music that fans worried she'd retire for good. It turns out, she was just waiting for the perfect comeback: 15 uninterrupted minutes on television's most-watched event.
This news may come as a shock to longtime fans. The singer famously turned down an offer to perform at the 2019 Super Bowl Halftime Show to show support for Colin Kaepernick. "I couldn't dare do that. For what? Who gains from that? Not my people. I just couldn't be a sellout. I couldn't be an enabler," she told Vogue in November of that year. "There's things within that organization that I do not agree with at all, and I was not about to go and be of service to them in any way." Four years later, it seems that things have at least changed enough for Rihanna to reconsider her anti-NFL stance.
But putting aside the politics of the NFL, let's get into why this news is really interesting: music. For years, RiRi has promised that a new album, referred to as R9, is coming. In that same Vogue interview in 2019, Rihanna went so far as to say that she'd already started work on a tenth album. "We always went into the music this time around, saying that we were going to do two different pieces of art," she told the magazine. "One was gonna be inspired by the music that I grew up listening to. And one was gonna be the evolution of where I'm going next with music." Three years later and fans are still waiting for R9. Here's hoping that wait is finally coming to an end.