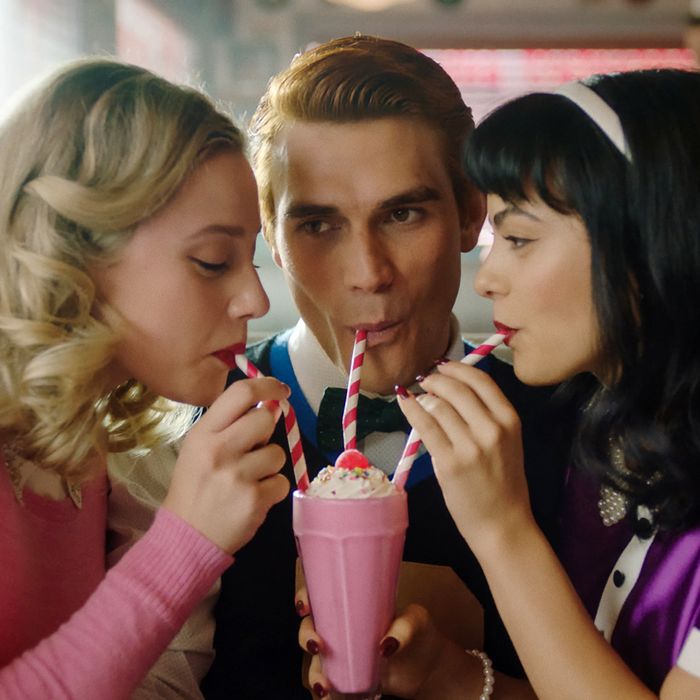 Photo: © 2021 The CW Network, LLC
Even the most enthusiastic Riverdale fans have to agree that somewhere between Betty's "serial-killer gene," Archie wrestling a bear — twice — and Cheryl unearthing her brother's corpse, the show lost all sense and dove headfirst into chaos. Case in point: The first episode of Riverdale's seventh season — which won't air until 2023 — will be titled "Don't Worry, Darling." Yeah, they went there.
Showrunner Roberto Aguirre-Sacasa announced the season premiere's title on Instagram Wednesday, just five days after the film Don't Worry Darling hit theaters. Although he didn't directly mention all the drama surrounding the movie, the reference to both the film and the media around it is pretty clear. "It's back to the 1950s for Season Seven of #Riverdale," he wrote. "And everything's FINE, Darlings." Obviously, as with the film, everything is not fine.
As strange as it may seem for Riverdale, of all shows, to wade into the Don't Worry Darling drama, it actually makes a lot of sense once you think about it. Both titles share common plot points and themes, namely cults, murders, dead children, and inexplicable dance numbers. And season six of Riverdale ended with the gang gaining magical powers and teaming up to stop "Bailey's comet" from destroying the town, only to end up back in high school in the 1950s. Okay, so the magical powers thing isn't very Don't Worry Darling, but the 1950s part sure is!
As for what this means for Riverdale's final season — well, probably nothing. Although, given that Jughead, Riverdale's resident "weirdo," is the only character who remembers that they're all actually adults living in the 21st century and not high schoolers in the '50s, anything is possible. If anyone's going to start a cult that (spoiler alert) enslaves women using the metaverse, it's going to be him.