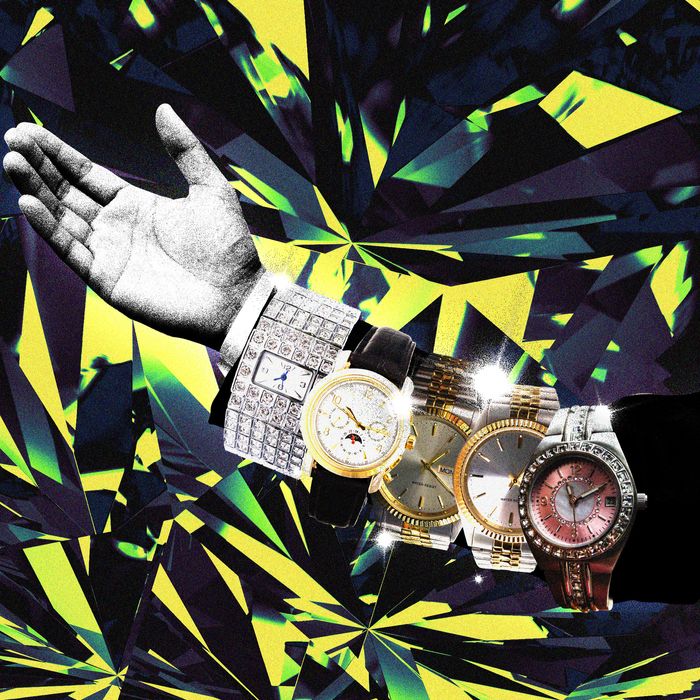 Photo-Illustration: The Cut; Photos: Getty
This article was featured in One Great Story, New York's reading recommendation newsletter. Sign up here to get it nightly.
The rich can have pretty much anything their diamond-encrusted hearts desire — three-minute private-jet flights, a stupid yacht, this wedding — unless it's a big fancy watch. Not that they can't afford it. It's an access issue.
Technically, there are two ways to buy a luxury timepiece. The first: You waltz into a boutique with a name like Rolex, Audemars Piguet, Patek Philippe, or Richard Mille emblazoned across the storefront windows and ask for a salesperson. But if you have to Google Maps the directions because you've never been there before, this isn't how you're going to find one. See those blinged-out wrist clocks inside the display case? Yeah, the sales guy isn't going to actually sell you one of those. He can't. The inventory on the primary market for the so-called hype or trophy watches can be so low there isn't even a wait list. So you'll do the second: Find a gray market luxury-watch dealer.
The gray market luxury-watch dealer will respond to your DM right away — he doesn't care who you are, as long as you can pay. And he has the inventory: impressive diving features you won't actually use, rare watch-face colors, so many diamonds. You can see for yourself on his Instagram. The only catch: You'll need to pay — cash or crypto — sometimes tens of thousands of dollars above suggested retail price.
Neel Alwani can sell you an Audemars Piguet Royal Oak or a Patek Philippe Nautilus — stainless steel models designed by Swiss watchmaker Gérald Genta that seem to be everywhere (including the wrists of Jay-Z and Leonardo DiCaprio) except for the actual boutiques. By reselling these models secondhand, he self-reported $113 million in sales last year (though he did not disclose to me his yearly revenue).
The 26-year-old certainly looks like $113 million in sales. The online presence of these dealers is often a combination of the same ingredients: rare sneakers, flying private, and Skittles-colored sports cars. His most recent car purchase, he says, a black Maybach, sits alongside an orange McLaren, a red Ferrari, a Lamborghini, and an Audi R8. A relatively down-to-earth Mercedes-AMG C 63 rounds out his self-described collection. "If you are going to come in and buy a $500,000 watch and I'm driving a Toyota, that doesn't make sense," he says.
Most of the cars reside in the garage of a five-bedroom, five-bath Miami home with a pool that he shares with his two younger brothers, both of whom work in the business. His parents purchased a second home next door, making it feel more like a compound with constant action.
Alwani grew up in the watch world, albeit with buyers who were more of a cruise-loving crowd. His parents owned stores back home in St. Maarten. When Hurricane Irma hit and destroyed both infrastructure and tourism in 2017, business came to a halt. By 2018, Alwani was on his own, selling out of his apartment in Miami's Brickell neighborhood. All of the Alwanis are photogenic. Posing with serious wrist bling and diamonds in front of helicopters and sports cars gives them a Kardashians-of-the-watch-world feel. "Miami is a lot about showing off — for me that's great — all I'm doing is capitalizing on that," Alwani tells me.
Even the act of purchasing is excessive luxury theater. The watches, posted to Instagram or TikTok and sometimes sold within minutes, are handled with black gloves. Many are then delivered to buyers — mostly men in their 20s, 30s, and 40s willing to pay more for the kind of wrist candy that signals success — via armored vehicles.
To sell, he depends on a formula of YouTube subscribers (291,000) and Instagram followers (214,000). He also gifts watches to more Insta-famous friends and gets free publicity.
At each step, everyone makes a bit of money. Take the Audemars Piguet Royal Oak 15500ST. Once the in-demand model is purchased at retail for about $26,000; it's resold for more than double and instantly can trade anywhere for $60,000 to $100,000. The watches are then flipped via eBay-style marketplaces or directly through the DMs of individual watch dealers. The luxury brands vet potential customers, with salespeople doling out watches on a case-by-case basis to try to avoid selling their storied models to outright flippers. Not surprisingly, it doesn't work. A friend of a friend recently convinced a Rolex salesperson in Aruba that he wanted a Rolex Submariner to wear on his wedding day. He flipped the watch weeks later to pay for his honeymoon. (Spokespeople from Rolex, Audemars Piguet, and Richard Mille all declined to comment for this story.)
"A watch can be sold and bought ten times before it's actually worn — it's being traded from so many hands," Alwani says. On most days, he sells about $435,000 in watches.
Alwani keeps about $25 million worth of watches in stock — which translates to roughly 300 watches at any given time — 20 times more than the nearby Rolex boutique, according to Alwani. His inventory comes via frequent buyers with connections to the sales staff who can still score the watch at retail. Some purchase whatever they are offered from the boutique, because they know they can flip the watches at more than double the price within days. The average price of the models Alwani sells is $75,000, which earns him less than $3,500 in profit. This is why, he says, his customers trust he isn't hiking up prices as much as the next guy who could charge $5,000 for selling the same watch.
Currently, an unworn now-discontinued Rolex Submariner "Hulk" with a green dial from 2019 sells for $29,500, compared to about $10,000 for one purchased at retail from a Rolex boutique when it was still in production. "If you go to a boutique, you could be begging for a year and never get it," Alwani says. "With me, it takes a week and we treat you like royalty."
The used-watch industry isn't a new one. In the '90s, dealers would attend cash-and-carry trade shows in drab career-fair-type conference centers in cities like New York, Chicago, and Las Vegas, staying in cheap hotels for a few days. They would rent tables and jewelry cases and haggle over their secondhand wares before issuing flimsy receipts. Security staff roamed the area to prevent outright theft. The members-only shows allowed the mostly male dealers to exchange thousands on the spot and resell them to their clients for a profit.
Some of today's buyers are using the money that's bubbled up in the last few years, from buying into crypto, meme stocks, NFTs, and other quick moneymakers, says Tim Stracke, founder of Chrono24, an eBay-style marketplace for watch selling based in Karlsruhe, Germany. Stracke launched Chrono24 in 2003 and it has become the largest site for secondhand watches, with more than $2 billion in sales and 3,000 dealers. Dealers interviewed for the story say that clients often mention crypto windfalls when making a purchase.
In-demand watch models were easier to find even five years ago. But as demand grew, companies kept output largely the same. About five years ago, the Chinese market for designer watches collapsed in part due to an official crackdown on bribery prohibiting gift giving to government officials to curry favors. That increased the number of new watches available from retailers. Rather than let those watches be sold at retail for steep discounts, manufacturers including Richemont (which owns Cartier and Montblanc) spent two years repurchasing roughly 500 million euros in their own watch stock and destroyed it. The sudden scarcity spiked prices.
The coronavirus hit — and resulting shutdowns — created another payday. With more demand from buyers who couldn't travel or spend on food and entertainment resulting in even fewer of the most in-demand models available at retail, the prices of secondhand watches started hitting crypto-style highs, Stracke says.
Walking into a designer-watch boutique and being unable to make a purchase only increases desirability rather than frustration, says Cait Lamberton, a marketing professor at the University of Pennsylvania's Wharton School who studies consumption behavior. "Luxury follows different rules," says Lamberton. "Hermès wants to be a household name, but Hermès doesn't want everyone to have Hermès."
"When paying for your groceries, you don't have a Ferrari. When you're sitting at the restaurant, your house is not there," says Adam Craniotes, 49, a watch collector and the founder of Redbar Group, an in-person watch community. "But you can dress down as much as you want and look like a bum, and if you are wearing the $100,000 watch, you've got the look." Craniotes recently sold his Audemars Piguet Royal Oak for a $61,500 profit, which he used to combine his New York condo with the unit next door.
In his best French accent, Stracke recounts a story where a famous Swiss watch CEO once explained to him how he feels about the gray market. "It's a little bit like having an affair," he told me. "You meet her, you love her and you have sex with her — but in public you don't know her." He also pointed out that Chrono24's investors, including LVMH chief executive Bernard Arnault's family office, own a majority stake in Bulgari, which is known for its watches.
At Chrono24, the fastest-growing segment is 18-to-25-year-olds who buy watches that start at about $20,000 on the site, says Stracke. For a while, selling crypto returns has helped make this more palatable. "They are shifting their crypto wealth into a somewhat real wealth" by cashing out to make the purchase, he says. "The young kids consider these watches an interesting asset. They would never spend $20,000 on just a timepiece, but if this timepiece feels a little bit like an NFT on your wrist, that might feel more reasonable."
In Dallas, Josh Navarro, 32, and Michael Bell, 31, accept Bitcoin for the watches they sell because so many customers wanted to pay with cryptocurrency that they were losing deals. The two are part of a foursome that opened Wolvyn last year. Their Design District boutique has a deliberate man-cave vibe, stocking $40,000 in hard-to-find whiskey for customers to drink while they shop. The goal is to offer a bit of Southern hospitality: Potential buyers can come, spend, and settle in for an afternoon with a cigar in hand. Rolexes make up the bulk of their inventory, with hard-to-find models including the Daytonas, Submariners, and Oyster Perpetuals drawing in customers. "We try to create our store to be between Thom Browne and Saint Laurent," says Navarro.
They have Texas-style security. The store has roughly 15 to 20 guns, including AR-style rifles spread out in different parts of the shop. And the company sends armored vehicles to deliver watches sold over $150,000. Even their own cars are stocked with guns tucked into each door.
Navarro launched the business more than a year ago after several years spent flipping watches online for pocket money and working in construction. Making thousands from each sale convinced him to ditch the home-improvement business. In addition to his brother Andrew, he joined forces with his longtime friend Josh Bell and Josh's younger brother, Michael.
In the last year, the younger Bell has helped make Navarro the star of the company's YouTube channel, The Wolves of Watch Street, which has garnered nearly 19,000 subscribers. The channel's aesthetic is a bit like a badly produced reality show. But the videos, Navarro says, have earned them clients out of state, allowing them to increase inventory twentyfold in the last 12 months. "It helps break down any boundaries," he says. A recent upload is titled: "How NOT to Shoot a Gun When Wearing an EXPENSIVE Watch!" So far it has 4,000 views and counting.
Navarro recently started driving a Ferrari, which his 3-year-old calls "the UFO." The steering wheel, with its prancing horse, has become a backdrop to many of the wrist photos he posts on his personal Instagram account to his 3,500 followers. On the company's TikTok, he showed off a glamorous photo of his wife that was newly tattooed on his forearm. Viewers could clearly see the Patek Philippe Nautilus on his wrist. Weeks later, he sold it for $145,000, pocketing $15,000 in profit.
There are clues to what companies may do if they decide they want to rein in who resells their watches. In 2021, Richard Mille started offering certified pre-owned watches through Westime, a California-based store. Like cars, the certified pre-owned designation is drawing buyers because the watches get serviced by Richard Mille and then include a two-year extended warranty. The used watches start at $200,000 and run into the millions. They are usually sold out.
As the only authorized reseller of the brand in the U.S., the company wants to control the experience for the buyer. "We want to make sure that we are selling to the end consumer and not someone who is trying to flip the watch," says Westime president Greg Simonian. Oftentimes it's impossible to tell and some buyers do end up reselling the watch, he adds. On the flip side, established watch retailers including Watches of Switzerland Group, known for mostly selling new merchandise, are starting their own secondhand sales arms. The retailer, an authorized dealer for Rolex and other brands, now sells pre-owned timepieces after acquiring the pre-owned watch company Analog Shift in 2020.
But brands will have to move quickly if they want a chance at taking back the resale market before the luxury-watch boom busts.
Even with demand (and prices) still high, there are signs of trouble. The gray market price for a discontinued Patek Philippe Nautilus in steel with a blue dial cost $226,000 this February and dropped to $173,596 in July, according to Chrono24 data. In 2015, the watch was worth about $25,000, its retail price at the time. Though even with the drop, the fluctuations don't matter, because there's a slim chance they'll be available at their retail prices anytime soon, says Craniotes. "If you bought anything at list price, you are still making out like a bandit," he notes.
In the last few months, Alwani sold a portion of his existing watch stock at a loss in order to free up cash to purchase pieces at the lower prices that are now available. And profits for 2022 are down nearly 50 percent.
Not that one of his 214,000 Instagram followers would ever be able to tell. On his YouTube series, Alwani bought his youngest brother a $280,000 Porsche 911 Turbo, blindfolded him, and led him to the surprise. It was the most expensive gift he has ever gotten anyone.
For now, he's planning for a further dip by moving inventory more quickly rather than letting it sit and risk further depreciation. And he's more focused on fulfilling specific requests from buyers for watches that he doesn't actually have in stock. That way he can quickly get the piece from another dealer and sell to his client at a profit without owning the watch for more than a day. After seeing prices go up for the last few years, a dip is inevitable, he explains. "It'll never go to zero," he says. "But it's gotta rain sometimes."