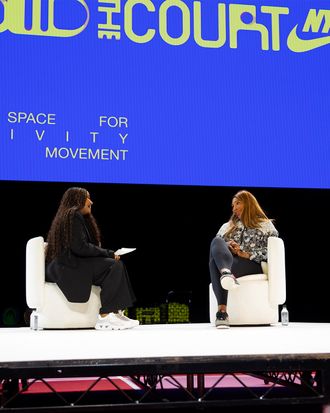 Last week, on the day Fashion Week began in New York City, one of its biggest celeb sightings had already occurred: Serena Williams chatted onstage with Lindsay Peoples, the Cut's editor-in-chief, about her recent evolution away from tennis and her involvement with the Nike design team. "One of the first meetings I had with Nike, I was like, 'I just want to look good, and I don't care if it's not functional,'" Williams said with a laugh. She and Nike have worked together through the years to create many pieces, from the famous jean skirt she wore in 2004 to the bedazzled look she wore for her last match at the U.S. Open. So what's next for Williams?
"I'm at a place where I have a few questions too," she said. "Right now I am taking everything day by day."
We do know Williams is working with Nike to empower the next generation of Black and Latino New York designers. To kick that off, Peoples also had a chat with stylist and designer Aleali May, stylist Jessica Willis, track-and-field athlete Vashti Cunningham, and Who Decides War's Ev Bravado and Téla D'Amore about the future of fashion.
Here are some highlights from Williams:
On the power of dressing on the court: "I realized pretty early on the power of fashion when people kept writing about my outfit. And I was like, Wait, what about my game? I really like fashion; I actually went to school for fashion. I really love being out there and dressing like my personality: I am loud and excited and intense on the court and amazing, and I feel like I should dress that part. Plus, if you look good, you feel good. Sometimes if I'm feeling bad, I turn to fashion. I go ahead and I put something nice on so I can feel better."
On her style transitions: "Style is really all about evolving. I am always super-influenced by pop culture but also keep classic silhouettes. Some seasons, I love patterns; other seasons, I love solids."
On that famous jean skirt: "I was like, 'I want to wear a jean skirt on the court. No one has worn a jean skirt yet.' But how do you make that functional? Nike made it functional. And even with the last outfit I wore, I would challenge Nike with insane things. I mean, how are you going to wear rhinestones on the court? It was really all about shining like a diamond out there. They figured it out."
On what she's doing next: "I've been investing for nine years, so I plan on being louder in that space. When I look at businesswomen, I love the women that dress to show their personality, so I encourage my team to look great, whatever their personality is. I want them to own that and to bring fashion into that. So when people see our team at Serena Ventures, they see that not only are they really good at what they do, but they do it loudly and unapologetically. And that is what I want to bring to the business world: You can still look good and be taken seriously."