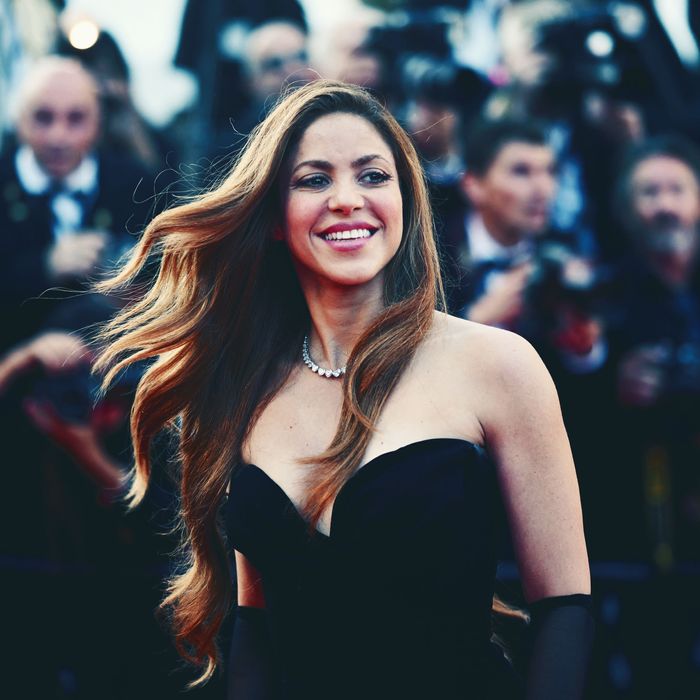 Photo: Loic Venance/AFP via Getty Images
In July, multiple outlets reported that Shakira — yes, Shakira — was facing jail time in Spain over allegations of tax fraud. Now, a Barcelona judge has approved her case to move to trial, where she will face six counts of tax fraud. How did we get here, you ask? Back in 2018, Spanish prosecutors charged Shakira with tax evasion, alleging that the singer had failed to pay more than $16 million in taxes on income she earned between 2012 and 2014. (The charges arrived nearly a year after Shakira was named in the 2017 Paradise Papers, a sprawling investigation into the ways the rich and famous legally hide money offshore). Shakira categorically denied the prosecutors' allegations. Central to her case was the question of where she lived between 2012 and 2014: While the singer denied living in Spain during that time, officially listing her residence as the Bahamas, Spanish prosecutors insisted she was claiming the Bahamas for tax purposes (tax rates are significantly lower in the Bahamas, where Shakira bought a private island in 2011). Though Shakira and her ex, Spanish soccer player Gerard Pique, lived in Barcelona together for several years, the singer did not officially list Spain as her residence until 2015.
The case picked up steam over the summer, after representatives for Shakira announced that the singer had decided to go to trial instead of accepting a deal offered by prosecutors to settle allegations that she defrauded Spain's government, with the singer's PR firm saying she "trusts her innocence and chooses to leave the issue in the hands of the law." Per Reuters, a Spanish prosecutor sought an eight-year prison term as well a fine of over $23 million should Shakira be found guilty. For her part, Shakira addressed the allegations in a recent Elle interview, calling them "false accusations."
Below, everything to know about the case.
Shakira's team has called the charges a "smear campaign."
In November 2017, the Paradise Papers revealed that Shakira had transferred €30 million in musical rights to an offshore firm on the island of Malta. Per Business Insider, Shakira's lawyer maintained that the tax sheltering was legal, telling a Spanish news site that the offshore firm "fulfills all legal requirements" and that "all of the corresponding information relative to this entity is public and transparent." Two months later, judicial authorities in Spain announced Shakira was under investigation for tax evasion, with prosecutors officially leveling charges against her in December 2018 and demanding that she pay taxes in Spain on her worldwide income. Representatives for Shakira told People that the singer owed nothing to Spanish tax authorities, arguing that she had paid what she owed in full and that the prosecutor was spearheading a "smear campaign" and using Shakira as a "scapegoat" to frighten other taxpayers.
Shakira rejected prosecutors' offer to settle the case.
Per the Associated Press, no details were released about the terms of the deal prosecutors offered to Shakira, but in July, her PR firm announced she had rejected it and planned to go to trial, reiterating that the singer had deposited whatever she allegedly owed with the Spanish Tax Agency and had no outstanding tax debts.
Shakira has called the allegations "fictional claims" by the Spanish government.
Shakira has repeatedly maintained her innocence throughout the ordeal, denying that she lived in Spain during the two years in question. Representatives for the singer told Reuters in July the singer is "fully confident of her innocence" and finds the case to be "a total violation of her rights." In her September Elle interview, Shakira said she "owed zero" to the Spanish government and that there was "no way" she qualified as a resident during the period in question, adding that she had "paid everything" she owed before a lawsuit had ever been filed. "I was confident that I was doing things correctly and transparently from day one," said the singer, who called the government's claims "fictional" and said it was its "style" to unfairly come after celebrities and regular taxpayers in order to force settlements. "I'm confident I have enough proof to support my case, and that justice will prevail in my favor," the singer told the outlet, adding that she had elected to go to trial to "fight for what I believe." A trial start date has yet to be set.