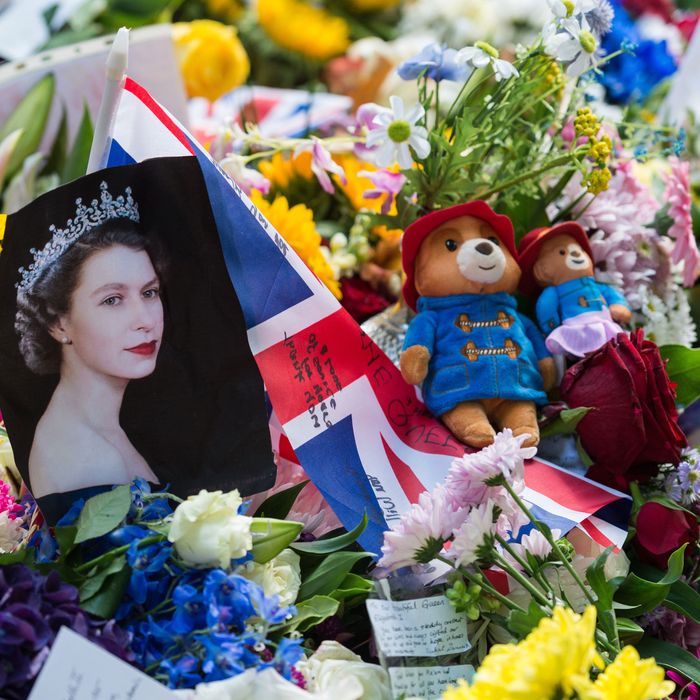 Photo: Wiktor Szymanowicz/Anadolu Agency via Getty Images
As mourners continue to bring flowers to tribute sites for Queen Elizabeth II near Buckingham Palace, the Royal Parks has one small request: Stop leaving Paddington bears and marmalade sandwiches for the queen. As cute as the orphan bear may be, and as delicious as his favorite snack is, neither she nor the team in charge of cleaning up all the tributes wants them.
The Royal Parks has released explicit guidelines for the kinds of items people should bring to the designated floral-tribute sites. The statement asks that guests hold off on bringing "non-floral objects/artefacts such as teddy bears or balloons" and reminds them to leave flowers without any plastic or nonbiodegradable wrapping so they all may be composted effectively. And while the official guidelines don't mention Paddington by name, he was called out on the BBC, which offered "advice" from the Royal Parks, saying, "There are enough Paddingtons and marmalade sandwiches in the parks at the moment." The presenter continued, "So please, feel free to bring flowers but maybe don't bring any more Paddingtons or marmalade sandwiches — for now."
The queen and Paddington have met a few times. First, in the 1990 storybook Paddington Meets the Queen and again during a sketch celebrating the queen's Platinum Jubilee earlier this year. The sketch was an instant hit and featured the queen and the beloved bear sharing tea and marmalade sandwiches. Paddington's official Twitter account paid tribute to Elizabeth after her death, writing simply, "Thank you Ma'am, for everything," further solidifying their connection. Her relationship with Paddington as well as her well-known love of jam sandwiches (she reportedly ate butter-and-jam sandwiches for afternoon tea every day) made the tribute a no-brainer. For the record, marmalade sandwiches are very compostable, though also, presumably, a tasty snack for rats.