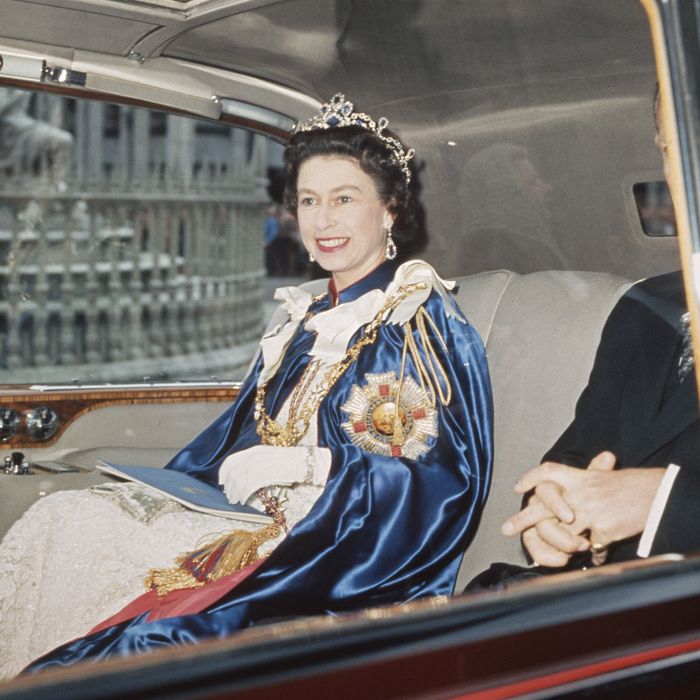 Photo: Hulton Archive/Getty Images
Queen Elizabeth II has died at the age of 96, Buckingham Palace announced on Thursday. She was the longest-reigning monarch in British history, taking over the throne after her father's death in 1952, when she was 25.
In her decades of tenure, Queen Elizabeth made the royal role all her own, and fans around the world will remember her for both her staunch sense of civic duty as well as her endearing idiosyncrasies: her rainbow overcoats and penchant for brooches, shopping-mall hats, dark chocolate, corgis, and a rumored nightly gin martini. Faced with critics who found the monarchy unfeeling and obsolete, the queen had a fastidious eye for modernization, televising royal life in the seventies and being more lenient with changing family dynamics, including divorce.
Her reign was not without its controversies: Following Princess Diana's death in 1997, the queen faced global scrutiny over her slow and "business-as-usual" response. In addition to longstanding criticism about the monarchy's colonial history, after Harry and Meghan Markle's explosive 2021 Oprah interview, she came under fire for allegations of racism at Buckingham Palace, a topic she largely remained silent on; she took a similar tactic with regard to her son, Prince Andrew, regarding his sex-abuse scandal and connections to Jeffrey Epstein, eventually revoking several of his titles and duties. Nevertheless, over her 70-year-rule, she cemented herself as a complicated but beloved figure in the U.K. and abroad. Olivia Colman, who portrayed the queen in season four of Netflix's The Crown, called her the "ultimate feminist." She is succeeded by her son, now officially King Charles, and his wife, Camilla, whom Elizabeth named queen consort in February 2022.
Below, friends, fans, celebrities, and world leaders react to her death.