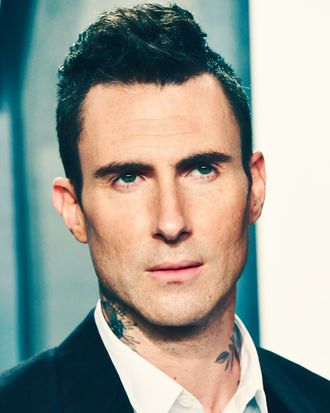 Photo: Frazer Harrison/Getty Images
Celebrities are no strangers to baby-name drama. It most commonly involves choosing a name someone else has already used, but Adam Levine appears to have taken the awkwardness of reusing a name to a whole new level. According to a TikTok posted by Instagram model Sumner Stroh, Levine recently DM'd her to ask if he could name his new baby "Sumner" after her. The awkward part: Stroh alleges Levine cheated with her.
In the video, Stroh claims that she had an affair with "a man who's married to a Victoria's Secret model," whom she later names as Maroon 5 singer Adam Levine, who is married and shares two children with Behati Prinsloo. Stroh alleges that when the affair began, she was "young," "naïve," and "easily manipulated," adding, "quite frankly, I feel exploited." Stroh is currently 23; Levine is 43. She goes on to share what appear to be screenshots from Levine, which she says he sent her a few months after they stopped seeing each other. "Ok serious question. I'm having another baby and if it's a boy I really wanna name it Sumner. You okay with that? DEAD serious," he appears to have written, followed by a single shrugging emoji.
The purported DMs raise a number of questions, including: Is this truly how famous men behave? For his part, Levine addressed the accusations in an Instagram story posted Tuesday, claiming that he "did not have an affair," but admitting that he "crossed the line during a regrettable period in my life." He did not, however, deny sending the DMs.
"A lot is being said about me right now and I want to clear the air," Levine wrote. "I used poor judgement in speaking with anyone other than my wife in ANY kind of flirtatious manner." He added: "In certain instances it became inappropriate; I have addressed that and taken proactive steps to remedy this with my family … I take full responsibility." Stroh appeared to respond to Levine's comments on Instagram, writing, "Someone get this man a dictionary."
In a follow-up TikTok, Stroh added that she feels "remorseful," "embarrassed," and "disgusted with myself" over the alleged affair. "I fully realize I am not the victim in this," she said. "I am not the one really getting hurt here — it's Behati and her children. And for that, I'm so, so sorry."
Levine and Prinsloo did recently announce they're expecting their third child. Sounds like they may want to brainstorm a few alternative names?
This post has been updated.