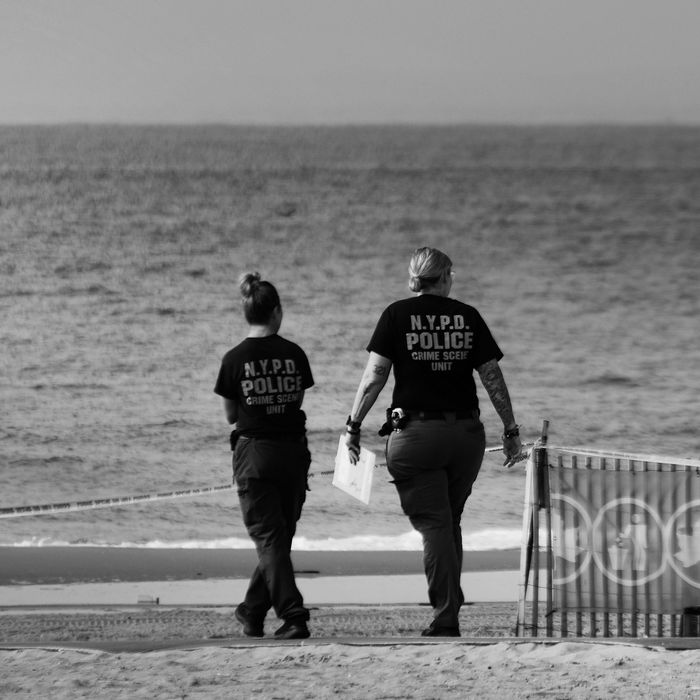 Photo: Spencer Platt/Getty Images
Three young children — a 7-year-old boy, a 4-year-old girl, and a three-month-old-boy — were found dead near the shore at Coney Island on Monday, the New York Times reports. Police say their mother is suspected of drowning them.
Law enforcement told the New York Post that the woman, who is 30 and has a history of mental-health struggles, called several family members early Monday morning and made distressing confessions about harming her children, prompting relatives to inform police that the woman "may have done something to the kids" while under the possible influence of drugs or alcohol. After no one answered at the woman's Neptune Avenue apartment, police conducted a lengthy search at the beach at Coney Island. Eventually, a relative found the woman walking barefoot in a robe along the beach, where she allegedly confessed that she "drowned all three kids." Police later found the woman — who they and other sources say appeared "despondent" — and some of her relatives at the Brighton Beach boardwalk, "soaking wet" and "not communicative to the officers," according to the NYPD chief of department. The unresponsive bodies of the children were ultimately discovered three blocks away from their mother's apartment. All three were declared dead on Monday, and autopsies are underway.
According to police, the woman was taken to the station house for questioning before later being transferred to a hospital for psychiatric evaluation. The Post reports that investigators are looking for witnesses, and no charges have yet been filed. "Last time I spoke to [her] she was struggling," the woman's aunt told New York Daily News. "Many family members have struggled with mental illness."