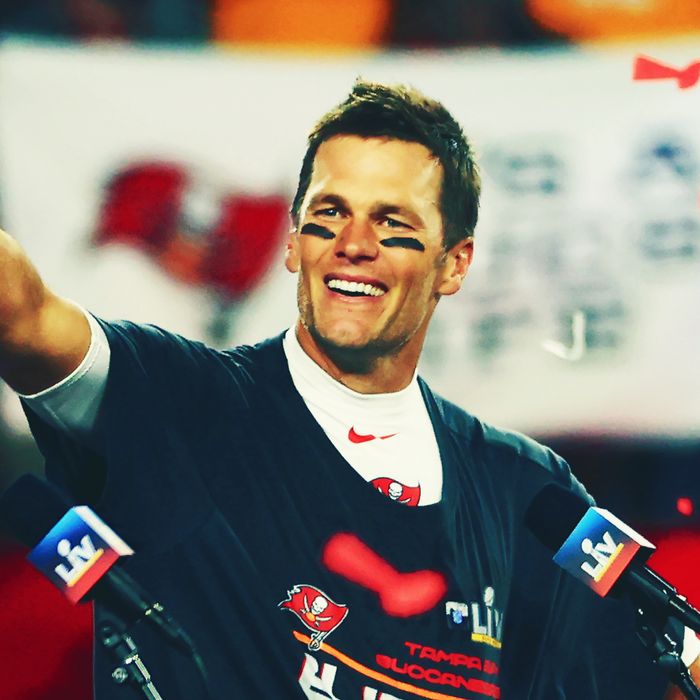 Photo: Mike Ehrmann/Getty Images
As you may have heard, many people are interested in working less. Among them, apparently, is Tom Brady. Despite unretiring earlier this year, the Tampa Bay Buccaneers quarterback is now jumping on the shorter-workweek train. Brady announced this week that he will be taking every Wednesday off as a personal day of rest. This is the first time I actually agree with Tom Brady. Here's to a four-day workweek!
Okay, so it's not actually a four-day workweek. NFL players reportedly only get one day off per week, so he's really just going down to a regular five-day week. Tom Brady — he's just like us! Despite this totally normal amount of work, the quarterback felt the need to defend himself on his podcast, Let's Go! With Tom Brady, Larry Fitzgerald and Jim Gray. "The fact that I've worked weekends for the last 23 years — I do deserve one day off a week," he said, per People.
Supposedly, an extra day of rest per week is a privilege reserved for "veterans" in the NFL. Brady is 45 years old. "When you're younger, your body is a lot different. And when you're 45, your body changes a lot," Brady said on his podcast, as reported by Sports Illustrated. "What am I dealing with now? I woke up today going, 'Holy shit, that was a few hits.' And you look at your arm, and you've got bruises, and you've got cuts, and the way it is, you go, 'Okay, how much longer do I want to make this commitment?'"
The athlete then seemed to hint that rumors of his impending re-retirement could be true. "I obviously made the commitment for this year, and everything is going to be like always — continue to evaluate all these different aspects of play." Could this have anything to do with the rumors about tension in his marriage to Gisele Bündchen? Who knows, but working less is something I can always get behind.