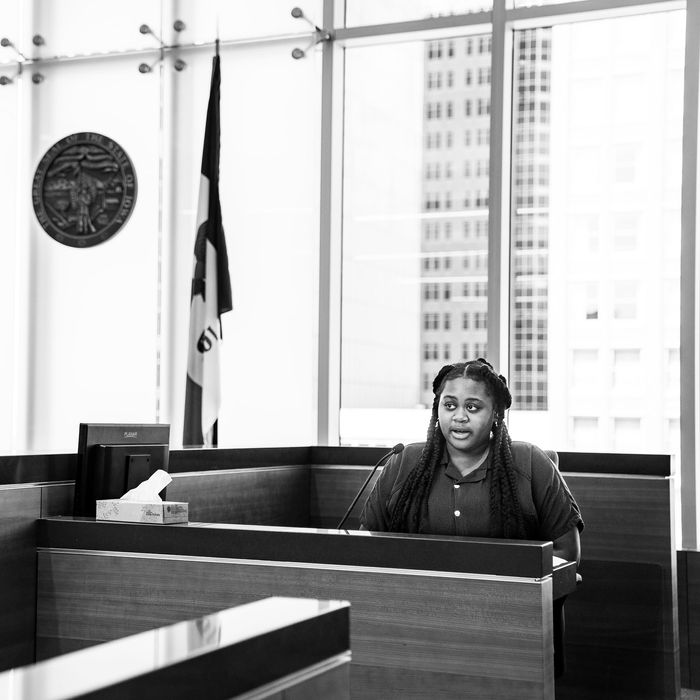 Photo: Zach Boyden-Holmes/The Des Moines Register
In another installment of dystopian news, a 17-year-old trafficking victim in Iowa has been ordered to pay $150,000 in restitution to her accused rapist's families after stabbing him to death in 2020, the New York Times reports.
Pieper Lewis was 15 when she killed 37-year-old Zachary Brooks in his Des Moines apartment. Prior to the incident, Lewis said in a witness statement that she had run away from home, fleeing an abusive situation involving her adopted mother. She said she was sleeping in the hallways of an apartment building when a man, 28-year-old Christopher Brown, took her in, posing as her boyfriend before allegedly forcing her to have sex with other men for money, including Brooks. Per Lewis, Brooks coerced her to consume alcohol and other intoxicants before raping her while she was unconscious on at least five different occasions. The day of the stabbing, Lewis claims that Brown held her at knifepoint and forced her to return to Brooks's apartment, where Brooks again drugged her; she says she woke up to him raping her before passing out again. When Lewis finally regained consciousness, Brooks was asleep. "Without thinking, I immediately grabbed the knife from his night stand and began stabbing him," she said in her statement. The next day, Lewis was arrested at Brown's apartment; she was held for two years at a juvenile detention facility, where she earned her GED. In 2021, she pleaded guilty to voluntary manslaughter and willful injury in connection to Brooks's death, charges that are punishable by up to ten years in prison each.
During Tuesday's sentencing hearing, Lewis told the court she is a "survivor" and that while she wished the events of the night of the stabbing had "never occurred," saying that "there is one victim" — Brooks — "is absurd." Though prosecutors didn't challenge Lewis's account that she'd been trafficked and abused, they reportedly took issue with her calling herself a victim, arguing that Brooks — despite having allegedly drugged and raped an unconscious Lewis — didn't pose an immediate threat to her when she stabbed him. Before announcing Lewis's sentence, the judge in the case probed her about what mistakes she'd made in her life ("I took a person's life," Lewis replied) and raised concerns about rules she allegedly didn't follow in juvenile detention.
In addition to being ordered to pay $150,000 in restitution to Brooks's family, Lewis was also sentenced to five years of probation. She was ultimately granted a deferred judgment, meaning her guilty plea will be expunged when she meets her stringent probation requirements — including completing 200 hours of community service every year for three years and wearing a GPS tracking device for five. Per the AP News, if she violates her probation, she could be sent to prison to serve a 20-year term.
"This is the second chance you've asked for. You don't get a third," the judge told Lewis after the sentence. Meanwhile, Brown has not yet faced any charges for allegedly trafficking a teenager, with a county attorney saying the matter is "still pending." As of Wednesday afternoon, a GoFundMe for Lewis's restitution and university costs had raised over $200,000.