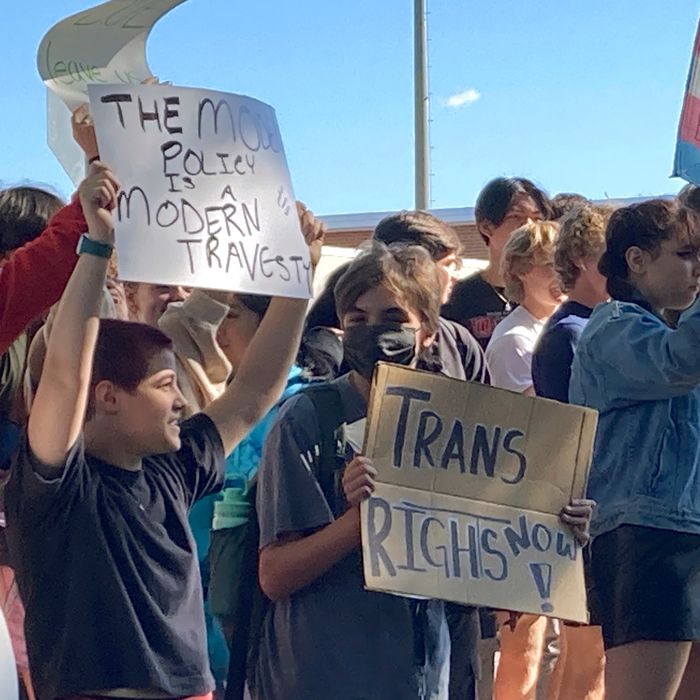 Photo: Matthew Barakat/AP
On Tuesday, students at over 90 Virginia public schools walked out in protest of Republican governor Glenn Youngkin's regressive new guidelines on the rights of transgender students, the Washington Post reports. In a draft policy released earlier this month, the state's Department of Education claims the guidelines will achieve "cultural and social transformation at schools" by requiring students to use programs and facilities — including bathrooms and locker rooms — that correspond to their "biological sex." The guidelines, set to be instituted across 133 Virginia school districts in October, will defer to parents to determine a student's pronouns, names, and gender expression, a policy that fails to account for a student's personal wishes and risks outing them to unaccepting family members. Parents will be required to submit legal documentation in order to change their child's name and gender on school records, but per the Post, even a court order will only go so far: School employees won't have to address a student by their chosen names or pronouns if they feel doing so would go against their "constitutionally protected" free speech.
Over 1,000 students had reportedly walked out by 11 a.m. Tuesday, many of them waving rainbow and transgender flags and holding up signage; protests continued throughout the afternoon. Youngkin's proposal — which has drawn ire from activists and fear from gender-nonconforming children — arrives at a time when states across the country are rolling back the freedoms of transgender students, whether it's passing a swath of anti-LGBTQ+ school legislation or proposing to criminalize hormone therapy and ban lessons pertaining to gender identity. The guidelines will officially go into effect after a 30-day public-comment period that began Monday and has already amassed over 17,000 responses, which Virginia's Department of Education is required to review and address.
"These revised guidelines will only hurt students in a time when students are facing unparalleled mental health challenges, and are a cruel attempt to politicize the existence of LGBTQIA+ students for political gain," Pride Liberation Project, the Virginia-based LGBTQ+ youth-advocacy group organizing the walkouts, said in a statement, per the Post. "As a closeted student, I wouldn't be able to come home if my parents found out that I was Queer," an anonymous student from Fairfax County said in a press release the group issued last week. "I am terrified that these draft regulations will take away one of the few places I can just be myself."