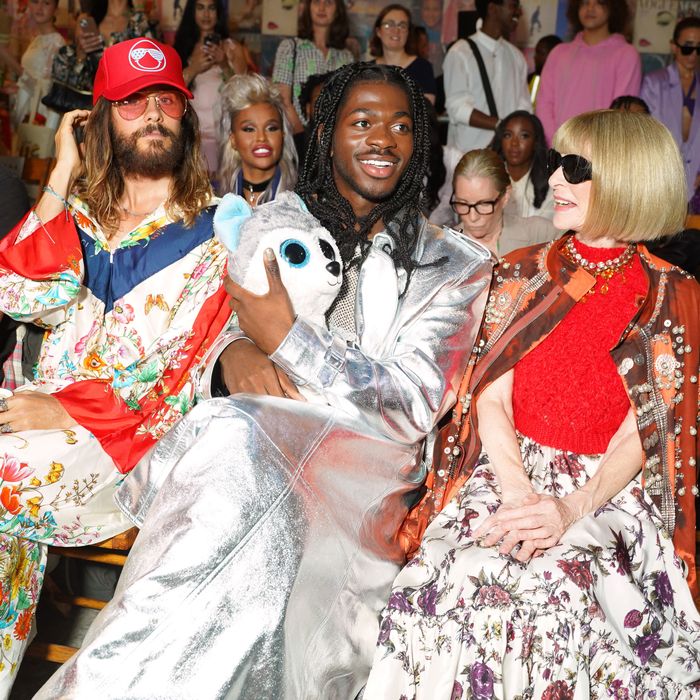 Jared Leto, Lil Nas X, and Anna Wintour in the front row at
Vogue
World.
Photo: Sean Zanni/Getty Images for Vogue
On Monday night, Vogue celebrated its 130th anniversary with Vogue World, a ticketed runway show and street fair in the Meatpacking District during New York Fashion Week. There were celebrities, supermodels, and food stalls conveniently stocked with Fendi baguettes that were actually glutenous. Anna Wintour has been editor in chief of the magazine for more than a quarter of its lifetime (34 years), so it was something of an Anna Wintour Show as well. Should anyone still question her power, she basically threw herself a parade, calling up everyone in her Rolodex for the occasion and asking them to walk past her clapping and smiling. (Emmys who?)
Perched in the front row, Wintour was flanked by Lil Nas X and a freshly-retired Serena Williams, who was first to walk the cobblestone runway in a custom silver Balenciaga cape. Across from them sat a Kardashian (Kourtney) and Kanye West (now Ye), who arrived in characteristic winter wear only a few minutes after the show began and excitedly whipped out his phone multiple times to take photos and videos. The combined social-media reach of these four people alone was about 240 million pairs of eyeballs. (By comparison, 7.4 million people watched the Emmys last year.) Doja Cat was also in the audience along with Jared Leto, Russell Westbrook, Gayle King, Keke Palmer, and NCT's Jeno. There were plenty of scions (including Lori Harvey and Christian Combs), at least two Bidens, Madonna's daughter, James Gandolfini's son, and a bunch of TikTokers and YouTubers too.
With over 100 brands involved, the event was a chance to showcase the American fashion market and for Vogue to reinforce its dominance over it — as well as its reach worldwide. Of course, it was also an opportunity to make money. Unlike with most New York Fashion Week events, guests without famous parents or millions of followers were able to buy their way into this one. A standing spot cost $130, third-row seats were $750, second row was $1,800, and the front row cost $3,000. A limited number of tickets were made available to students for free. (According to Vogue, 713 people attended, 293 of whom were guests of the magazine, so you do the math. A donation will be made on Vogue World's behalf to the CFDA/Vogue Fashion Fund.) In addition to event access, each level included perks ranging from a free Vogue tote bag and umbrella to a meet-and-greet with Vogue editors before the show. The only difference between the standing and third-row package, however, was a physical chair.
Who would pay for such a thing? Some guests were already paying members of Vogue Club, a monthly membership program that provides access to exclusive content, swag, and events. Some were superfans eager to be a part of Fashion Week. Some wore pieces worth far more than their tickets. (An actual Fendi Baguette bag, for example, costs more than $3,000.)
"It's just another night out — well, a little more expensive," said Paola, an interior designer carrying a lavender Telfar bag who purchased the second-row package. The event brought to mind Fashion's Night Out, a chaotic, citywide shopping event that Vogue hosted in New York more than a decade ago. "That was such a hot mess," Paola recalled. "But this is organized chaos, because if people want to be a part of it, now they have to pay; you have to invest to see beauty. For Fashion's Night Out, everyone was invited, and I think it was too much."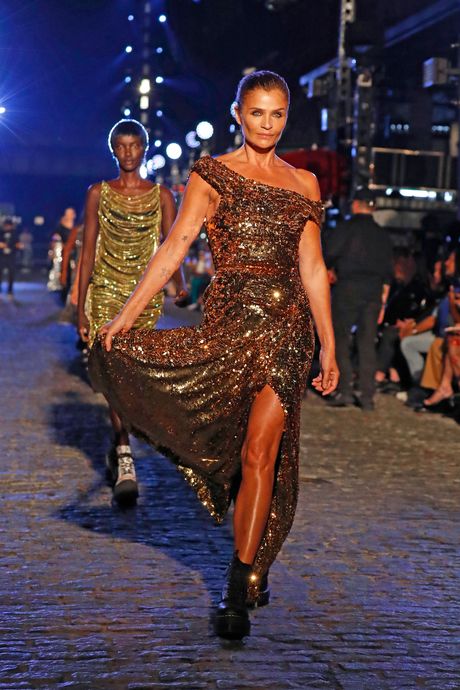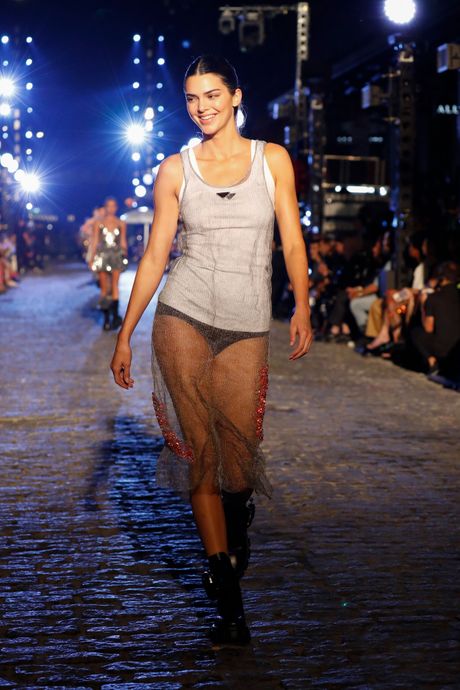 Others saw the event as a business expense. "I was excited to see behind the scenes, and I wanted to meet people and network," said Cabell Hickman, a stylist who runs her own company and purchased the front-row package. "I thought it would be great to get access to editors firsthand," echoed a young man named Thom, who owns a women's shoe line. Others were taking notes. One woman seated in the front row told me she worked for a department store in Korea that was interested in hosting a similar event.
Was it worth it? The looks on the runway may not have been new — many are currently available for purchase — but the lineup was more star-studded than at any other New York Fashion Week event this season, even Fendi. Original supermodels like Helena Christensen and Shalom Harlow walked alongside Kendall Jenner and the Hadids. And other celebrities were just … there. Brooklyn and Nicola Peltz Beckham smiled and waved like they were on a Macy's Thanksgiving float. Mikhail Baryshnikov ran by. When Erykah Badu strutted past Ye, he pulled out his phone. Howard University dancers performed, someone did a wheelie on a Citi Bike, and Lil Nas X got up from his seat and put on a brief show. Wintour beamed and tapped her knee to the beat.
Afterward, I found two people who'd purchased front-row tickets sipping cocktails in the VIP lounge. They were upset that someone seated in the third row had simply moved their chair up when the show started, subsequently blocking their $3,000 view, and that security hadn't intervened. But they didn't let it ruin their night.
"I thought it was incredible to see all these iconic women, who are the reason I got into this industry, walk by me that close," said one person. "I will cherish this moment for the rest of my life."
"I won't say what I think it was actually worth," said the other. "Because then it might cost that much if it happens again."