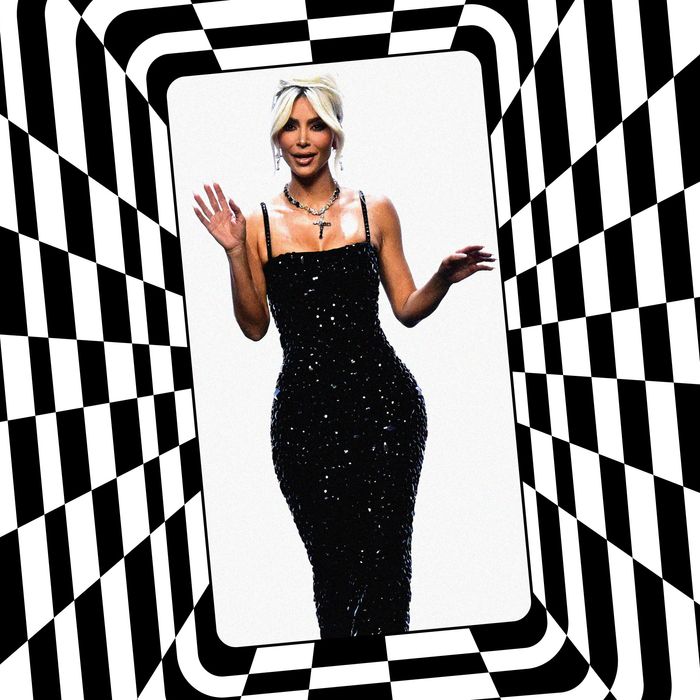 Photo-Illustration: by The Cut; Photos: Getty Images
Kim Kardashian once said that it seems like nobody wants to work these days, and truly, what is more work than an uncomfortable outfit? That's right: nothing. Thus, a fitting interpretation of her quote could be, "It seems nobody wants to wear clothes that make you unable to move these days." Nobody, that is, except for Kimberly herself.
Kim recently attended Milan Fashion Week to debut her new collection with Dolce & Gabbana. (A fitting match of two brands who have made questionable choices throughout their respective histories.) However, the real show happened behind-the-scenes. More specifically, on TikTok where Stephanie Shepherd, Kim's former assistant and the previous COO of Kardashian West Brands, posted this video of Kim. We see Kim wearing a body-hugging sparkly dress, struggling to walk up the stairs — "struggling" being the operative word. Please, witness the pitter-pattering of a woman worth an estimated $1.8 billion:
Listen, I get it. The dress is fun. Kim looks great. If I had the time, resources, and professionally manufactured physique of Kim Kardashian, I, too, would often opt for fashion over function. Still, there is something deliciously humbling about watching a full-blown adult bunny-hop up some stairs because her dress has essentially bound her down to the calf.
Of course, art is open to interpretation, and make no mistake: This is indeed art. To me, the video is nostalgic, harkening back to childhood sleepover antics: being rolled up in a big blanket burrito and attempting to waddle to the kitchen for a little snack. Your friends, ignoring (or filming) your struggle, stifling their snickers, eventually falling to the floor cross-legged so they don't pee themselves laughing. (Somewhere, North is roasting her mother, per usual.) Later in the video, when Kim hoists herself into a car, the dress prevents her from sitting altogether. Here Kim looks like a mid-metamorphosis mermaid; her bottom fins have turned to feet, but she's still mostly tail.
If the whole scene seems familiar, perhaps you're thinking of this year's Met Gala when Kim wore Marilyn Monroe's iconic dress, a different sparkly outfit that also made it difficult to walk up stairs. Fortunately, Kim only had to ascend a giant set of stairs during the most public part of the event. Or you could be thinking about that video of Kim wrapped head-to-toe in Balenciaga caution tape, the plastic squeaking while she walked. Or maybe you're thinking of the time Kendall Jenner struggled to walk in the dress she wore to Kourtney and Travis's Italian wedding. She, too, was recorded awkwardly ascending a rocky set of stairs. At this point, it's only a matter of time before the Kardashian-Jenners require all future events to take place on ground level. At the very least, give these women a pair of Heelys and have someone push them around.
Kim notoriously would do most anything for fashion. "I really, genuinely care about looking good," Kardashian recently told Allure. "I probably care more than 90 percent of the people on this planet." So much so that during a June interview with the New York Times, Kim joked that she would probably eat poop if it made her look younger. Wearing a dress as constricting as being wrapped like a mummy is simply par for the course. Does she make it look effortless? No, she certainly get gets her ass up and works, whatever that work may be.