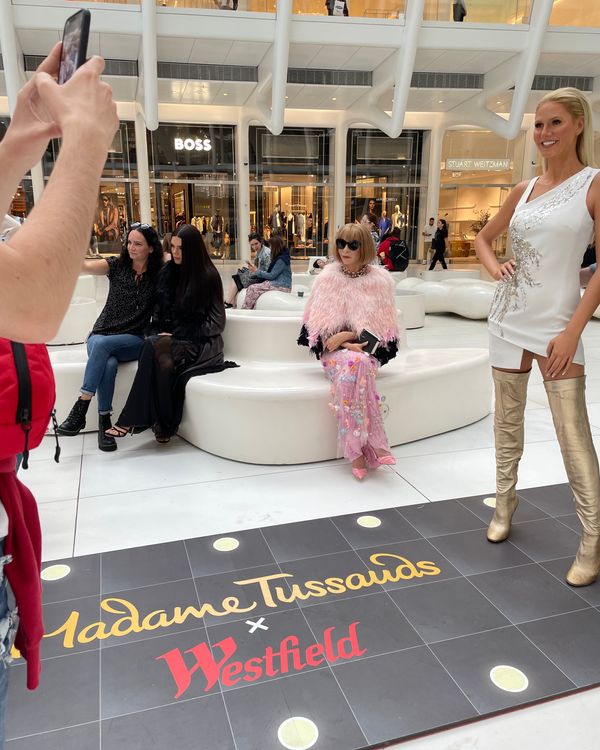 She's the boss: Wax Wintour, center, with a new friend.
Photo: Emilia Petrarca
For two days this week, the most powerful woman in American fashion sat in the middle of a commuter mall hard by the Stuart Weitzman. Sudden as a haunting, a wax Anna Wintour appeared on one of the marshmallowy bubble seats in the Westfield Oculus, the retail and transportation hub by the former World Trade Center, content — in a way her flesh-and-blood counterpart would not be — to submit to selfies.
What gives? Wax Wintour, it turns out, is part of a partnership between Madame Tussauds, which commissioned Wintour's likeness, and Unibail-Rodamco-Westfield, the real-estate developers that run the mall, to celebrate Fashion Week. "We're thrilled to partner with Madame Tussauds to present visitors to the Oculus with a very unique experience," Diana Grasso, the vice-president of Unibail-Rodamco-Westfield, said in a prepared statement.
And how! Twenty-five stories above, in Vogue's offices at One World Trade Center — directly accessible from the Oculus — Wintour has been busy at her desk as usual, preparing for Fashion Month and the mysterious debut of Vogue World. Although she approved the creation of a wax figure of herself for Madame Tussauds in 2016, according to a source with knowledge, Wintour was not warned that her likeness would be appearing just outside her door like some sort of Take Your Effigy to Work Day. Asked whether she has any feelings about her doppelgänger showing up unbidden, Wintour, through her office, declined to comment.
Perhaps she hasn't run into her twin. "I would bet money that she has never set foot in there," a fashion lifer cracked to me as an image of wax Anna circulated on social media, though this isn't quite true. Wintour was instrumental in moving the Condé Nast headquarters to One World Trade Center, and she has written feelingfully of the "​​expressive sweep of the Oculus" beside the 9/11 Memorial. And in 2014, as the Oculus was under construction, the CFDA and Vogue held an event for their joint Fashion Fund there.
Wax Wintour, originally made in 2016, now wears a replica of Wintour's feathered Chanel couture gown from the 2019 Met Gala (the "Camp" gala, appropriately enough). She was joined in the Oculus on September 7 and 8 by wax Kendall Jenner, wax Alessandra Ambrosio, and wax Heidi Klum, all of whom appear in the "Walk the Runway" experience at Madame Tussauds' Times Square Museum. Brittany Williams, a spokesperson for Madame Tussauds, told me that each personality cast in wax participates in the process to a varying degree. "Most celebrities meet with our artists (who fly in from London) for a 'sitting,' where more than 200 measurements are taken to ensure exact likeness as their figure is created over the course of the next 6-8 months," she said via email. "Kendall Jenner, Alessandra Ambrosio and Heidi Klum each participated in a sitting and revealed their figure in person." And Wintour? "Based on our records, Anna's figure was created via research, engaging remotely with her team," she wrote after conferring with the home office in London.
An investigation Friday afternoon revealed that wax Wintour has already decamped from the post. She will presumably return to Madame Tussauds, though, in a pinch, wax Anna might be a useful way for real Wintour to solve her annual September conundrum and attend both NYFW and the U.S. Open at once.