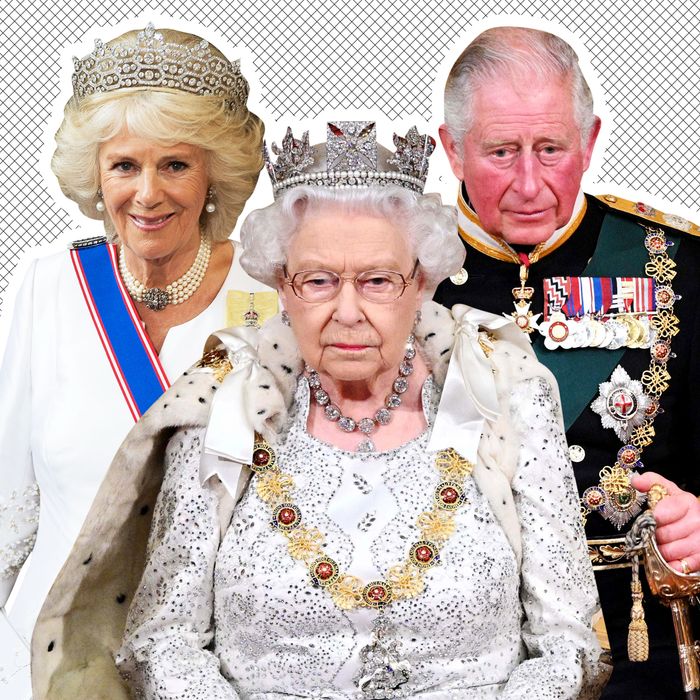 The Charles formerly known as "prince" is now the King of England.
Photo-Illustration: by The Cut; Photos: Getty Images
After an unprecedented 70 years on the throne, Elizabeth II's reign ended September 8. After issuing a short and ominous update about doctors' concern for her health earlier in the day, and after her immediate family members assembled at Balmoral Castle, Buckingham Palace announced in a statement that she "died peacefully" at the Scotland estate in the afternoon. "The King and The Queen Consort will remain at Balmoral this evening," it said, "and will return to London tomorrow." The king, of course, being Charles.
Queen Elizabeth's death sets in motion a flurry of long-cemented protocol. She will be buried, Charles will move houses, and many people in the U.K. will get their first new monarch in a lifetime. Below, a full breakdown of all the hyperspecific next steps required to enter the Charlesian Age.
What happens next?
Buckingham Palace and the British government have long had plans in place for the aftermath of the queen's death, or "D-Day." Per The Guardian, official messaging in the days leading up to and the moments immediately following a monarch's passing route through their senior doctor, so if you're wondering who has been responsible for the palace's cryptic missives to the public, it's probably that guy. In 2017, The Guardian predicted the queen's final bedside moment would go something like this: "Her eyes will be closed and Charles will be king. His siblings will kiss his hands."
While Charles collected his kisses, the queen's private secretary likely activated the phone tree, at least according to the detailed "D-Day" documents Politico obtained last year. The newly appointed prime minister, Liz Truss, has presumably been informed that "London Bridge is down," and Truss would have known what that meant because the "bridge" code has been in play since basically the dawn of the palace switchboard (or because she watched The Crown: "We're all bridges," Olivia Colman, as Elizabeth II, explains to Tobias Menzies, as Prince Philip, in the episode in which they worry Prince Charles has died in an avalanche. "I'm London Bridge. Mummy's Tay Bridge. You're Forth Bridge"). Then the alert went out to the 15 countries where the queen remains head of state and to the dozens of other nations in the Commonwealth. After that came the announcement to the Press Association at the same moment that a footman pinned the death notice to the Buckingham Palace gates and the royal website plunged into mourning.
But back to King Charles: His hands kissed, he will meet with the prime minister and will, at some point, address the nation. According to the New York Times, the particulars of the plan are subject to shift somewhat with the circumstances, but if all goes according to protocol, tomorrow — or "D-Day+1" — the Accession Council will proclaim him king. During the accession, members of Parliament will have to swear new oaths to Charles, and according to the University College London, "Parliament will then mourn the death of the queen in debates led by the prime minister." Who among us would not want to be immortalized in heated political discussion?
Later in the day, Charles will meet again with the PM and the Cabinet, and on D-Day+3, he will receive a "motion of condolence" at Westminster Hall before kicking off a U.K. tour in Edinburgh. Meanwhile, the queen's coffin will make its way back to Buckingham Palace either by train (Operation UNICORN) or by plane (Operation OVERSTUDY) on D-Day+2. A processional for the queen's coffin will route from Buckingham Palace to the Palace of Westminster on D-Day+5; it will be made available to the public for three days of viewing. Politico's documents indicate that the state funeral should happen at Westminster Abbey ten days after the queen dies and should be a national day of mourning in the U.K. Finally, she'll be interred at Windsor Castle.
What are some fun facts about Charles?
By most accounts, Charles is idiosyncratic. The New Yorker reports that, within one biography, he is described as "keenly sensitive to violations of protocol," "more of an intellectual striver than a genuine intellectual," and generally out of touch — while at the same time possessed of a "capacious mind," "elephantine memory," "emotional intelligence," and "talent as a consummate diplomat." He is reportedly the kind of guy who will spam officials and institutions with unsolicited yet detailed feedback ("on matters ranging from school meals and alternative medicine to the brand of helicopters used by British soldiers in Iraq and the plight of the Patagonian toothfish") scrawled in spidery handwriting — a real "letter to the editor" type.
In short, Charles seems in some ways made of contradictions. For example: Despite his rumored reverence for convention, he appears to have a soft spot for shady deals. In recent weeks, he has come under fire for accepting not only a £1 million donation from the estranged family of Osama bin Laden but also bags (both duffle and grocery) full of cash from the former prime minister of Qatar, all on behalf of his charity. During the course of a sexy and illicit phone conversation, he once told his now-wife he yearned to live inside her underwear, even if only as a tampon — a testament to his rumored capacity to be both very sensitive (at its core, the sentiment is sweet) and insensitive (when he made the comment, he was married to Princess Diana, who agonized over her withholding husband's affair) at once.
Also he enjoys watercolor painting and absolutely loves plants, to the degree that he talks and listens to these inhabitants of his gardens. This custom, of which he has made absolutely no secret, has led some to label him "looney and eccentric," to quote one biographer. Still, he is more than willing to speak openly of his plant love and makes sure to shake a limb of every tree he plants as if it were a human hand. That is a level of commitment I think we must respect, though I'm not sure we need to respect his 2020 appointment of Katy Perry as ambassador of the British Asian Trust. Apparently he wanted her to sing to his plants, and presumably she retains the title.
Will the new king still go by Charles, or will he choose a different name for himself?
This is a little perk of being the monarch — you can select a "regnal title" to be used professionally and keep your own name for more casual company. For kingly purposes, he may choose any of the following from his full slate of names: Charles Philip Arthur George. King Arthur could be nice, but if he sticks with Charles, then he would be King Charles III.
What is Camilla now?
Charles's second wife, formerly Camilla Parker Bowles, now becomes the queen consort thanks to a special intervention by her mother-in-law. On the eve of her 70th accession day, the queen specified in her official statement that she would like the Duchess of Cornwall to take on the title typically reserved for royal spouses. In other contexts, the shift may have been a given, but Camilla was not very popular when she married Charles in 2005. Before that, most people knew her as his mistress — the "third person" in his marriage with the late Princess Diana and the source of incredible strife that arguably could've been avoided it the royals hadn't discouraged Charles from marrying Camilla in the first place. But that is potentially oversimplifying things, and anyway she has since won over enough of the public and the family. Unless Parliament goes rogue, she gets to be a queen.
When is Charles's coronation?
At the moment, the precise answer to that question is TBD, but protocol demands the ceremony happen within the year, and Charles doesn't have any say over that. According to the National Post, he has expressed an interest in a "shorter, sooner, smaller, less expensive" coronation than monarchs have had in years past — though the public hasn't experienced a coronation since the queen's groundbreaking televised one in 1953 — that feels "more representative of different community groups and faiths." It will nonetheless take place at Westminster Abbey probably within the next few months, and it has a code name: Operation Golden Orb. Meaning that between now and the big day, it will be safe to assume that at any given moment, Charles may, somewhere in his brain, be pondering his orb.
What about the queen's corgis?
First of all, there aren't only corgis; the queen also has a dorgi named Candy, a dachshund-corgi mix who helped her do her Jubbly duties earlier this year. Candy got two corgi sibs in March 2021, one of whom died a few weeks later only to be replaced by a new puppy in June 2021. So, as best I can tell, the royal dog pack presently includes three little guys. Someone will have to take care of them, though it's not clear who.
Does everybody have to move now?
Yes, some members of the royal family may have to move. Charles will likely do as monarchs before him have and move into Buckingham Palace, working in its offices and living in "the flat above the shop," if you want to really undersell it. That would free up Clarence House, where Charles has been living since the queen mother died in 2002. It's unclear who, if anyone, will move there: According to the Daily Mail's sources, it could pass to one of the royal babies in the future and be used for working and entertaining in the interim. In August, Prince William and Kate Middleton relocated to Adelaide Cottage on the Windsor Estate and were reported to be keeping their home in Norfolk, Anmer Hall, and their Kensington Palace apartment at the time.
Compounding the question of residences, there's also the question of staff: The queen employed some 1,200 people, paid out of the sovereign grant she received from the government annually. But each of the royals retains their own giant teams, and Charles will presumably want to do some professional reshuffling. Again, the details are TBD.
What is the new line of succession?
After Charles — who, at 73, is the oldest person ever to ascend the British throne — comes William, then each of William's children in order of age: Prince George is now the second in line, followed by Princess Charlotte, then Prince Louis. Although Prince Harry renounced his royal duties, he would still be next up after William and William's kids, followed by his older child, Archie Mountbatten-Windsor, then his younger, Lilibet Diana Mountbatten-Windsor. Then comes Prince Andrew, who remains technically eligible despite his mother stripping him of his HRH title over the Jeffrey Epstein connection, followed by Andrew's kids: Princess Beatrice, who once slashed Ed Sheeran across the face with a sword while play-knighting James Blunt, and Beatrice's baby after her. Then there's Princess Eugenie, then her baby, and so on and so forth.
Is Charles really going to scale back the monarchy?
He has talked about "slimming down" the ranks of the royal family, keeping just eight senior members as working royals for financial and practical purposes. The new Firm would presumably include him and Camilla; Will and Kate; his brother Prince Edward and Sophie, Countess of Wessex; Princess Anne … and maybe that winds up being it because the disgraced Andrew is out for the count and Harry is an expat now. We will have to wait and see.