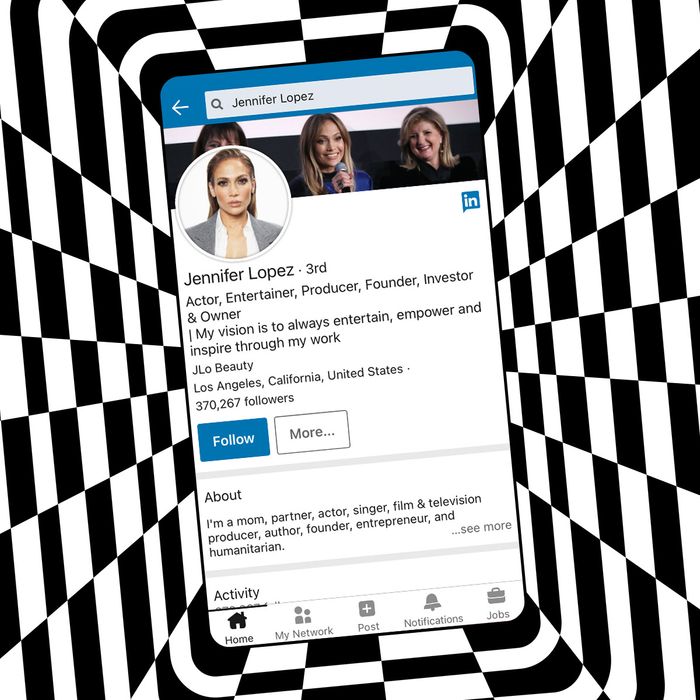 Photo-Illustration: The Cut
Celebrities have long enjoyed cosplaying as regular people. They take out the recycling and go on walks around their neighborhood. They eat at Chipotle and run errands at Target. They even attend awkward work functions like the Met Gala. To this end, I am not interested in knowing why Jennifer Lopez has a LinkedIn profile; she is merely playing pretend, putting on the costume of a normie.
Yes, Jennifer Lopez, a.k.a. J.Lo, a.k.a Mrs. Ben Affleck, a.k.a. Thee Maid in Manhattan, has a LinkedIn page. Her profile picture, presumably taken just for LinkedIn, features J.Lo in full glam, hair slicked back and falsies curled upward to the gods. She is wearing a blazer and a sensible white button-up. This is how you know she means business.
The "About" section for Jennifer Lopez, who has performed at the Super Bowl and was reportedly the inspiration for Google Images, reads as follows: "I'm a mom, partner, actor, singer, film & television producer, author, founder, entrepreneur, and humanitarian." This is a long-winded way for her to simply say "I am J.Lo."
The URL for her page employs one of my favorite internet-handle formats: adding "the" before your name. Oh, I thought you just meant a Jennifer Lopez. The blurb at the top of her profile additionally lists herself as an "Investor & Owner." I, too, am those things. I invest in multiple cases of sparkling water each week. I own this latte that cost me $10.
If you would like to hire Ms. Lopez — why else would you be looking at her LinkedIn page? — you'll be happy to know she has a "professional working proficiency" in Spanish. Her skills include film, acting, music videos, theater, music, music industry, singing, dance, video, choreography, television, feature films, and entertainment. She has one endorsement under acting from the vice-president of LinkedIn. Though she doesn't include these in her profile, it's important to note that J.Lo also hates Virgos, has abs, and is comfortable kissing while wearing a face mask.
Though there are few things more humiliating than having to manually input all your little tricks and talents with the hope that someone, anyone, will hire you, J.Lo does list her full résumé. (Her work experience includes "Entertainer," a role she has held for 23 years and nine months.) She is modest under the "Honors and Awards" section, only listing five of her accolades including her Golden Globes nomination for Selena and her Guinness World Record for the highest-viewed female music video of all time. (This was issued in 2012 for "On the Floor" and has since been usurped by Katy Perry's "Roar.") I suppose in the spirit of brevity, she failed to mention her 2002 Nickelodeon Kid's Choice Best Actress Award for The Wedding Planner and her 2001 Teen Choice Award for "Female Hottie."
J.Lo is far from the only celebrity on LinkedIn. Shaquille O'Neal has his own page, though he does not include his extensive experience holding things. Karlie Kloss's LinkedIn profile seems to primarily function as a promotion for her computer-programming organization Kode With Klossy. J.Lo even follows fellow "influencers" on LinkedIn like Lena Dunham, Jessica Alba, and Barbara Corcoran of Shark Tank.
Just as Jenny From the Block is pretending she needs a LinkedIn profile, I would like to pretend that J.Lo set up this account herself. Having a LinkedIn is girl-boss chic. It is a celebration of women in STEM — you use the computer to log on, don't you? Imagine, Jennifer Lopez sitting at her local coffee shop, weighing whether she should list her roles as "mom, partner, actor" or "actor, partner, mom." The only thing that takes me out of this fantasy is the fact that you cannot "connect" with J.Lo on LinkedIn, as her profile essentially functions as a fan page. This means you can't message her and spam her inbox with tips on how she can grow her business. You can simply follow J.Lo, which feels fitting.
And while I appreciate her interest in joining our team as a Regular Person, we unfortunately have selected a candidate who better fits the position and has fewer Grammy nominations. We do wish Ms. Lopez every personal and professional success in her future endeavors.