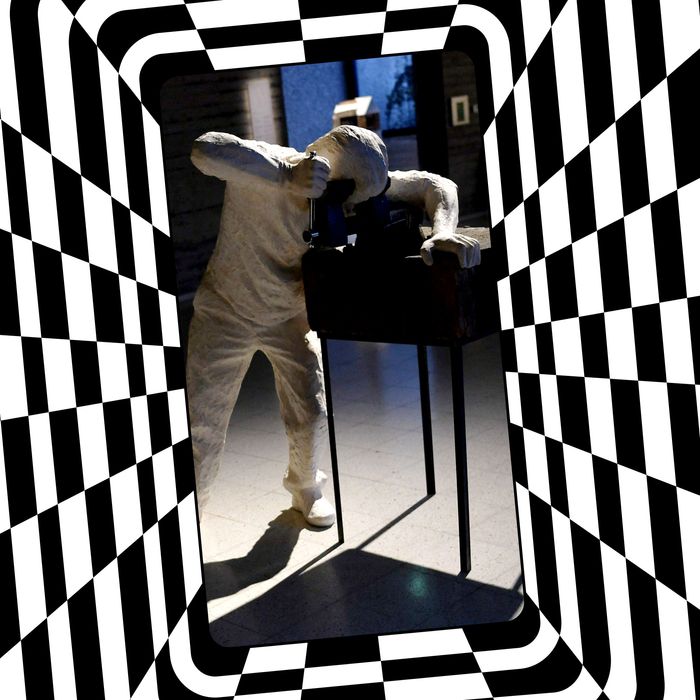 A sculpture of a man putting his head in a vice — subtle.
Photo-Illustration: The Cut. Photo: Antti Aimo-Koivisto/LEHTIKUVA/AFP via Getty Images
This week, the Sara Hildén Art Museum in Finland unveiled a new exhibition titled "We." Initially, the exhibit was supposed to feature work exclusively by the British artist and sculptor Thomas Houseago. However, he reportedly persuaded the museum to also include artwork by his friends Nick Cave (the Australian musician, not the American sculptor of the same name) and this little up-and-coming artist named Brad Pitt. Ever heard of him?
Obviously, I hoped Brad Pitt's debut sculpture exhibit would be bad, and you're lying if you say you didn't secretly wish the same. The man has so much already: a successful career, world-renowned fame, good genes, absurd wealth, a shout-out in a Shania Twain song. Couldn't he leave the art world for the rest of us freaks? However, his pieces in the exhibition are already getting rave reviews from The Guardian, and I, too, will admit that Brad Pitt's art is … fine.
Nine of Pitt's sculptures are on display in "We." One is a coffin-size box made of bronze and shows faces, feet, and hands seemingly trying to escape from the box. Very reminiscent of Han Solo in Carbonite by Darth Vader (1980). One is a house-shaped sculpture made of silicon and riddled with bullets. There's another sculpture of a man putting his head in a vice — subtle. Another still, one of his largest works, is a plaster relief that depicts a gunfight between eight or so figures. It is titled Aiming at You I Saw Me But It Was Too Late This Time. Hmmm. As someone who cried the last time she went to an art museum — I'd started my period while looking at an oil painting of some grass — I want to say I am sensing a theme.
"For me, it's about self-reflection," Pitt told Finnish publication Yle at the opening of the exhibition. "It was born out of ownership over what I call a radical inventory of the self. And getting really brutally honest with me and taking account of those I may have hurt and the moments I've just gotten wrong." More specifically, he said, "It's about, you know, where have I gotten it wrong in my relationships? Where have I misstepped? Where am I complicit?" This "radical inventory" sure is dark, Bradley.
By his own account, Pitt got into sculpting amid his divorce from Angelina Jolie in 2017. (Though art and the artist are not one and the same, it's hard to see the depiction of violence in this exhibition without bringing to mind the allegations of abuse against Jolie and their son Maddox.) Pitt reportedly started working with Houseago around that time, making art while listening to "emotional songs" by Bon Iver.
The "We" exhibition includes the very first sculpture Pitt did in 2017 titled House A-Go-Go. It's made from scraps of wood from Houseago's studio and tape. It's my favorite because it is objectively kind of terrible. Unfortunately, "We" does not feature any of the pottery Pitt has allegedly made with Leonardo DiCaprio during their regular "boys' nights." Something to look forward to in the next exhibition?
To me, the real work of art is the idea of someone with the wealth, fame, and success of Brad Pitt picking up a hobby and later thinking, The world's gotta see this! It reeks of "School Art Fair for Celebrities," something I would patron regularly were it to exist. Imagine, walking around little trifold posters featuring Ed Sheeran's abstract art. Picture yourself on a cute museum date surrounded by the doodles King Charles III makes when he isn't upset about pens. The celebrity artist-in-residence would, of course, be Britney Spears.
For now, Brad Pitt's sculptures will be on display at the Sara Hildén Art Museum until January 15, 2023.