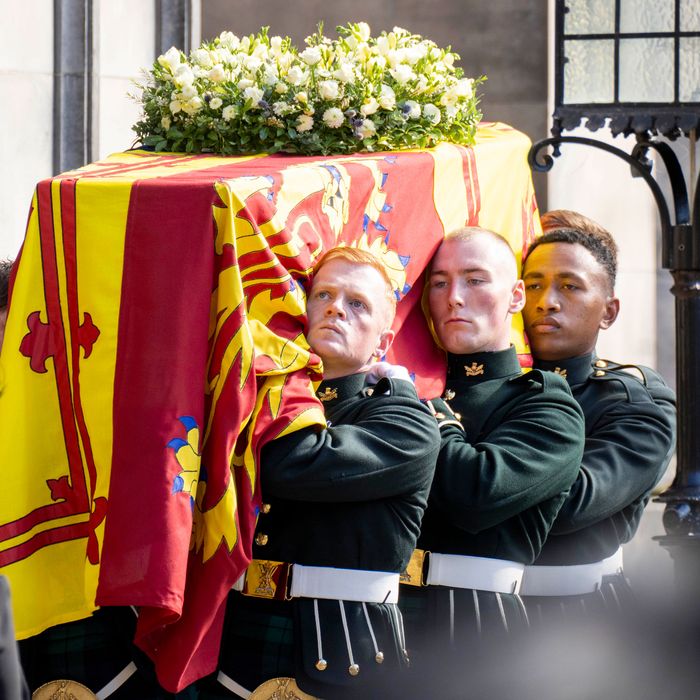 The queen's coffin lay in state for four days at Westminster Hall ahead of her state funeral
Photo: Mark Cuthbert/UK Press via Getty Images
Queen Elizabeth II died on September 8 at the age of 96 at Balmoral Castle, ending a 70-year reign — the longest in U.K. history — and setting in motion (what else?) an exhaustively planned campaign of royal protocols. Prince Charles became King Charles III, the Windsor corgis were rehomed, and, after ten days, the queen is finally laid to rest. On Monday morning, September 19, the queen's state funeral took place at Westminster Abbey; then a legion of seamen towed her casket through the streets of London in a processional to Windsor Castle. Naturally, it was all very moving — from the little tantrums to the unholy Queue to the mournful bongs of Big Ben that backdropped the funeral march. Below is everything we've learned about the big day.
When and where was the funeral?
The state funeral was held at Westminster Abbey on September 19, a national day of mourning in the U.K. Per Politico, "day of mourning" basically means a bank holiday, but only if it falls on a regular weekday. Many U.K. residents have now collected one long weekend, which is good news for some but bad news for many who had hoped to have surgery or bury their own loved ones on Monday. Per The Guardian, many urgent appointments were rescheduled in deference to Her Maj. On Monday, residents were not allowed to go to the movies (unless they wanted to watch a free screening of the royal ceremonies) or eat at McDonald's until after 5 p.m. Both cinemas and the hamburger chain closed in the queen's memory.
How did the funeral go?
BBC's correspondents were very pleased with the display, calling it "terribly British," "a historic procession of grandeur," and "very peaceful" overall. Before the queen's military cortege moved her body to Westminster Abbey, London's most famous clock tolled 96 times: once per minute for more than an hour and a half — one bong for each year of the queen's life. Then 142 Royal Navy sailors hauled her coffin — draped with the royal standard and topped with an assortment of royal affects — on a gun carriage to the abbey. There, some 2,000 people (world leaders, family members, health-care workers, the actor Sandra Oh) gathered for the ceremony. In a sermon, the archbishop of Canterbury, Justin Welby, called the queen "joyful, present to so many, touching a multitude of lives," as evidenced by "the outpouring of love we have seen" this past week.
The service closed with a two-minute national silence, then the 45-minute processional began. Thousands of people lined the streets as the royal coffin wound past Buckingham Palace surrounded by ceremonial hats and trailed by senior members of the royal family.
Once the procession reached Wellington Arch at Hyde Park corner, the queen's pallbearers once again lifted her casket and very carefully packed it into her hearse. "You can imagine they've been rehearsing these lifts in meticulous detail," the BBC noted. Yeah. Because, as mentioned, there were a bunch of queenly accessories sitting on top of the coffin. (More on that below.) From the arch, the hearse drove the queen to Windsor Castle for another procession and, finally, a committal service at St. George's Chapel. This service was smaller than the state funeral and attended by family, friends, certain politicians, and longtime staff. It saw the dean of Windsor reclaim the Queen's coronation items (the Imperial State Crown, along with the sovereign's orb and scepter, which will be given to Charles when he is crowned) and the breaking of the wand by the lord chamberlain. Per the BBC, he is the most senior member of the household and snaps his royal stick to signify that his watch has ended. That, and the Queen's Company Camp Colour that Charles placed on the coffin, will be interred with the Queen.
Finally, the coffin was lowered into the royal vault. Later on, in a private service, she will be "laid to rest in the very intimate privacy" (to quote one BBC correspondent) of the King George VI Memorial Chapel. Congrats to Prince Philip, who will finally move from his temporary resting place in the vault to rejoin the queen more than a year after he died.
How did all of that stuff stay on top of her coffin?
As many have noticed, there was a surprisingly large array of stuff laid out on top of the traveling casket. There's a "sustainable wreath" composed of flora from royal residences — "Rosemary for remembrance; Myrtle, the ancient symbol of a happy marriage, and cut from a plant that was grown from a sprig of myrtle in Her Late Majesty's wedding bouquet in 1947; And English oak, which symbolizes the strength of love." — with a little note from Charles R (for "Rex"). There's the crown on its velvet pillow, the orb and scepter, plus a stowaway spider that wasn't supposed to be there all situated on the royal standard draped over the coffin. Somehow none of this was disturbed despite all the pageantry, leading some to speculate that it was all glued into place, though I bet that isn't true.
Who attended the funeral?
The extended royal family, of course, plus royals (some related) from assorted European states, according to the BBC: Belgium's King Philippe and Queen Mathilde; the Netherlands's King Willem-Alexander and Queen Maxima plus former Dutch queen Princess Beatrix; Spain's King Felipe and Queen Letizia; and the royals of Scandinavia and Monaco. Joe and Jill Biden received invites and accepted but did not receive permission to bring a U.S. delegation, which means former presidents could only attend at their own personal invitation. Many leaders of Commonwealth countries attended — Australia, New Zealand, and Canada — as will Irish taoiseach Micheal Martin, Indian president Droupadi Murmu, Bangladeshi prime minister Sheikh Hasina, Sri Lankan president Ranil Wickremesinghe, and various other heads of state. Far-right presidents Jair Bolsonaro (of Brazil) and Recep Tayyip Erdoğan (of Turkey) went, though Saudi Arabia's Crown Prince Mohammed bin Salman al-Saud didn't make an appearance in the end.
In addition to the adult guests, two of the royal babies showed up: Prince George and Princess Charlotte, the older of William and Kate's three children. Presumably, they were allowed to attend because they are not actually babies but kids old enough to keep their composure throughout many hours of a somber event. These two are, per the tabloids, "impeccably behaved." Meanwhile, at Windsor, a handful of the Queen's beloved pets congregated to pay their last respects. Her pony, Emma, watched from the Long Walk as the hearse drove in, while her two corgis — Muick and Sandy — waited outside the castle. Her third dog, a dorgi named Candy, reportedly died shortly before the Queen herself and was also buried at Windsor.
What happened between D-Day and funeral day?
Because the queen died in Scotland, officials needed to move her body from Balmoral to Edinburgh, where she boarded her final flight — by one account, the most aggressively tracked in history. The transport process began last weekend with her coffin making the six-hour trip by hearse (a special Jaguar she reportedly helped design). Her four kids — King Charles, Princess Anne, Prince Andrew, and Prince Edward — walked behind the coffin on its route and attended a service at St. Giles' Cathedral after its arrival. On the way, one onlooker shouted at the queen's favorite son, "Andrew, you're a sick old man!" He was presumably referencing the rape allegations that stem from Prince Andrew's affiliation with child sex trafficker Jeffrey Epstein, though the 62-year-old's rumored teddy-bear collection is also spooky.
Anyway, the heckler was arrested, and the queen spent 24 hours lying in rest in Scotland so that people could pay her one last visit.
When did the queen return to London?
September 13, or, D-Day+5. Whereas The Guardian initially reported that she would make the journey by train (Operation UNICORN), the BBC subsequently said she'd be traveling by plane, with Princess Anne as chaperone, and arrive in London just before 7 p.m. on Tuesday. King Charles, plus assorted other family members including his allegedly feuding sons, received her at Buckingham Palace, then had what was probably a regular and tension-free dinner together. The next day, they had a procession to Westminster Hall with guns firing and Big Ben banging. Once the queen arrived at Westminster Hall on Wednesday, a four-day period of lying in state began.
What is "lying in state"?
The placement of a public official's body in a state building, for public viewing, after their death and ahead of their burial. In the U.K., the honor is reserved almost exclusively for monarchs, though it has been accorded to a couple of prime ministers (e.g., Winston Churchill). For four days, people were allowed to come in and look at the queen's closed casket, provided they were prepared to weather truly heinous waits. Twenty-four hours in, the Queue extended nearly five miles long with a nine-hour wait; by Friday, the estimated wait rose to 22 hours. Many people called the Queue the most British thing to happen during this most British of events — possibly ever. It spawned its own livestream, a necessity for those who wanted to locate the end of the Queue and join it. Mercifully, mourners received wristbands that let them quickly exit the Queue for food and drink or to use one of the approximately 500 porta-potties that officials installed along the Queue's path without losing their spot. Otherwise they just chugged along at a painfully slow clip of approximately half a mile per hour, largely precluding the possibility of sitting for any meaningful length of time. Security was tight with strict requirements on what mourners could and could not bring: no flowers, no photos, and no camping equipment, even though crowds had to wait overnight.
Has there been any drama?
Some, yes. To start, that man was arrested for saying about Prince Andrew what many people were thinking. At least two others have been arrested for expressing anti-monarchy sentiments in the vicinity of the queen's coffin. Then, those watching at home will already have noticed that the dukes of neither York nor Sussex wore military uniforms to the queen's memorial service at St. Giles'. Prince Andrew has been stripped of his military titles for the reasons mentioned above, whereas Prince Harry gave all that up when he stepped back from his senior royal duties.
Originally, the plan was that both would forgo military dress at the ceremonies, with the exception of Andrew (according to CBS News royal correspondent Roya Nikkhah) getting to wear it at the final vigil. The latter allowance was a "mark of respect to the queen," Nikkah said, though maybe it is more like a mark of favoritism. Still, the uniforms thing wasn't all that surprising — as you may remember from Prince Philip's funeral, the queen mandated that all "wear suits" so that "everyone was on a level playing field." Though Prince Harry released a statement saying that "his decade of military service is not determined by the uniform he wears" and everyone should focus on his late grandma, the apparent double standard sparked enough criticism to get the palace's attention. That's according to royal correspondent Omid Scobie, who reported last week that officials "caved to public sentiment after thousands complained" and allowed Harry to wear his uniform at Saturday's vigil.
What I bet you really want to know about, though, is the long-rumored frostiness between Prince William and Prince Harry, who attended a suite of somber family outings together. So far, it seems to be going fairly well? People reported that William, Harry, Meghan — who has had the audacity to hold some flowers and her husband's hand — and Kate all went to Windsor Castle to pay tribute last weekend in the same car. Some sources say that the brothers' relationship remains tense, which would make sense, but for now everyone seems to be behaving with maturity — except King Charles, who got visibly huffy with palace aides while signing orders during Saturday's accession ceremony. He apparently gave about 100 Clarence House staffers notice of looming layoffs during a vigil for his mother. Your new queen, everybody.
We will keep this post updated as details change and new information becomes available.