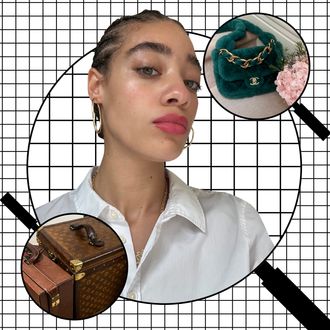 Photo-Illustration: by The Cut; Photos: Reign Judge
Model Reign Judge says that a sign of good style is timelessness, and for her that means polo shirts and pearls. "I pull inspiration from this period of time that will always feel super-classic and timeless," she says of her style, which is inspired by the '50s, '60s, and '70s.
Judge is inspired by Pinterest and Wes Anderson films, The Royal Tenenbaums and Fantastic Mr. Fox in particular. Preferring to shop vintage stores for unique pieces and the instant gratification of buying things in person, one of her favorite spots is the Brooklyn-based Stella Dallas. But some of her favorite things are borrowed from people around her, like chunky gold pieces from her grandmother's jewelry collection and blazers from her guy friends.
Where do you get your favorite gifts to give?
Byredo makes amazing hand creams; my personal favorite is Mojave Ghost. It's such a great gift to give because people don't really think to buy hand cream for themselves, but it's something they're always happy to have. Perfumes are tricky — you have to really know the person to give them scent — but hand cream is an easy gift. It kind of pleases everyone even if you don't know them the best.
Where did you get the item you splurged on the most?
Most recently my biggest splurge has been my vintage Louis Vuitton cherry bucket bag. I had gotten signed to my agency maybe two months ago. I had been working a lot and I was burnt out. I was walking around Soho shopping, and I went to The Real Real and the purse was so adorable and fun. I was just like, Yay me!
In it, I carry Chanel eye patches — they're the only ones that ever made a difference for me — and my own face cream, Embyrolisse. It's really good and hydrating and it never pills under makeup, which I know a lot of makeup artists like.
Where did you get what's on your nightstand?
This bedside carafe from Coming Soon in LES is a game changer. It really encourages you to drink water, which is always a great thing. They carry a bunch of like cool little dishware designers. They make the one that I have in all these different colors.
Where did you get your signature scent?
I got Chance Eau Vivre by Chanel from my mom for Christmas when I was 18. I wanted a nice perfume because I had always worn Bath & Bodyworks sprays that are so smelly and sweet. It was just the perfect one. Now I have all of the Chanel Chances.
Where did you get the item you wear the most?
I wear these pearl earrings from Gucci all the time. I really wanted a pair of drop pearl earrings, and those were my favorite ones because of the asymmetry: On one side is the Gucci logo, and on the other side there's a flower. Pearl is my favorite gemstone; I have so many pearl accessories. I have this Chanel pin that I really like — it's a little sparkly thing. I've been seeing raw pearls a lot, too, like the baroque-cut ones. I think those are sick.
Where did you get the item you've had for the longest time?
My nana has the best jewelry collection, and I'm constantly stealing from it. Everything that I took from her she has not received back, but there are definitely some things where she says, "Okay, you have to wait until I'm out of here for you to get this one." She has these really beautiful hoop earrings, but she still wears them so she won't give those to me. She has all these amazing bangles. We have similar tastes. It's really funny. There are a lot of photos of her when she was 20, and I'll literally have a version of her outfit on and will be wearing it in the present day. We both like yellow chunky gold, and she has so much of it.
Where did you get your favorite piece of clothing?
I have this brown Celine houndstooth miniskirt I picked up at the store. It's one of the first designer pieces I ever purchased. The last designer thing I bought was the Ralph Lauren mini skirt I'm wearing now. A polo always looks great with a skirt.
Where did you get the inanimate object that brings you the most joy?
Nothing brings me more joy than my cute Sonny Angels. You can only find them at these niche Japanese bookstores and toy stores, my favorite being Kinokuniya. There's this toy store in New York I go to that has a lot of Japanese toys. A big thing in Japanese toy stores is the Mystery Box, with maybe an animal or a cupcake or something inside. I just got my first one probably two and a half years ago, and ever since then slowly but surely it's become more addictive.
For more from the Cut Shop team, follow us on Instagram and Twitter, where we share our best new finds, favorite styling tricks, and more.