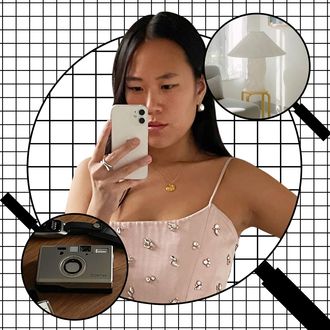 Photo-Illustration: The Cut. Photos: Courtesy of Beverly Nguyen and the retailers
Beverly Nguyen never wears sneakers — unless she's running, that is. The New York–based stylist has been in a pair of heels since she was 7 years old (well, almost). Drawing inspiration from Monica Bellucci and her mom, she describes her style as sexy and feminine. Think Norma Kamali spandex dresses of the '80s and '90s, platform heels, and lots of gold jewelry.
"I love when people wear things that they're not really supposed to in an environment they're not supposed to," she explains over the phone. "When you're at a black tie and you wear something that's completely unconventional — like an extremely loud ball gown or something that's completely crystal, and you have on a giant hat or a crazy thing — but you're owning it."
So don't be surprised if you spot her in Dimes Square in her seven-foot-long Bernadette ball gown. It goes with her style philosophy: "You should dress like you're gonna run into your worst enemies on the street."
A big believer in retail therapy, she prefers to shop vintage and local small businesses to connect with other store owners. Nguyen herself owns Beverly's, a pop-up shop currently in Nordstrom that offers home goods and that has collaborated with Material. But when she is not curating her own shop, she's shopping at Landline and Café Forgot, which she says fills the void left by the closing of the Opening Ceremony store on Howard Street.
Where did you get the inanimate object that brings you the most joy?
I got an Osamu Yokonami print at the Printed Matter book fair in New York. It brings me so much joy because it was a period in my life when I just moved to New York. I had gone to the Printed Matter book fair for the first time after I had worked all summer (three different jobs, seven days a week), and I finally had some form of money. I couldn't afford any of the books at the Libraryman stand, but they did sell these.
It was something that I could finally afford, and I was so happy about it because it's a picture of four Japanese schoolgirls, and it's their back, and they're looking up at the sky, and they're standing in a forest. It's so peaceful and so representative of my childhood. I love the scenery, nature and sky, and hopefulness, and it was something that I could buy at the time. It's always in my bedroom no matter where I go. It's something that makes me feel so connected and reminds me of my start in New York.
Where did you get your favorite item?
I got my Louis Vuitton Epi Noé bag at Vestiaire Collective when the site first launched. I had just left La Garçonne, where I was an assistant stylist. My personal wardrobe in that era was very Margiela-esque: oversize button-down shirts, long trousers, and really simple leather shoes like Lemaire's. Then one year after I'd worked there, I got hired by red-carpet celebrity stylist Kate Young.
I jumped into high fashion so fast, and after a few months after I started with her, I realized I needed to invest in a real working-girl bag. I needed to look like I'm actually her studio director, and I needed to feel more empowered. I needed to feel serious. So I decided to search for the right bag. I was never interested in monogrammed bags or anything that had too many frills, buckles, and trim, so the Epi Noé bag was perfect.
In it, I always have a phone charger. I keep my perfume, a notebook, and several pens. I also carry my film camera, and usually a face spray and hand sanitizer, and cash. I love walking, and I love taking yellow cabs, so I always try to keep some cash on me just in case.
Where did you get what's on your nightstand?
I have two pairs of glasses on my nightstand from Kate Young x Tura. I worked with Kate Young for nine years, and she launched a collaboration with Tura. I was able to help her with the design process. They're transitional lenses and come in baby-pink lenses, tortoiseshell, or matte black.
I wear contacts, but at home I wear prescription lenses, and over the years I collected so many different prototypes.
Where did you get the item you splurged on the most?
My Prada skirt from Italy. I got it after a breakup. Retail therapy is extremely real for me. There are all these small acts of self-care that just make me feel really beautiful, secure, and protected, like having the luxury of time to actually shop and find a piece I know is going to change my life.
It's taken so long to go from the girl who couldn't even afford a print to a girl who can afford one [splurge] item a year, like the Prada skirt. I needed something to make me feel confident, strong, and intellectual. Prada really does that. It really changed my life. I had that skirt and everything was okay.
Where did you get the item you'll never get rid of?
I got my Contax T3 film camera as a really precious birthday present for my 30th birthday. I love taking photos. I have a scrapbook collection, and I also make photo books for people. I'd been using an iPhone, so when I got the Contax, I started playing with it immediately.
There's a whole new culture when you pick up a new hobby. As someone who's always been part of photographs, it can feel like you have to stay in your lane. But as a side hobby, you're fearless. You don't care to sound naïve. I don't even understand when I'm supposed to use certain films or anything about sizing. It freed me of any anxiety.
Where did you get your signature scent?
I buy my Maison Louis Marie perfume oil at Assembly New York, but I discovered it in Paris. I've worn it for ten years. Scent stories are always so interesting. This [scent is] an extension of my personality. I always carry it in my bag. All of my friends and all the people in my life are like, "Oh, that's Beverly. That's her scent."
Where did you get the item that gets complimented the most?
My Sophie Buhai pearl collar was a gift. I'm such a, like, girlie girl about jewelry. I love big jewelry. The oversize freshwater pearls are gigantic. I think it has something to do with armor; it's protection. [Every time I wear it] it reminds me of who gave it to me, and it gives me an instant mood-boost.
Where do you get your favorite gifts to give?
I've been traveling for a long time for work and vacation, and I always love bringing back something they can't get themselves.
Stationery, or just paper, is so romantic because it entices people to write. I'm very big on sending out letters. It's so thoughtful in such a simple way. In some towns, I try to find the oldest stationery store. It's so fun to do that.
Sometimes it's greeting cards with goats or cats on it, but they're so sweet and embroidered or printed and embossed in the right way, and I find it charming.
For more from the Cut Shop team, follow us on Instagram and Twitter, where we share our best new finds, favorite styling tricks, and more.