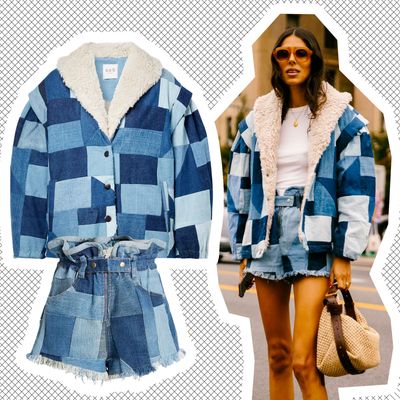 Photo-Illustration: The Cut. Photos: Christina Fragkou; Courtesy of the Retailers
You already know that we're nosy when it comes to fashion and you trust us to ask the most stylish people on the internet, "Where did you get that?" (No gatekeeping here!)
Since New York Fashion Week just so happens to be the biggest IRL gathering of New York's most stylish people, we not only captured all the best street-style looks, we made attendees dish on which designers are on their radar, how they're wearing the clothes, and, of course, where to get them.
Michelle Li
We've talked extensively to stylist Michelle Li about her style and how she expertly pairs pieces in her wardrobe.
She paired this wool Ganni sweater-vest with a roomy Acne skirt. As for footwear, Miu Miu's coveted ballet flats.
Jessica Andrews
Fashion director Jessica Andrews paired her Ganni seersucker dress with a neon Balenciaga bag (courtesy of Fashionphile) to bring out the green tones of the checkered print and the key to surviving NYFW: a pair of comfortable Nike sneakers.
Kiran Kaur
Take this as a sign that maxi-skirts are less of a trend and more of a fall essential. Creator Kiran Kaur paired her maxi-skirt with a strappy cutout top from Isa Boulder that's perfect for New York's awkward summer's-not-over-but-fall-isn't-here-yet weather.
Babba C. Rivera
It's time to revisit '70s-inspired patchwork denim. Exhibit A: Ceremonia's founder and CEO Babba Rivera paired her matching Sea set with a few brown suede accessories.
Alexis Badiyi
Why wear one blazer when you can wear two? Behold a styling hack we can't wait to re-create. Stylist Alexis Badiyi layered a blazer from Ukrainian brand Bevza over another one by Mirror Palais and wore it as a dress. Badiyi topped the look off by proving it's never too early for fall style with a pair of knee-high boots from Argentine brand Dubié.
Remy Holwick
Agency owner Remy Holwick proves you can still get some use out of your sandals as the weather cools down. These platform Dr. Martens perfectly balance out the Bevza pants and floor-grazing tank top.
Emmah Holterhoff
Another styling hack: Wear your dress under your T-shirt. Finish the look with ankle boots and you have yet another transitional-outfit idea.
Maryam Adebisi
Welcome to a master class in creating monochromatic looks courtesy of creator Maryam Adebisi. The key here is not just mixing tones of brown but also mixing textures. Adebisi opted for a Hanifa top, a knit Christopher Esber skirt, and last but not least a patterned Jumz Accessories bag.
For more from the Cut Shop team, follow us on Instagram and Twitter, where we share our best new finds, favorite styling tricks, and more.