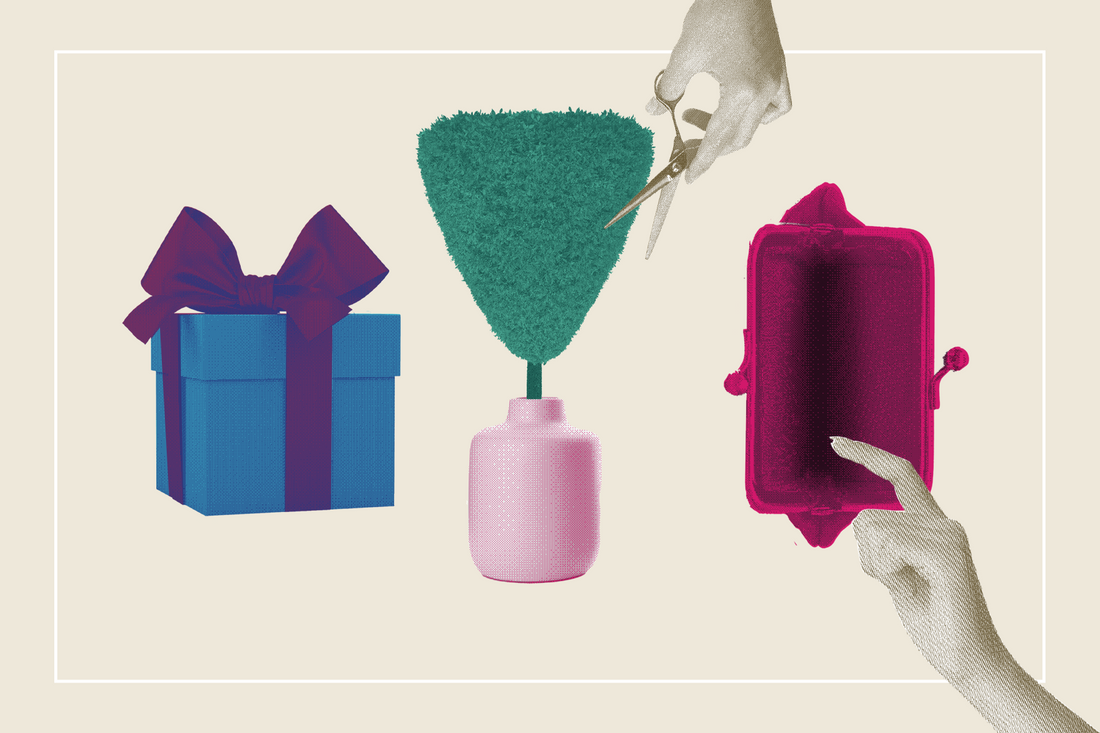 Photo-Illustration: Ashlie Juarbe
Being a woman in our society often means apologizing for anything and everything. I catch myself saying "sorry" a dozen times a day: for following up on an email ("sorry to bother you!"), for taking up space in an elevator ("sorry, just squeezing by!"), for speaking up in a meeting ("sorry, can I jump in here?").
Even simply having a vagina comes with the compulsion to apologize for it. Telling a partner you're sorry it's that time of the month, calling your vagina by a cutesy nickname instead of its actual name, or worrying that it's too big, too small, too smelly, or too dry are all forms of apologies. One British study found that 65 percent of young women interviewed didn't even like saying the word "vagina" or "vulva." Another survey found that less than half of the women surveyed felt comfortable talking to their doctor about their vagina. I know I've been guilty of tiptoeing around the details of my vaginal health with my partner of 10-plus years — even though I would never shy away from telling him that my back hurt or that I was coming down with a cold.
This prevailing sense of embarrassment around the vagina goes back to the way we talk about it — or don't. Pop culture associates the vagina with something shameful, something that should remain hidden and never be discussed. TV commercials and subway ads have been banned for using words like "vagina." Etiquette calls for women to sit in a ladylike pose with their knees together, completely closing off the vagina and preventing any accidental glimpses of what's underneath her skirt: in fact, royal onlookers have even debated which women of the British royal family sit most properly at public engagements. Even the concept of riding horses side-saddle came from the need to protect the intact hymen, a symbol of a woman's virginity in 14th-century Europe — god forbid her future husband would think she wasn't pure.
Each of these small signals combine to create a culture of silence around the vagina. When people with vaginas feel too embarrassed or ashamed to ask questions about them, myths and misconceptions abound. Take scent, for example: worries around whether their vagina is stinky can lead people to use scented products in an effort to perfume it. On a casual stroll down the feminine hygiene aisle at any given drugstore, you'll spot everything from scented tampons to vagina sprays to perfumed douches — none of which are actually necessary, and which may actually irritate a vagina.
The idea that your vulva should look "normal" is also a myth. Conventional beauty standards dictate that a normal vulva has a small outer labia and tucked-in inner labia, with perfectly trimmed pubic hair (if not totally hairless) — a belief that has been credited to an increase in demand for labiaplasty, a surgery designed to reduce the size of the inner labia. Like most beauty standards, the idea of the "perfect" vulva is not realistic — vulvas are as varied and diverse as the people who have them. In fact, a 2018 study examined the vulvas of 657 women in an effort to come up with a standard for the typical appearance, only to conclude it's impossible — there's no such thing as normal in a part of anatomy this varied.
Feeling the need to apologize for the size of your vagina is also all too common. One journal article found that women were simultaneously concerned about their vaginas being too loose and being too tight. Too loose, and you're having too much sex; too tight, and you're having too little — or that's what cultural norms would have you believe, anyway. In reality, the muscles of the vagina are incredibly elastic, allowing them to stretch wide and tighten back up as needed.
It's just a body part, after all — so why do people with vaginas feel so compelled to apologize for them? The societal need to apologize to be perceived as polite is part of the problem. Research suggests that women apologize more frequently than men because they think they've done more things wrong. (On the flip side, refusing to apologize actually makes you feel more powerful and even increases self-esteem.)
For decades, we have apologized over and over again for a part of our anatomy that literally gives life — and gives life pleasure — to the extent that society takes it for granted. Instead of celebrating the vagina, we treat it like something gross, something shameful, something that should be kept under lock and key. All of those countless apologies — whether you literally said "I'm sorry" or cringed away from the truth — have created the world we live in today, where reproductive healthcare faces the biggest threat to date.
It's time to admit that the vagina is nothing to apologize for — and start not only accepting it, but celebrating it. Having unapologetic conversations about your sex life, advocating for reproductive freedom, celebrating vulva-centric art, or, hell, even visiting the world's first vagina museum are all small ways to start removing the stigma around this key part of the anatomy. Like your arm, ear, or any other part of the body, the vagina serves a purpose: It's part of the human experience, from pleasure to procreation. The vagina — and the people who have them — deserve your respect.
Want more info about ANNOVERA®? Click here to learn more.
ANNOVERA® is a long-lasting birth control option you can control. It's a ring. It goes in your vagina. Notice we said "vagina" and not "the v-word." Because when we talk like that about reproductive health, we're apologizing for our bodies. So consider this an unapology, from ANNOVERA®.
ANNOVERA® is a first-of-its-kind birth control that's as effective as the pill. It's comfortable long-lasting birth control that puts you in control. You pick it up from the pharmacy. You put it in yourself and leave it in for 21 days. You pull it out yourself and leave it out for 7 days. Then repeat. And, it lasts a whole year or 13 cycles, which is 13 periods for those counting.
Want more info about ANNOVERA®? Click here to learn more.
IMPORTANT RISK INFORMATION
• Do not use ANNOVERA (segesterone acetate and ethinyl estradiol vaginal system) if you smoke cigarettes and are over 35 years old. Smoking increases your risk of serious heart and blood vessel (cardiovascular) side effects from hormonal birth control methods, including death from heart attack, blood clots, or stroke. This risk increases with age and the number of cigarettes you smoke.
• ANNOVERA does not protect against HIV infection (AIDS) and other sexually transmitted infections.
• The use of a combination hormonal contraceptive (CHC), like ANNOVERA, is associated with increased risks of several serious side effects, including blood clots, stroke, or heart attack. Do not use ANNOVERA if you have a history of these conditions, have reduced blood flow to your brain (cerebrovascular disease) or reduced blood flow or blockage in any of the arteries that supply blood to your heart (cardiovascular disease), or any condition that makes your blood more likely to clot. The risk of blood clots is highest when you first start using CHCs and when you restart the same or different CHC after not using it for 4 weeks or more.
• ANNOVERA is also not for women with high blood pressure that medicine can't control or high blood pressure with blood vessel damage; diabetes and over 35 years old, diabetes with high blood pressure or kidney, eye, nerve, or blood vessel damage, diabetes for longer than 20 years; certain kinds of severe migraine headaches; liver disease or liver tumors; breast cancer or any cancer that is sensitive to the female hormones estrogen or progesterone; unexplained vaginal bleeding; are allergic to segesterone acetate, ethinyl estradiol or any other ingredients in ANNOVERA; or take any Hepatitis C drug combination containing ombitasvir/paritaprevir/ritonavir, with or without dasabuvir, as this may increase levels of the liver enzyme "alanine aminotransferase" (ALT) in the blood.
• ANNOVERA can cause serious side effects, including: blood clots; toxic shock syndrome (TSS); liver problems, including liver tumors; high blood pressure; gallbladder problems; changes in the sugar and fat (cholesterol and triglycerides) levels in your blood; headache; irregular or unusual vaginal bleeding and spotting between your menstrual periods; depression; possible cancer in your cervix; swelling of your skin especially around your mouth, eyes, and in your throat (angioedema); dark patches of skin on your forehead, cheeks, upper lip, and chin (chloasma). Call your healthcare provider or get emergency medical care right away if any of these serious side effects occur.
• The most common side effects reported in at least 5% of women who received ANNOVERA were: headache/migraine, nausea/vomiting, vaginal yeast infection (candidiasis), lower/upper abdominal pain, painful periods, vaginal discharge, urinary tract infection, breast pain/tenderness, irregular vaginal bleeding, diarrhea, and genital itching.
USE
ANNOVERA is a ring-shaped vaginal system with hormones used by females to prevent pregnancy.
ANNOVERA has not been adequately studied in females with a body mass index >29 kg/m².
The risk information provided here is not complete. To learn more, review the ANNOVERA Patient Information and talk with your healthcare provider or pharmacist. The FDA-approved product labeling, including Patient Information, can be found here.
You may report side effects to the FDA at www.fda.gov/medwatch or by calling 1-800-FDA-1088. You may also report side effects to TherapeuticsMD at 1-888-228-0150.
ANNOVERA is a registered trademark licensed to TherapeuticsMD, Inc.
ANVA-20946 09/2022
This advertising content was produced in collaboration between Vox Creative and our sponsor, without involvement from Vox Media editorial staff.