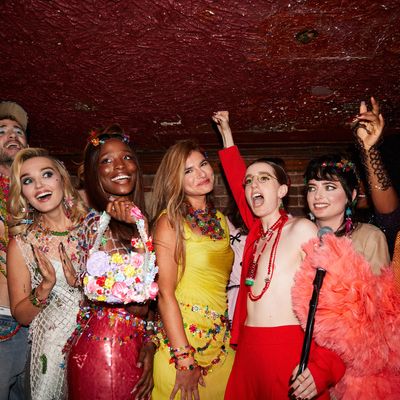 "We all kind of hate Fashion Week," says Susan Korn, the designer behind the colorful and playful accessory brand Susan Alexandra. "I wanted to do something that was the opposite of fashion." Instead of showing her new collection in the form of a stuffy fashion show, Korn invited some of the most serious people (some toting the childlike Susan Alexandra bags) she knows in fashion to get absolutely roasted at the historic Comedy Cellar. Fashion is an industry that takes itself very seriously. So, needless to say, we needed an lol.
And here we were, getting read to filth by some of the best comedians in the industry, like Larry Owens, who mocked a very nice-looking writer from Vogue for wearing an ascot: "This isn't Nantucket." Later, comedian Chloe Fineman looked Ella Emhoff in the eyes and said, "I did an impression of you." (She also later simulated fellatio with the microphone, but that was part of another joke.) Comedian Sydnee Washington asked me what I was looking for in a partner: "Patience," I replied. She laughed. "We need to raise our standards, ladies," she replied. She's not wrong. (Sorry to my boyfriend!)
Each of the comics came onstage decked out in an outfit from the RealReal and adorned head to toe in the sparkling and splashy Susan Alexandra accessories the designer is known for. Comedian Kareem Rahma did his entire set with a beaded, monkey-shaped earring dangling around his face, before running off the stage with a simple "I'm done!" to end his set. Comedian Cat Cohen performed a three-minute song about astrology in a plethora of pink accessories, including a massive pink bow pinned in her hair.
"We live in New York, we're in fashion. We're in this absurd little world where there's so much importance put on it," Korn said. "It's funny to check yourself. Nothing is that serious. You have to have a sense of humor about it. You have to see the absurdity of it to love it." Korn has also shown her collections in the form of a musical revue and a bat mitzvah–themed soirée.
Do I remember many other details about the bags that the designer was promoting? Not really (except for the one beaded to look like one of those cute, yet crusty, white dogs), but that is clearly besides the point. What I do remember is laughing so hard tears were streaming down my face. And although I've cried at fashion shows, I can tell you, they were not tears of joy. So this was certainly a welcome first.