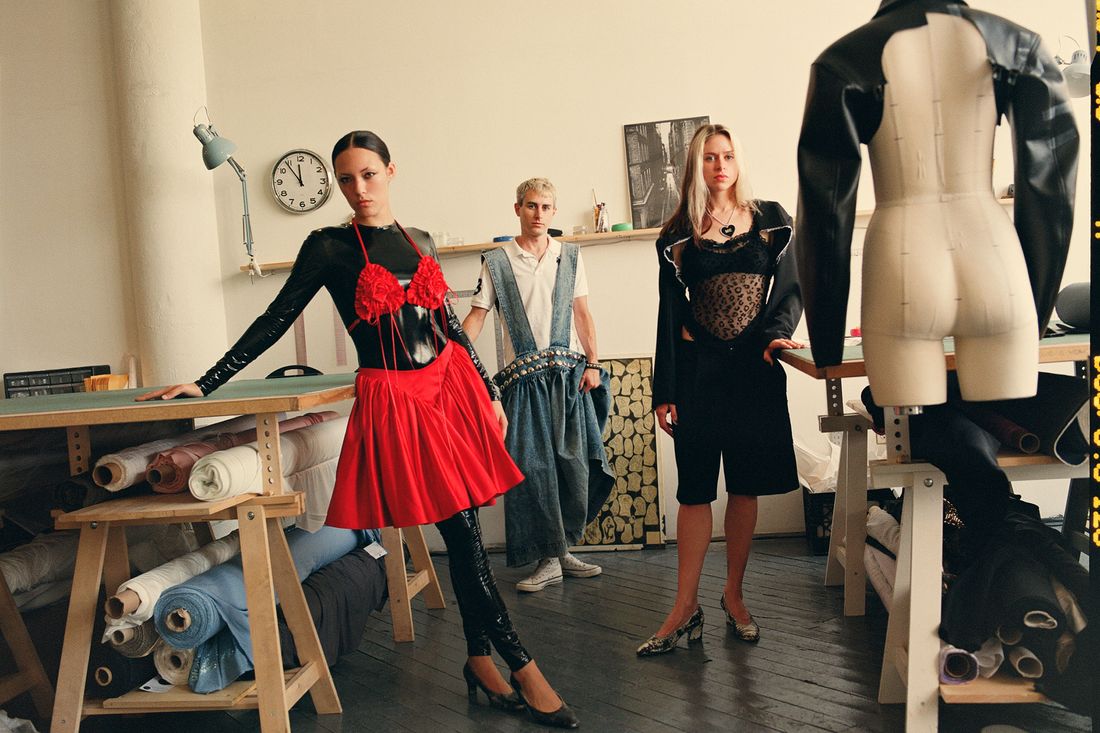 From left:
On Born:
Vaquera
FW22 Slicker Bodysuit,
not available for purchase
; Rose Bra and Underwear Skirt,
available at vaquera.nyc.
On DiCaprio:
Vaquera
FW22 Studded Pinafore,
available at vaquera.nyc.
On Taubensee:
Vaquera
FW22 Leopard Leotard,
not available for purchase
; and Sequin-Stripe Shorts,
available at vaquera.nyc.
Photo: Clément Pascal
For the Cut's fall fashion issue, we asked eight young designers who emerged from creative isolation with exciting new work to introduce us to those who energized them.
.

Vaquera
Designers: Patric DiCaprio and Bryn Taubensee
Pictured with: Born, model and friend
When Patric DiCaprio started Vaquera in 2013, he thought of it as something between "a joke" for his friends and a conceptual-art project. "And then people were like, 'Oh, we wanna start wearing these clothes,' " says DiCaprio. The label began making wearable art: a dress that looks like a Tiffany & Co. pouch or bows so big they barely fit down the runway. "I feel like if you aren't making people question things or slightly freaked out, it's kind of like, What's the point?" says co-designer and co-owner Bryn Taubensee. "That's how we both felt about fashion when we moved here from Alabama and Indiana. Seeing the fashion industry from afar seems so magical, then when you get here and get involved in it, all that magic is stripped away. We wanted to actually create that kind of fantasy we had always envisioned." They met the model Born in 2018 and recognized her as a kindred spirit. "She really stands for everything we stand for in fashion: fantasy, fun, challenging the status quo, creating characters, just being crazy but also being really positive," says DiCaprio. This past February, Born walked in Vaquera's first Paris show. "Our clothing is based on characters in a lot of ways, so it's very fitting for her. One day you see her and she's completely gothed out, and the next day you're like, Oh, she's basic Kim Kardashian hot, and the next day she's a prairie girl. Because she's able to take on all these identities, she's the perfect testing zone for our clothes."
.

Puppets and Puppets
Designer: Carly Mark
Pictured with: Ruby Aldridge, model and friend
Carly Mark had a successful career as an artist when, at 30, she switched to fashion: "I kind of realized that jobwise I wasn't fully happy in fine art." She started making costumes for videos and shows, and her first collection debuted in a West Village townhouse in 2019. "I remember backstage at the first runway show just thinking, like, This is it. Like, For the first time, I feel like I'm flowing with the current rather than swimming against one," says Mark. She met the model Ruby Aldridge when Aldridge was still in high school. "We became super-close just from running in the same social circles," Mark says. Aldridge was the last look in that debut show, wearing a hooded cape with patchwork fabric offset by streaks of blue in her hair: "I think about her in that outfit a lot when I'm designing," Mark says. "I loved the way that season was mixed, matched, my fearlessness there. I'm like, Let me home in on that." Since then, Puppets and Puppets has made six collections and released much-discussed pieces like a handbag adorned with a lifelike chocolate-chip cookie, a dress with plates atop boobs, and cheese-wedge heels.
.

Ashlyn
Designer: Ashlynn Park
Pictured with: Joh Siff, brand adviser
Ashlynn Park has worked as a patternmaker for brands including Yohji Yamamoto in Japan and Calvin Klein. When the pandemic hit, she decided to apply her tailoring skills to her own collection. She was introduced to Joh Siff, a former SVP at Prada, who helped bring Comme des Garçons to the U.S. in the early '80s. "She's kind of a legendary person," says Park. "When she saw my first collection, she told me she had the same feeling when she saw Maison Margiela's first collection. It was an incredible moment for me." Park sewed the debut collection herself by hand while isolating at home. "We've never had an artistic disagreement because we have a similar background," says Park. "She was in Japan a long time ago, and she completely understands the Asian culture, and she's respectful. We also don't mind getting our hands dirty." In 2021, Park rented an empty art gallery and invited editors from Vogue and WWD to her debut show. This year, one of her pieces was displayed in the Metropolitan Museum of Art's Costume Institute exhibition. "My design is a modern interpretation of something traditional," she says. "I always study something in a museum, like a historical costume, and then translate it in a modern way."
.

Lùchen
Designer: Lu Chen
Pictured with: Hui Huang, brand manager; Madoka Yoshimi and Hatsuko Mizoguchi, patternmakers; Matthew Han and Olivia Dziak, assistant designers; Julian Sinclair, intern
Lu Chen starts each design with a big concept, then gathers her committee: brand manager Hui Huang, patternmakers, interns, and assistant designers. "We allow everybody to contribute their ideas and just add on to the concept," says Chen. "All our team members, including our interns, are very important to the story." As for inspiration, "We all like the Guggenheim museum because our clothes have a lot of structure similar to the architecture there," she says. "We feel inspired by both contemporary and modern art like sculptures and structure." The result of these collaborations are pieces that look more like sculptures than clothes, such as an exquisitely pleated inverted skirt that seems to defy gravity by covering the model's face instead of her legs. Last fall, Chen and Huang, who both went to Parsons but met through a friend before college, created a look book of their first collection, which won praise from fashion outlets and fueled enthusiasm for their first runway show in the spring. And despite their playful surreality, Chen doesn't view the clothes as solely objects. "I wouldn't give any limitation to where our clothes can be worn," she says. "They can be worn anywhere as long as you have an artistic sense." Huang adds, "The clothes will impact and change any environment that they're in."
.

Theophilio
Designer: Edvin Thompson
Pictured with: Melonee Rembert, model and friend
The 29-year-old Jamaican-born Edvin Thompson discovered designing while still in high school in New Jersey, but his real epiphany came in 2013 when he went to New York's Afropunk festival. "That catapulted me into moving to New York: seeing all these people of color, Black creators all over the place. I was just like, I have to be around this," says Thompson. He started putting out his own collections in 2016, and in 2021 he won the CFDA's American Emerging Designer of the Year Award. By the time he showed his first collection in September 2020, he already had a following among celebrities like Solange and Gabrielle Union for his stretchy, racy designs. He has been friends with the model Melonee Rembert ever since they met through a mutual friend whose hair Rembert braided. "Understanding the woman's body is so important for me," says Thompson. "Melonee, a full-figured woman whom a lot of people aren't used to seeing in certain skirts or dresses, I love how empowered she feels in the clothing."
.

Elena Velez
Designer: Elena Velez
Pictured with: Lars Johan Andreas Emenius, artist and partner; their children, Atlas (18 months) and Freja Lucía (3 weeks)
Last season, Elena Velez put on one of New York Fashion Week's most talked-about shows, presenting a collection of deconstructed dresses and bustiers using materials like sails, army canvas, and parachutes, inspired by her mother, a Lake Michigan ship pilot. Motherhood is a through-line in her work, much of which she makes in the Brooklyn studio she shares with her partner, the painter Lars Johan Andreas Emenius, with whom she has two children. "Sometimes the work conflicts because he has a different aesthetic. He works a lot with color, and his shapes are a little bit more free-form, whereas my work is very detailed, molecular, and tactile. We have trouble commenting on each other's work when he needs advice or when I need advice, but the energy that we're able to create in one space keeps us both going," says Velez. She began designing clothes in earnest in 2018 and got investors in 2020. "A precarious time to start a business," she says. The business side is the most challenging part. "The greatest barrier to entry into fashion is finances as well as connections. If I didn't have endurance for entrepreneurship and for all of the business components that go into running a brand, I wouldn't be where I am. So it's kind of frustrating to see how little talent really counts," she says. "I don't get as much time as I'd like to be able to focus on the creative, which is kind of a shame, but that's what it takes to get to the level that I've gotten to."
.

Collina Strada
Designer: Hillary Taymour
Pictured with: Sara Hiromi, model, set designer, bead artist, and friend
"To be my friend, it's kind of hard, because you have to be down to come hang out with me at the studio since that's, like, the only time you can actually see me," says Hillary Taymour, whose line, Collina Strada, is an explosion of fantasy and color. Her layered designs offer a mash-up of prints and fabrics that are childlike and playful. Her shows are equally playful, featuring models of different sizes, ages, and abilities, and they don't always stick to the runway — she has presented collections through a video game and a film as well. Taymour met Sara Hiromi in 2019 after the model and bead artist walked in her show and was immediately drawn to her: "During the pandemic, she would come over and craft while sitting next to me. She would start beading, and one time she was at the studio and I was like, 'Do you want to bead something for the show?' " Taymour now calls Hiromi her best friend. "I love when people I work with have their own personal style; that inspires me and keeps me motivated. I love making clothes and saying, 'This is a look Sara would wear.' "
More From the 2022 fall fashion issue
See All