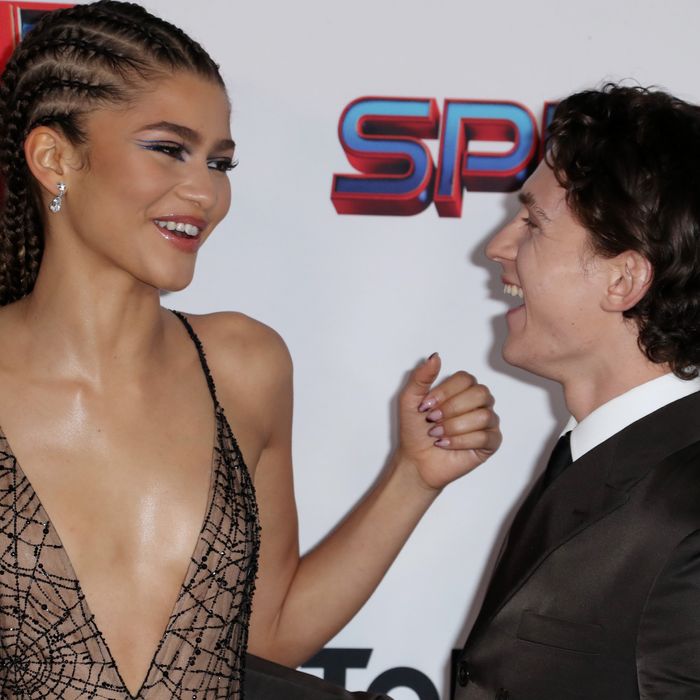 Is that … a flirtatious stare?
Photo: Matt Baron/Shutterstock
It is absolutely none of our business whether professional cuties Tom Holland and Zendaya are in a romantic relationship. Still, any time they are together, it's hard not to anxiously await a little bit of their public flirtation. Take, for instance, the pictures from the Spider-Man: No Way Home premiere. Zendaya's hand on his chest! Tom's hand around her back! Sure seems romantic to those of us desperate to aw at any and all Tom-daya content.
After years of dropping hints without officially confirming (or denying!!) their relationship, Zendaya recently dropped the word boyfriend for the first time during a post-Emmys interview. Hmmm, who might she be referring to? Here is a timeline of their rumored dating history. Please speculate accordingly.
2016
Zendaya and Holland meet on the set of Spider-Man: Homecoming. At the time, Holland tells People, "We are like the best of friends. She's so great and amazing." He adds that he's "a little worried" about dealing with fame, but says, "Zendaya is super famous and she's been through this and I just call her up and say, 'How do I manage being famous?' I'm very glad I have a friend like her." A friend, hmm? We'll see about that!
2017
Shortly after their now-world-renowned episode of Lip Sync Battle, an unnamed source tells People that Zendaya and Holland are dating! Huzzah! "They've been super careful to keep it private and out of the public eye," the source claims, "but they've gone on vacations with each other and try and spend as much time as possible with one another." They also assert that Holland is "practically moved into Zendaya's new L.A. mansion."
Then, Zendaya and Holland swiftly set the record straight: No, they are not dating. Despair! In fact, Zendaya tweets that she hasn't taken a vacation "in years," let alone with her Spider-Man co-star. The next month, Zendaya speaks out about the dating rumors saying, "It happens all the time, and of course we expected it … I mean, it comes with the territory. It comes with the job, so it's all good."
2018–20
Aside from Holland posting a picture of Zendaya at the 2018 Met Gala, rumors about their relationship have gone all but silent. And who among us hasn't tweeted a picture of Zendaya with the caption, "All hail the queen"?
In 2019, Zendaya is rumored to be dating her Euphoria co-star, tall boy Jacob Elordi. They're seen together in Greece. In early 2020, he's seen giving her a little kiss. Then, in October 2020, Elordi is reportedly dating model Kaia Gerber. (It appears they have since split.)
Meanwhile, Holland is reportedly dating actress Nadia Parkes. In May 2020, a source "close to the pair" tells the Daily Mail that the two have spent lockdown together in Holland's home in London. In July 2020, he posts a picture of her on Instagram, further fueling dating rumors.
2021
July 1: To some, a normal Thursday. To others, the day that Those Pictures of Zendaya and Holland making out in a car were taken. Around this time, "Page Six" also shares photos of Holland hanging out with Zendaya and her mom.
August 22: Zendaya and Holland are pictured at a friend's wedding looking very … date-y.
September 1: Two words: "My MJ." In honor of Zendaya's birthday, Holland posts a picture of the two of them on set, writing, "Gimme a call when your up xxx." Three Xs!
September 11: Zendaya posts pictures from the Venice Film Festival, where she wore that devastating leather Balmain dress. Holland comments three fire emoji. His comment currently has over 68,000 likes.
October 19: Holland posts a picture of Zendaya from the Dune red carpet, simply captioned "Dune" with a heart-eyes emoji.
October 20: Zendaya and her Dune co-star Timothée Chalamet are interviewed by BuzzFeed. Chalamet is asked who Zendaya's "biggest crush" is, and he replies, "Easy, Tom Holland!" Zendaya giggles. This is as close to dating confirmation as we've gotten thus far.
November 9: In an interview with Total Film, Holland says he's "very happy and in love," though he doesn't mention anyone by name.
November 17: GQ publishes an interview with Holland in which he talks about his relationship with Zendaya in the most candid way to date. "One of the downsides of our fame is that privacy isn't really in our control anymore, and a moment that you think is between two people that love each other very much is now a moment that is shared with the entire world," Holland said, referring to the aforementioned car pictures. "I've always been really adamant to keep my private life private, because I share so much of my life with the world anyway," he said. "We sort of felt robbed of our privacy." When asked whether he felt they weren't ready to share their relationship, Holland said, "I don't think it's about not being ready. It's just that we didn't want to."
December 13: At the premiere of Spider-Man: No Way Home, Zendaya and Holland are photographed together, as you'd expect. Holland even stops an interview to watch Zendaya arrive on the red carpet.
December 15: Zendaya reciprocates Holland's "My MJ" post with a matching "My Spider-Man" tribute on Instagram. Hers comes complete with a baby Tom Holland picture, making hers the superior post.
2022
January: Which brings us now to this walk to remember. Tom is holding a coffee mug — very celebrity couple-y of him. And Zendaya has her arm! Around! Tom's waist!!! Put this picture in MoMA.
June: Another one for MoMA. On Tom's birthday, Zendaya posts a black-and-white selfie of the two cuddling on Instagram, writing, "Happiest of birthdays to the one who makes me the happiest <3." Very public. Very effusive. Very rare. If this isn't proof that they're together, I don't know what is.
September: After Zendaya once again made Emmys history, becoming the youngest actress to win Outstanding Lead Actress in a Drama Series (twice!) for her work as Rue on Euphoria, she gave this postshow interview, in which she was asked who the first person she texted after winning. "I didn't have to text my mom because my mom was already there; she's here tonight," she said, casually adding, "And I text my boyfriend." Excuse me, what? Thank you to the Emmys and this interviewer for giving us this incredible development.
This post has been updated.