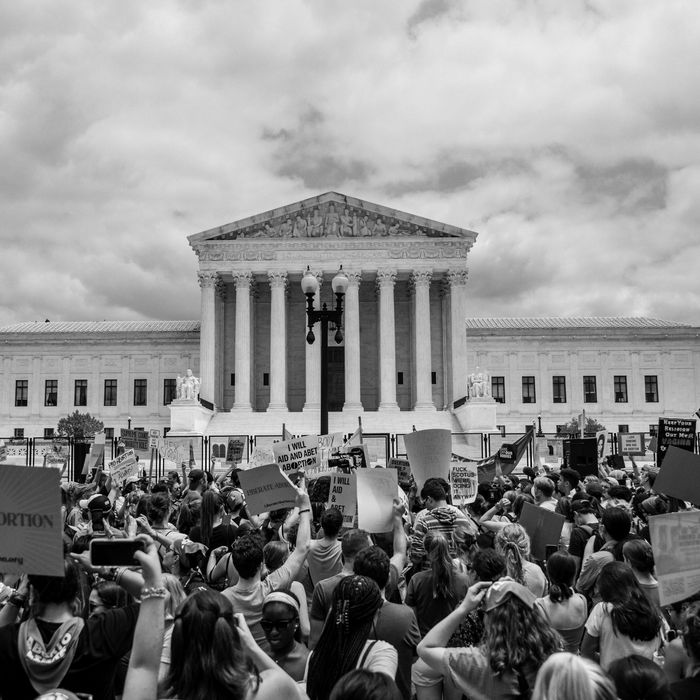 Photo: Brandon Bell/Getty Images
When the Supreme Court overturned Roe v. Wade in June, the implications were clear: Thousands of people, if not millions, would be denied abortion care and, in many cases, obligated to carry a pregnancy to term against their will. While it's still too early to see a full picture, new data confirms what looked obvious from the outset. According to WeCount, a reporting initiative by the Society of Family Planning, legal-abortion rates dropped by 6 percent in the two months following the Dobbs decision. That's more than 10,000 procedures, based on data from 79 percent of the nation's abortion providers. And that's with targeted efforts in blue states to manage patient overflow.
WeCount compared statistics from April — just before a draft of the Dobbs opinion leaked in May — to August 2022 and found that the national number of abortions performed by a clinician dropped from 85,020 to 79,620 overall. But when Roe fell, preexisting trigger laws in 13 states banned abortion outright, while legislation elsewhere whittled its availability to the narrowest possible circumstances: States with bans and severe restrictions, WeCount reports, recorded 7,870 fewer in-clinic abortions in July and 8,040 fewer in August compared to April. That's 15,910 fewer procedures overall — a 95 percent decrease in just four months.
Speaking to the New York Times, Ohio State University epidemiology professor Alison Norris — one of the report's co-authors — described the real-life impact of these numbers as "a shock to the system." That's been true for OB/GYNs, who now find everything from the management of miscarriages and the treatment of natal complications to even the prescription of certain drugs complicated by laws that lack medical foundations. It's been true for patients scrambling to figure out whether or not they can legally terminate and under what circumstances. It's been true for clinic and abortion-fund staff across the country, their capacity strained by an escalated number of panicked calls, whether they work in red states or blue. According to WeCount, clinician-provided abortions in places where abortion remains legal increased from 62,600 procedures to 69,740 between April and August. States with protected access saw a cumulative total of 11,980 more patients, for an overall increase of 11 percent, that tempered some of the total decline but couldn't totally account for it.
The larger trend is disheartening, though it comes with a few caveats. For one, it's certainly possible that some people who were denied in-clinic abortions self-managed their abortion with pills ordered online or internationally. But "overall," the report states, "a total of 22,370 fewer people obtained an abortion in states with declines in care." A portion of those people might have gone somewhere else or terminated at home, but many, the report notes, simply had "to continue a pregnancy they did not want."
We know who falls into that last group. "The declines in the numbers of abortion occurred in the same states with the greatest structural and social inequities in terms of maternal morbidity and mortality and poverty," the report continues. These are the would-be patients who cannot afford to take off work, to pay for child care, to afford the rising cost of fuel that would allow them to drive to another state let alone buy a plane ticket. They are people for whom the search for a provider pushed too far into pregnancy. They are young people who can't find their way around tightening restrictions; they are immigrants; they are anyone whose travel mobility is limited. Because even active efforts to expand abortion services in blue states, to pump money into abortion funds that help get people to clinics across the country, fall short of the scale of the problem. We don't need years of data to understand just how devastating the implications of Dobbs will continue to be. It took only two months to confirm the obvious.