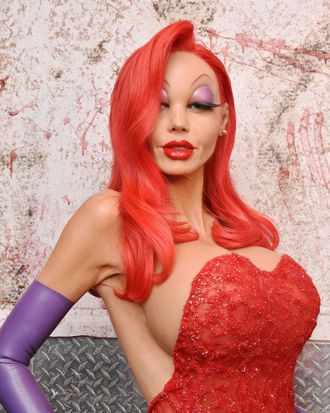 Photo: Mike Coppola/Getty Images
Halloween is here, and if you haven't picked out your costume yet, the in-store options are likely limited at this point. Thankfully, it doesn't necessarily take a full-fledged costume to channel another character for the night. The truth is a well-executed Halloween makeup look can rival a basic costume any day. In need of some inspo to get your creative juices flowing? You've come to the right place. Yes, Halloween is about candy, horror movies, and all things creepy, but in reality, it's also a time to shine for makeup-lovers.
So if you're one of the many folks who have waited until the last minute to throw a look together, think of this as the perfect opportunity to dip into your makeup collection, pop a squat in front of the mirror, and truly experiment. Whether you're going for a look that's quick and easy yet still sexy enough to flex on an ex or if you're feeling a bit daring and want to try something more elaborate, these makeup looks are sure to inspire you:
Mythical Siren-Mermaid
For an ethereal and seductive look, opt for this mythical Siren-mermaid look that YouTuber Chloe Morello created. Start by doing your go-to glam face, then spice it up with a whimsical eye. Finish it off by using a scar-specific effects gel (Morello used Ben Nye) to achieve that scaly effect. Have lash glue on hand to be sure the scales stay in place.
Jessica Rabbit
If you want to keep it sexy, Jessica Rabbit is the perfect look. It's all about Rabbit's signature curves, red dress, red hair, and flawless makeup. The good thing is you can likely execute this look with products you already have. What's most important? A bold red lip and bright-purple eye shadow.
Morticia Addams
If you're a fan of the Addams family, you know that black and white are the key colors you need to pull this off. Alexandra Anele created this dramatic glam look with a classic smoky eye topped off with highlighter for added shimmer and a deep-red ombré lip. For the finishing touch, put on a long black wig.
Bride of Frankenstein
Perfect for a Halloween party or maybe even a Love Is Blind–finale watch party? Glue down your brows, use white face paint for the afterlife look, and add a smoky eye and dark contour.
Hocus Pocus
For this Hocus Pocus–inspired look, grab the Hocus Pocus 2 palette from ColourPop Cosmetics, a glitter palette, and dramatic lashes. To take it a step further, follow Lesley Marie's lead and draw thin, intricate lines around your lips with concealer, then go over them with black liquid eyeliner to create the illusion of a spider coming out of your mouth.
Creepy Glam Clown
Looking for something simple with a little extra drama? To be a glam clown, you'll need to apply a sultry glitter eye shadow and go overboard with the blush. Next, apply a deep red lip, outlined in black. Then use your eyeliner to draw on an extended smile line and an elongated eyebrow, like Becky did here.
Witchy Tarot-Card Reader
For this modern witchy tarot reader, it's really all about the eyes. A strong combination of blue, purple, pink, and black eye shadows will do the trick to create this look. You'll also want to add some jewels for extra pizzazz.
Scarecrow
Go for scary Raggedy Ann vibes with this scarecrow look by Atarah Mayhew. You'll need some orange blush, long lashes, white face paint, and brown face paint to pull this off. But you'll be sexy and scary once you're done, the perfect combination for Scorpio season.
Bloody Face
If you're tight on time or you need a last-minute look, this bloody face with Euphoria vibes is an easy one to try. Grab some matte fluid eye paint for the bloody effect, then add rhinestones to make it pop.
Rainbow Skull
For the artsy girlies who are up for a challenge, grab a black pencil to draw the bones and then you'll need practically every color of P. Louise Cosmetics' bases and several brushes to color it in. This YouTube video by Giulianna Maria has got you covered on how to achieve this ghoul-y and fun look.
Low-key Pumpkin Inspired
For this one, do your favorite face, but then go heavy on the orange tones with your eye shadow and lipstick. Accessorize your hair the way Smitha Deepak does in this tutorial and you're done!
Elaborate Scary Pumpkin
If you really want to take it there, this look will require a lot of face paint and a lot of patience. We believe in you.
Tinker Bell
The focus is always on the eyes for Disney princesses, and this look is no different. Go for a full-on-green eye shadow, accentuated with white eyeliner and ridiculously long lashes to imitate this look by Lauren Ward.
Freddy Krueger
Here's another advanced makeup look for those who are down for a challenge. This fleshy look is more about loads of red body paint than anything else. Dress up your eyes with pink eye shadow and look-at-me lashes. Then spend the rest of your time painting your face and collarbone with copious amounts of red body paint.
The Other Mother
That Elmer's glue you used to make your New Year's Eve vision board? Pull it out again. After gluing down your eyebrows, cover them with Ben Nye's Super White Professional Powder, then coat your skin with white face paint. Next, contour the cheeks, pencil on small squiggly lines with black face paint, then finish off with a dark eye and black lips. And if you're as bold as James Charles, you can glue black buttons over your eyes.
Witch
Start this witch look with witch hazel to prep your skin. Flatten your brows with Elmer's glue and then add a foam-latex prosthetic nose and witch chin before painting your face green. Add some black face paint to draw overexaggerated brows and frown lines along your face.
Zombie
Face masks aren't just for making us look more fresh and alive — they can also be used to achieve a deadly look. Mayhew used a peel-off face mask to create this look of dead skin falling off her face. To make the corpse look, she added white, burgundy, and black shades plus red face paint for veins.
Chucky
Have any bright-blue colored contacts lying around? Add some face paint to a beat face and you can be as flawless as a doll — of Chucky. Cute but creepy.
Bloody Smile
Charles used wax to create the shape and dimension of the smile on his face. He followed that up by using flesh-toned makeup and blush to blend it in with his skin. Ben Nye's Thick Blood, Fresh Scab, and Stage Blood are the key products he used to execute this look.
Skull Face
Face paint, creams, and super-pigmented eye shadows make this skull-inspired glam look come to life. And the bronzy undertone is giving royalty vibes. Shonagh Scott has a detailed tutorial on how to achieve this elegant skull face.