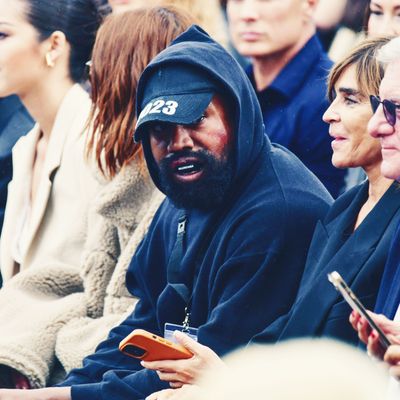 Photo: Jana Call me J/ABACA/Shutterstock
On Tuesday, Adidas announced that they had ended their partnership with Ye after the rapper made a series of antisemitic comments during various interviews. "Adidas does not tolerate antisemitism and any other sort of hate speech," the company said in a statement. According to the New York Times, the German company will end production on all Yeezy products, as well as stop payment to Ye's company, terminating one of the biggest partnerships in fashion history.
This move came after prominent Hollywood talent agency CAA dropped Ye as a client and MRC said that a completed documentary about him will be shelved on Monday. On Monday, Ye's ex-wife Kim Kardashian tweeted, "Hate speech is never OK or excusable. I stand together with the Jewish community and call on the terrible violence and hateful rhetoric towards them to come to an immediate end."
Over the weekend, antisemitic demonstrators gathered in Los Angeles in support of Ye, putting more pressure was put on Adidas — a company whose founder had ties to Hitler and the Nazi Party — to terminate its partnership with him. The Anti-Defamation League started a campaign to "tell Adidas to run away from antisemitism," plus a Change.org petition had been created and the hashtag #BoycottAdidas was trending on Twitter.
Adidas is the latest company to cut ties. Last week, WWD reported that Balenciaga would no longer be working with Ye. The news came in the form of a statement from Kering, the brand's parent company, following the publication of its third-quarter results.
"Balenciaga has no longer any relationship nor any plans for future projects related to this artist," reads the brief statement. The brand did not immediately respond for additional comment this morning.
In the past, Ye and Demna, Balenciaga's creative director, who also goes by just his first name, have had a fruitful collaborative relationship. Demna has also worked closely with Kardashian, who starred in Balenciaga campaigns. Way back in 2016, Ye declared that he was going to "steal Demna from Balenciaga." Of course, that never happened, but the designer did work with him on his Donda 2 tour last summer, and in January, they launched Yeezy Gap Engineered by Balenciaga. "There are very few people who I know, especially of Ye's caliber, who really understand my work so well," Demna told Vogue at the time. "He makes me come out of my comfort zone and be a better designer. There's no ego when we collaborate, just a mutual drive to evolve and do something great and new." Ye terminated his partnership with Gap last month, and on Tuesday, the brand reinforced the split, saying that it was taking "immediate steps" to remove Yeezy Gap products from its stores and shut down the collaboration website following Ye's most recent remarks.
At Paris Fashion Week earlier this month, Ye opened the summer 2023 Balenciaga show, which took place in a mud pit. Later that same week, he hosted his own YZY show in Paris, which featured a "White Lives Matter" T-shirt. He then proceeded to bully its critics on Instagram and created a rift between himself and others within the industry. He has since been locked out of Twitter and Instagram for antisemitic comments.
Following reports on Balenciaga's breakup with Ye, "Page Six" reported that Vogue would be following suit. Citing an unnamed Vogue spokesperson, the outlet reported that editor-in-chief — and longtime Ye ally in the fashion world — Anna Wintour had told staff that she does not intend to work with Ye ever again. "Anna has had enough," claimed a source. "She has made it very clear inside Vogue that Kanye is no longer part of the inner circle." Per the report, it was Ye's repeated antisemitic comments that pushed Wintour to cut ties, not his online bullying of Vogue editor Gabriella Karefa-Johnson.
Ye, who was diagnosed with bipolar disorder in 2016, and who some have suggested appears to be exhibiting symptoms of mania, has always had a push-and-pull relationship with the fashion industry. But as more companies end their partnerships with Ye, this might be the final straw.
This post has been updated.