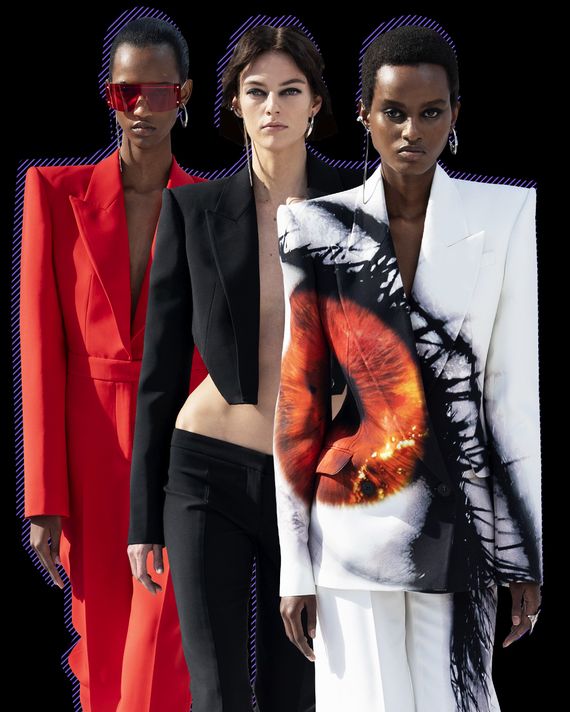 Photo: Courtesy of Alexander McQueen
"I love showing in London," Sarah Burton said. "Here at the Old Naval College, you've got so much history, and then across the river you have modern London. Old and new. Somehow it survives together." No other fashion house this season could claim a more spectacular setting for a runway show: the wide lawn of Christopher Wren's baroque complex of buildings in Greenwich, designed around 1700 as a naval hospital and later used as a facility to train officers of the British fleet. Across the Thames, where it makes a big loop, were the office towers of Canary Wharf.
Considering that both sites symbolize British power and wealth — that is, male power — it was striking that Burton's latest collection for Alexander McQueen dealt with the notion of female empowerment. I use that term reluctantly, because designers resort to it so often. But Burton is one of the very few female designers whose instincts and experience with the making of clothes I generally trust. If she makes a shift in her designs — and the one she offered on Tuesday was as sharp as the turn in the river — then one should take note.
Before the pandemic, when she showed in Paris, her clothes tended to be romantic. True, she always has tailoring, because McQueen himself was a maverick genius at it, but a Burton collection usually meant corsets, puffed sleeves, and embellishment. Her source material was often rural Britain, its landscape and craft traditions of lace-making, knitting, and textiles. Those themes still have value, and Burton may one day return to them, but given the enormous disruptions caused by the pandemic — in tandem with newer attitudes fueled by politics and social media — Burton was right to catch the tide.
In a way, the most fascinating aspect of her spring collection — held in the round under a giant soap-bubble-like tent and framed by Wren's majestic buildings — was watching a designer adapt in real time. Since the shows began in New York more than a month ago, the body and its sexual parts have been the driving theme, with nearly everyone baring a lot. A difference with Burton is that she made it clear that the gaze was female — "women dressing for women," as she put it — rather than male.
I can't quite put my finger on how she accomplished that, but the graphic punch and English formality of her tailoring probably account for most of the difference. She reprised McQueen's famous "bumster" trousers from the early '90s —the pants that set off the low-rise-denim trend — but paired them with a cropped black wool jacket that looked impeccable. McQueen at its finest. She also slashed jackets or deconstructed a leather biker jacket and converted it into an asymmetrical skirt — an idea that has a long history in fashion. But, still, you have a sense of a woman usurping masculine tailoring, wearing the jacket in a fairly straight manner, and doing what she wants with the rest.
Dresses in both printed poly faille and a solid compact knit were also dissected, showing skin; in the case of the frothy yet minimalist faille dresses, they were draped on bodysuits, making them easy to wear. The print was the same one that appeared, blown up and abstracted, on trouser suits — that of an eye, evidently a female's. As Burton said of the collection, "It's about finding humanity in these very difficult times," with the eye being "the most unique symbol of humanity." The only other bit of embellishment in this stripped-back collection was embroidery that referenced the artwork of Hieronymus Bosch, who was a favorite of McQueen's.
Burton continually connects and reconnects with him, which is partly what gives the label its depth and vitality, along with her own explorations into British culture and heritage. But her traction this season comes from fixing her attention on a younger generation of women who have wholly different attitudes about dress and sexuality, not to mention comfort.
Many have no doubt never heard of the once-outrageous "bumsters," and I also suspect they don't feel a bit of indebtedness to a dead fashion rebel from East London. It's their world now. But what one does want from Burton is how she understands and interprets these rapid changes. That's what she fired across old Mr. Wren's lawn.