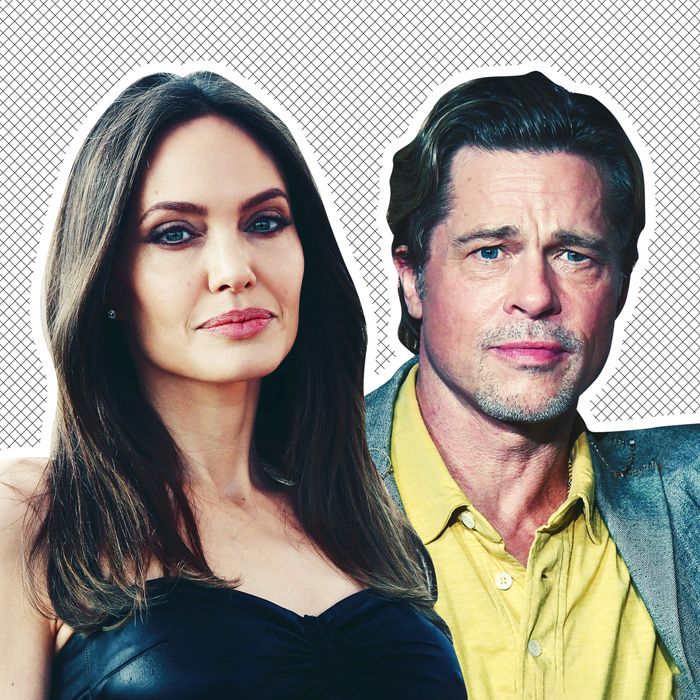 Photo-Illustration: by The Cut; Photos: Getty Images
It's been six years since Angelina Jolie filed for divorce from Brad Pitt, and yet the split is far from over. After three years of negotiations, Jolie and Pitt were legally declared single in 2019, but the divorce has yet to be finalized as they continue to hammer out custody agreements for their minor children, Zahara, Shiloh, Knox, and Vivienne. (They also share sons Maddox and Pax, who are legally adults.)
Meanwhile, recently released documents detailing the 2016 plane incident that precipitated their divorce have brought even more scrutiny as the former couple battles it out in court over their French winery and former home, Château Miraval. Earlier this month, Jolie filed a complaint against Pitt that alleged he had "choked one of the children and struck another in the face" and "poured beer on Jolie" during the flight. In a statement given to CNN, a representative for Pitt called the allegations "completely untrue." Here, what you need to know about the winery lawsuits and how they relate to the former couple's other legal battles.
Brad Pitt and Angelina Jolie purchased Château Miraval in 2012 and launched Miraval Wines.
Pitt and Jolie officially bought Château Miraval in France in 2012, though they had leased it for years prior. The property reportedly included olive groves, a private lake, and a chapel, where Jolie and Pitt were married in 2014. It also contained a vineyard, leading to the launch of Miraval Wines in 2013, a company co-owned by Pitt and Jolie and shared 60-40. After Jolie filed for divorce in 2016, the company became one of the major sticking points in the division of assets and was eventually split evenly between the two, with half owned by Pitt's company, Mondo Bongo, and the other half owned by Nouvel.
Brad Pitt sued Angelina Jolie after she sold her stake in the winery.
In October of 2021, Jolie sold her stake in Miraval Wines to Tenute del Mondo, part of Stoli Group. Months later, in February, Pitt filed a lawsuit disputing the sale. In his lawsuit, Pitt claimed that he and his company had a right of refusal to any potential sale and that Jolie violated that right by selling to Tenute del Mondo without his approval. In a new filing submitted in June, he claimed that his ex had knowingly conspired with a rival company that was aiming for a hostile takeover of Miraval wines. "Jolie pursued and then consummated the purported sale in secret, purposely keeping Pitt in the dark, and knowingly violating Pitt's contractual rights," read a June filing per People. The lawsuit also claimed that Pitt put more work and financial stake in the winery, arguing that Jolie contributed "nothing to Miraval's success."
Angelina Jolie's company filed a $250 million lawsuit against Pitt, claiming he purposefully attempted to shut her out of the winery to deny her profits after their split.
"Page Six" reported that Nouvel filed a new lawsuit in September, claiming that Pitt attempted to cut Jolie out of the winery "in retaliation for the divorce and custody proceedings" and to "ensure … Jolie would never see a dime." The lawsuit alleges that Pitt "hatched and executed a plan to secretly move assets from Château Miraval … to companies owned by him and his friends, thereby devaluing Jolie's interest" and that he "squandered tens of millions of Château Miraval's money on vanity projects," like a million-dollar swimming pool and walls using stone masons from Croatia. The suit also includes allegations against Château Miraval directors Gary Bradbury, Roland Venturini, and Warren Grant, as well as Pitt's business partners, Marc Perrin, Families Perrin, and Miraval Provence, parties that Novel accused of helping Pitt shut her out from Miraval Wine.
The lawsuit also pushes back on many claims made in Pitt's own legal fillings. In his original lawsuit, as reported by the Los Angeles Times, Pitt claimed that he and his ex had been in negotiations for a buyout in 2021 but that Jolie cut off talks with Pitt's team months before her sale to Tenute del Mondo. Jolie's company claimed that those discussions actually ended because Pitt "made an eleventh-hour demand for onerous and irrelevant conditions, including a provision designed to prohibit Jolie from publicly speaking about the events that had led to the breakdown of their marriage." The suit continues, claiming, "Pitt knew that much of Jolie's wealth and liquidity were tied up in [her stake in the winery] and used that fact to try to force Jolie to agree to his unreasonable terms." The filing claims that Jolie countered, agreeing to the terms of the deal only if the "hush-clause" was removed, but Pitt's team never responded. In her own recent countersuit, Jolie further detailed the terms of said hush-clause, alleging that Pitt demanded she sign an NDA that would have "contractually prohibited" her from speaking about his abuse of her and their children outside of court.
Meanwhile, Jolie sued the FBI for more information on the investigation into the 2016 plane incident.
This summer, reports confirmed that Jolie had sued the FBI under the name Jane Doe, asking for access to documents relating to the organization's investigation into allegations that Pitt had assaulted her and their son, Maddox, then 15, during an altercation on a private jet in 2016. At the time, the FBI declined to press any charges, though Jolie reportedly brought up the allegations while the two were determining custody of their children.
Shortly after Jolie's suit against the FBI was reported, Rolling Stone obtained records from the FBI investigation, revealing new details previously unknown to the public. In the report, Jolie alleged that Pitt, who was allegedly drunk, yelled at her and "grabbed her by the head" and "pushed her into the bathroom wall." She claimed that he scared the children, who asked if she was okay. "No, she's not okay. She's ruining this family. She's crazy," Pitt allegedly responded. Jolie reportedly told law enforcement that she felt "scared" and "like a hostage." Jolie has further claimed Pitt poured beer on her as well as beer and wine on the children, choked one child, and struck another in the face. Pitt has previously denied any abuse allegations, and did so again following these new claims about the plane incident. "[Jolie's] story continues to evolve each time she tells it with new, unsubstantiated claims," a representative for Pitt said in a statement. "Brad has accepted responsibility for what he did but will not for things he didn't do. These new allegations are completely untrue."
In a January 2021 email, Jolie told Pitt she could not be involved in a business "centered around alcohol."
In Jolie's email, which surfaced on TikTok this week and which Entertainment Tonight has since found in a court document, the actor told Pitt she couldn't be part of the winery — a place she had initially "hoped" could be "something that held us together" — when "alcoholic behavior" had hurt their family, explicitly referring to Pitt's alleged abusive behavior during the 2016 plane incident. Jolie expressed nostalgia over Miraval, calling it "the place we brought the twins home to, and where we were married," but said it had since become "the place that marks the beginning of the end for our family," alleging that Pitt had left her out of critical business decisions and that she was "shaken" by "irresponsible" alcohol marketing that reminded her of "painful times." Concluding that Miraval was "past the point of anything that I could be part of, morally and for the good of our family," Jolie proposed an "outright sale" of the winery or buying out of her share by Pitt or his associates "in order to heal."
"I cannot begin to express how upsetting it is for me to have to reach this point," Jolie continued. "Your dream for your relationship to the business and the alcohol is your own and you've made it painfully clear. I wish you all the best with the business … but Miraval died for me in September 2016, and everything I have seen in the years since has sadly confirmed that." A source close to Pitt told ET the email was "yet another rehash and repackaging of old material to try and distract from the other party's own behavior."
This post has been updated.